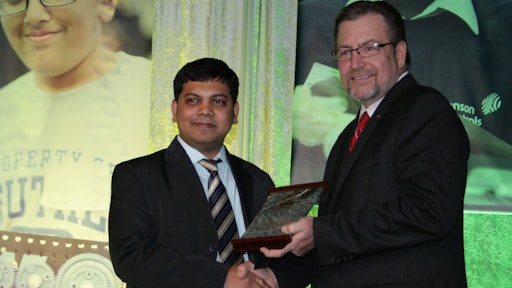 Diversified industrial manufacturer Eaton Corporation announces that Telikepalli Kumar Prasad, the company's hybrid engineering manager in Pune, India, has received the SAE Foundation's "Stefan Pischinger Young Industry Leadership" award, which recognizes outstanding young engineers age 35 and under. Prasad is one of two winners worldwide selected based on his accomplishments, leadership abilities and commitment to furthering the profession.
Prasad, 33, received his award during the SAE Foundation's 25th Anniversary banquet May 16 at Ford Field in Detroit, MI. As SAE International's charitable arm, the foundation strives to increase student participation and achievement in science, technology, engineering and math.
"It's a great honor to be recognized as a young industry leader," Prasad says. "It's an exciting time to be part of the global vehicle industry, and I look forward to continue to contribute in the development of Eaton's hybrid and other fuel-efficient technologies."
Prasad, who joined Eaton in September 2010, has become one of the leading experts in India on hybrid power systems. He has led hybrid engineering teams involving both hydraulic and electric systems paired with diesel and gasoline engines in applications ranging from passenger cars to commercial vehicles.
"Prasad is a strategic leader in the emerging hybrid industry," says Arun Jaura, Eaton's vice president of engineering technology. "His expertise and commitment to developing, improving and implementing hybrid technology is a perfect fit with Eaton's goal of improving vehicle fuel efficiency and reducing emissions. We're extremely lucky to have him as a key team leader."
Prasad started as a research assistant at the Indian Institute of Technology, where he earned a master's of technology in power electronics and power systems. His experience also includes stints at Tata Motors and Mahindra, and as hybrid project manager for FEV in Germany. He has a bachelor's degree in electrical and electronics engineering from Jawaharlal Nehru Technological University in Hyderabad, India.
Prasad has received several industry awards, including an "Excellerator Award" for successful demonstration of hybrid technology at India's Auto Expo. He also has significantly contributed to India's National Hybrid Propulsion Program and Hybrid Standard committee.
To help steer young students toward automotive engineering, Prasad is a frequent guest speaker on hybrid and powertrain trends for the Automotive Research Association and other organizations in India. He also promotes internships and student projects at Eaton, and encourages engineers and managers to become mentors and judges at student events. In addition, Prasad has represented Eaton as a review member and chair/co-chair at several national and international forums, including APAC-16, SAE-Advance Infotronics, ICAT and other workshops on hybrid and electric vehicles.