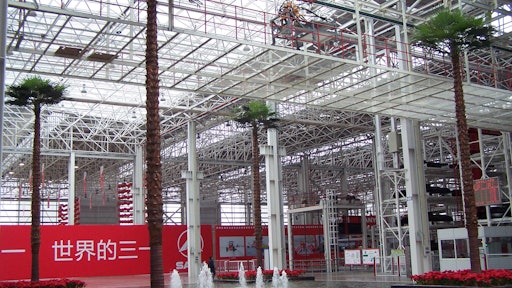 SANY has opened the world's largest and most advanced excavator factory near Shanghai, China, that can produce an excavator every five minutes.
The Lingang Industrial Park has 10.7 million square feet of total space, with 5.9 million square feet of manufacturing space. The facility cost $818.5 million to build. The factory uses a computerized production-management system for maximum efficiency, managing the entire process, from raw steel plate to structural welding, to components and final assembly. Excavator structures and components are transported automatically from underground tunnels to optimize production. The factory will primarily produce excavators in the 20-ton to 30-ton size range.
The facility is unique for its 43,000 square feet of gardens, reflection pools, bamboo stands and marble patios that flank the assembly lines inside the facility. The gardens include palm trees, flowers, grass and fountains.
"Our Lingang facility is the most advanced, highest-capacity excavator factory in the world, and SANY produces more excavators globally than most other equipment brands," says Tim Frank, chairman of SANY America Inc. "North American customers might rightly ask, 'What's in it for me?' It's simple: robust and reliable structures, cut and welded by precise, fully robotic systems, assembled by a dedicated team.
"Our excavator team is experienced at producing almost as many excavators each year as are sold in the United States by all manufacturers combined," Frank says. "Add to that robust base the fact that we have U.S. assembly and component supply in our facility outside of Atlanta. You get a great machine at a great price. This is part of SANY's culture of excellence in manufacturing efficiency, and our plan to become a global leader in excavators."
In addition to excavators produced in Lingang for sale in China, SANY produces base excavator kits that are shipped to SANY America's assembly facility in Peachtree City, GA. The kits are assembled there, adding the options and features preferred by North American customers.