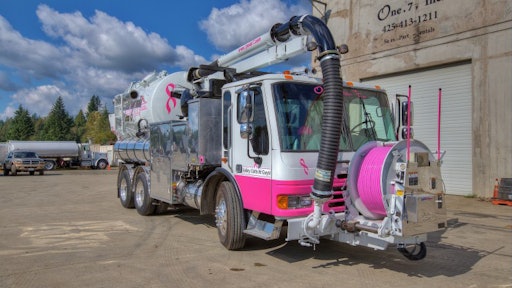 While pink may not be the toughest of colors for sewer cleaning equipment, the owners of One.7 Inc., an environmental equipment and street maintenance dealership in Ravensdale, WA, think pink is the best color to represent their ongoing fight against breast cancer. In the midst of hundreds of pink-clad walkers making their 60-mile journey around Seattle during the 9th Annual Susan G. Komen Seattle 3-Day Walk event in September, the used equipment dealer proudly displayed its freshly painted and detailed pink used Vactor 2100 combination sewer cleaner, originally built by Vactor Manufacturing, to provide support for a great cause.
Over the last few years, One.7 Inc. has been an active supporter of breast cancer awareness. In addition to auctioning off used equipment painted and detailed pink, with proceeds donated to the Susan G. Komen 3-Day Walk, the company has also sponsored events and made donations on behalf of customers who have purchased equipment and parts. The response they have received from the community and local businesses is something the company owners, Tina and Cory McDonough, never could have imagined.
In addition to the pink Vactor 2100 truck, the dealer has also repainted used Broom Bear and Crosswind sweepers, built by Elgin Sweeper, to help support their breast cancer awareness efforts. Tina also heads up the Valley Girls and Guys, a non-profit group that raises money for the Susan G. Komen for the Cure Foundation and participates in the 3-Day events to help find a cure for all forms of cancer. Since 2007, the Valley Girls & Guys 3-Day Walk team has raised $1.4 million dollars for the breast cancer awareness cause. For this year's 3-Day in September, Valley Girls & Guys included more than 160 walkers (the average team has 10 walkers).
"I've always wanted to do a pink Vactor truck for the cause," Tina McDonough says. "This year, we had the inventory to do it, and, after getting a very positive response from Sam Miceli, the General Manager of Vactor Manufacturing in Streator, IL, it was full speed ahead."
"When Tina called to ask if Vactor Manufacturing would support One.7 Inc.'s plan to 'pink' a used Vactor truck for the Susan G. Komen event, I was very interested," Miceli says. "As Tina expanded on her ideas, the excitement and passion in her voice convinced me that Vactor had to participate in the opportunity. It is an honor for the entire team here at Vactor to be associated with One.7 Inc., the Valley Girls & Guys, and the Susan G. Komen Seattle event."
For this year's 3-Day Walk, McDonough set out to detail the Vactor 2100 in plenty of time to display the machine on the walk route. "After my first conversation with Vactor Manufacturing, the parts started shipping to us, so we immediately got the truck to the paint shop," McDonough says.
"We started working with our wheels/tire guys and our graphics people," she says. "The pink accents, pink Vactor 2100 decals and Valley Girls & Guys logos were added everywhere from the front bumper to the back, and on each side of the machine and cab." According to McDonough, Piranha Hose Products Inc. generously donated 1,000 feet of high-pressure sewer hose – also colored pink – for the hose reel on the Vactor 2100.
"Once the painting and decals were completed, we secured a special permit to park the finished Vactor truck at Marymoor Park in Redmond, Washington, where the walkers cross the finish line each day of the walk."
On the second day of the event, McDonough's husband, Cory, and her daughter, Taya, drove up and down the route wearing hot pink vests and hard hats and cheering on all 1,100 walkers.
Rather than auctioning off the pink Vactor 2100 truck, McDonough would like to sell the machine, preferably to a local contractor or municipality in the greater Seattle area. Once the pink Vactor 2100 truck is sold, One.7 Inc. will donate approximately 20% of the sale to Susan G. Komen For the Cure.
"Eventually, I would like to see a pink Vactor truck and/or pink Elgin Sweeper street sweeper in every state to serve as ambassadors for breast cancer awareness," McDonough says.
Vactor 2100 Series combination sewer cleaners combine high-pressure water jetting and a high-flow vacuum source to scour pipes clean, and then vacuum up the material that causes blockages to restore and maintain normal sewer flow. These machines feature the exclusive Vactor Jet Rodder water pump with jack hammer action. The powerful vacuum source can be either a centrifugal compressor (fan) or positive displacement blower (PD) depending on application. With the Modul-Flex design, numerous-sized debris tanks from 3 to 15 cubic yards (2.3 to11.5 cu m), and water capacities from 500 to 1,500 gallons (1,893 to 5,678 liters) are available.