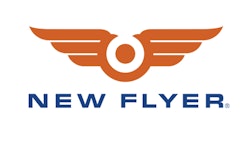 New Flyer Industries Inc., the leading manufacturer of heavy-duty transit buses in Canada and the United States, announced its order activity and backlog update for the second fiscal quarter ended June 28, 2015 (Q2 2015).
Bus Deliveries, Order Activity, and Option Expiry
New Flyer delivered 594 equivalent units (EUs) in Q2 2015, an increase of 12 EUs compared to 582 EUs in the second fiscal quarter ended June 29, 2014 (Q2 2014). 
New Flyer's new bus orders (firm and options) in Q2 2015 totaled 531 EUs. In addition, 1,238 EUs of new firm and option orders were pending from customers at the end of the period, where approval of the award to New Flyer had been made by the customer's board, council or commission, as applicable, but purchase documentation had not yet been received by the company and therefore not yet included in the backlog.
New Flyer's last 12 months (LTM) Book-to-Bill ratio (defined as new firm and option orders divided by deliveries) was 121% and has been greater than 100% for nine of the last ten quarters.
Order activity in the period included:
New firm orders for 318 EUs (valued at $136.7 million)
New option orders for 213 EUs (valued at $98.0 million)
Options for 546 EUs (valued at $280.2 million) converted to firm orders
The New Flyer master production schedule combined with current backlog and orders anticipated to be awarded by customers under new procurements is now expected to enable the company to operate at a corporate average line entry rate of approximately 50 EUs per available production week for fiscal 2015 as a result of timing of certain awards. Production rates vary from quarter to quarter due to sales mix and the phased introduction of the
Xcelsior platform into the Anniston, AL, manufacturing facility in 2015. Work-in-process (WIP) at June 28, 2015 was 447 EUs, an increase of 63 EUs from the previous quarter reflecting the transition to the Xcelsior platform into the Anniston, AL, facility, which will be reduced as the project is completed in the second half of 2015.
In Q2 2015, 119 option EUs expired, compared to zero option EUs expired in Q1 2015. 
Total Backlog
At the end of Q2 2015, New Flyer's total backlog was 7,011 EUs (valued at $3.49 billion) compared to 7,193 EUs (valued at $3.57 billion) at the end of the first quarter of 2015 (Q1 2015) and 7,372 EUs (valued at $3.54 billion) at the end of Q2 2014.

New Flyer's backlog consists of 30-, 35-, 40- and 60-foot bus lengths. Buses incorporating clean propulsion systems (such as natural gas, diesel-electric hybrid, electric-trolley, and battery-electric) represent approximately 72% of the total.

U.S. Funding Environment
On April 16, 2015 The Bridge to Sustainable Infrastructure Act was introduced into Congress, introducing legislation that provides a long-term solution to ensure the Highway Trust Fund is sustainable. The bill allows all transportation funding proposals to be considered, while ensuring the trust fund remains solvent for no less than 10 years. To help reach a long-term funding solution, the legislation would create a Transportation Commission by September 1, 2015, who would be charged with determining a path for sustainable funding, and would be advised to consider all options. The bill was referred to committee and remains under review in Congress.
The U.S. Administration's proposed Grow America Act, the revised multi-year surface transportation bill, was introduced to Congress on May 19, 2015 and continues to be reviewed by various committees. As a result, on May 29, 2015, President Obama signed the Highway and Transportation Funding Act of 2015 into law which extended MAP-21 authorization from May 31, 2015 through to July 31, 2015.
On June 9, 2015, the Transportation, Housing and Urban Development, and Related Agencies Appropriations Act, 2016 passed in the House of Representatives to provide FY 2016 appropriations. On June 25, 2015 this bill was approved by the Senate Appropriations Committee and has been placed on the Senate Legislative Calendar.
Finally, on July 13, 2015 another bill was introduced in the House of Representatives to extend the authorization of the Highway Trust Fund (HTF) programs through December 18, 2015 at current spending levels.
Given the uncertainty around negotiating a multi-year and sustainable funding mechanism, management anticipates additional short-term extensions to MAP-21.
Economic Environment and Ridership
Preliminary data from the Nelson Rockefeller Institute indicates state tax collections increased in the fourth quarter of 2014 by 5.7% over the previous year. State tax collections include personal income tax and sales tax, both of which have increased for 19 of the last 20 quarters, and corporate income taxes have increased for the past six quarters. Although the data has not been published, initial revenue reports indicate continued growth
in overall state tax collections as well as in major tax sources for the first quarter of 2015.
Transit ridership in both Canada and the United States remains stable. The American Public Transportation Association's (APTA) ridership report indicated that as at March 31, 2015, ridership decreased by 0.66% in all modes of U.S. transit ridership during that period compared with the previous year, with a slight decrease in bus ridership of 1.78%. The same report indicates Canadian ridership increased by 0.01% in all modes of transit
ridership during the same period as compared to the previous year. Specific data regarding Canadian bus ridership however, is not available.

Transit Bus Demand
New Flyer's Bid Universe metric reports active bids in Canada and the United States, and provides an overall indicator of expected transit bus market demand. It is a point-in-time snapshot of: i) EUs in active bids, defined as all requests for proposals (RFPs) received and in process of review at New Flyer plus bids or proposals submitted by New Flyer awaiting customer action, and ii) management's forecast of all expected EUs to be placed out for competition over the next five years.
The total number of active EUs at the end of Q2 2015 was 7,571 which is an increase of 504 EUs or 7% over the previous quarter. The number of EUs in the total Bid Universe at the end of Q2 2015 was 20,698 EUs and increase of 1,317 over the previous quarter.

Management continues to anticipate that bus procurement activity by public transit agencies throughout the U.S. and Canada should remain robust based on expected customer fleet replacement plans and active procurements.
New Flyer Aftermarket
Gross orders received by New Flyer's aftermarket business during Q2 2015 decreased 6.8% compared to Q2 2014 as a result of the wind down of the Chicago Transit Authority mid-life bus upgrade program. The upgrade program successfully delivered a total of 1,028 refurbished buses to the customer over a term of 25 months on budget and on schedule. Total aftermarket shipments in Q2 2015 increased 13.5% over Q2 2014.
Quarter-over-quarter gross aftermarket orders experienced a slight decline of 0.7% over Q1 2015, while shipments increased 1.2% over Q1 2015.