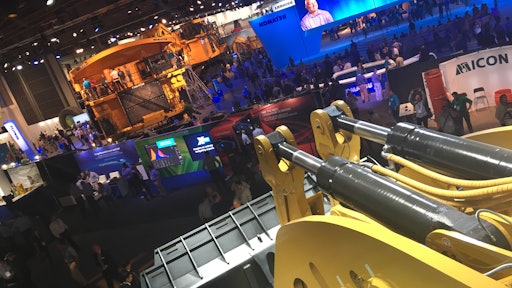 S. Jensen
MINExpo INTERNATIONAL® 2021 is taking place September 13-15 at the Las Vegas Convention Center. This quadrennial event brings the global mining industry together to highlight the latest technologies and trends. Every segment of the mining industry is covered—including exploration, mine development, open pit and underground mining, safety and more.
The 2021 event will fill 11 halls of the convention center with a variety of mining equipment and technologies. According to show organizers, the event will cover over 675,000 sq. ft. (62,709.6 sq. m) of exhibition space. More than 1,200 suppliers will be on hand to demonstrate their recent technologies and products.
MINExpo is sponsored by the National Mining Association (NMA), and will bring together educational sessions with the entire spectrum of advanced equipment, technologies, products, and services.
Products on display during the event will include:
Mining equipment
Safety equipment
Engineering, construction and mining services
Drilling equipment
Materials handling
Processing/preparation
Components & replacement parts
Electrical equipment & supplies
Power & power transmission.
Caterpillar Launching New Technology and Equipment
Central Hall Booth #6229
Themed "Together, we're mining better," Caterpillar's MINExpo 2021 experience celebrates the company's partnership with mines and the ways it assists customers to mine more efficiently, effectively, safely and sustainably. The 5,124-m2 (55,000-ft.2) exhibit will feature a broad range of product displays, new equipment introductions, previews of what the future holds and remote operating stations.
The exhibit will be grouped under three specific core areas: environmental, social, and corporate governance (ESG) and sustainability; technology and automation; and equipment lifecycle management solutions.
"After waiting an extra year, the mining industry is ready to reconnect at MINExpo. We are excited to show our customers and the industry advancements Caterpillar has made not only in equipment, technology and services but also in how we are helping customers mine more sustainably," comments Caterpillar Resource Industries Group President Denise Johnson. "While we are eager to exhibit in Las Vegas, we recognize that many of our dealers and customers will not be able to travel to the show. Therefore, we are also creating a digital Caterpillar experience at cat.com/mining, where we will place MINExpo specific content."
Caterpillar intends to introduce several new pieces of equipment during the show, including the new Cat R1700 XE LHD featuring 100% battery-electric propulsion. The machine offers a 15-tonne (16.5-ton) payload, 24,190-kg (53,330-lb.) lift and tilt breakout force, and 18 km/h (11.2 mph) top speed.
In addition to the electric powered LHD, Caterpillar will introduce a portable charger to eliminate the need for battery swapping common with electric mining equipment. The Cat MEC500 Mobile Equipment Charger can provide a full charge for the R1700 XE in 20 minutes, helping to reduce downtime for mining operations.
The new Cat D11 XE dozer will also be unveiled at the show, which Caterpillar says is the world's largest, most powerful and most efficient electric drive dozer with high drive. A new Cat D10 dozer will be exhibited alongside it which provides up to 4% less fuel consumption than the previous model.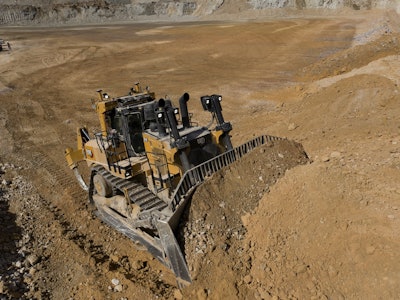 Doran Displaying Latest Tire Monitoring Solutions for Off-Road Equipment
South Hall Booth #27633
Doran will display its most recent innovations in tire monitoring systems technology for the off-the-road (OTR) market during MINExpo 2021.
"Doran offers multiple tire monitoring systems solutions for off-the-road equipment of all shapes and sizes," stated Lee Demis, Vice President of Business Development for Doran Manufacturing. "We have designed and built world class technology around our patented OTR pressure and temperature sensor to provide customized and value-added solutions for OEMs, dealers/distributors and mine operators around the globe."
Depending on customer requirements, Doran offers TPMS (tire pressure monitoring systems) solutions that range from basic, stand-alone systems, to customized, fully-integrated J1939 CANbus technology for equipment OEMs and third party telematics providers.
Doran TPMS provides real-time, accurate tire pressure and temperature data, including critical low pressure and high temperature alarm notification. Patented Doran OTR tire pressure/temperature sensor technology is designed to function properly when liquids and chemicals are present inside the tire.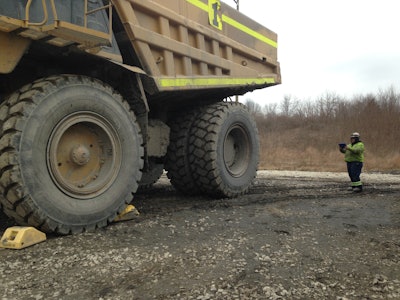 WIKA Introduces New OEM Pressure Sensor for Off-Road Machinery
South Hall Booth #27712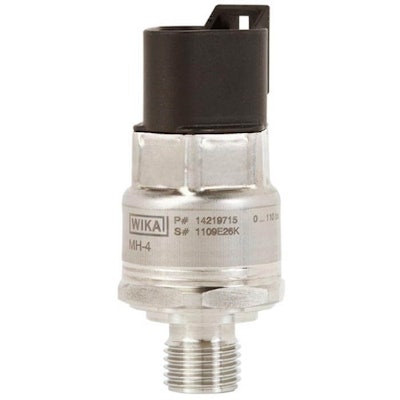 WIKA has introduced the MH-4 pressure sensor for OEMs in the off-road equipment industry. It has been tailored to meet the needs of a wide spectrum of applications in extreme conditions.
The MH-4 measures continuously with an accuracy of up to ≤ ±1.0% FS. Tests on the electronics returned a load cycle stability of 100 million cycles and a long-term drift of ≤ ±0.1% FS over the entire life cycle. The sensor withstands pressure spikes in hydraulic systems with up to three times overload safety, vibrations up to 40 g and mechanical shocks of up to 100 g.
Read the full product description.
Petro-Canada Showcasing Mining Fluids and Greases
North Hall Booth #123
HollyFrontier Lubricants & Specialties will be exhibiting its range of Petro-Canada Lubricants fluids and greases at MINExpo 2021.
The company's complete line of products for the mining industry, including Petro-Canada Lubricants DURON heavy-duty engine oils, HYDREX hydraulic fluids and PRODURO transmission drivetrain oils will be exhibited at the event. Delivering superior protection to help make mining operations more efficient, Petro-Canada Lubricants products reduce unplanned downtime and improve equipment reliability.
Among the other products on display will be an automatic lubricator as well as the company's PEERLESS 3 Moly 322 which is formulated for the protection of low speed, severe heavy-duty applications where high temperatures and heavy loads are common.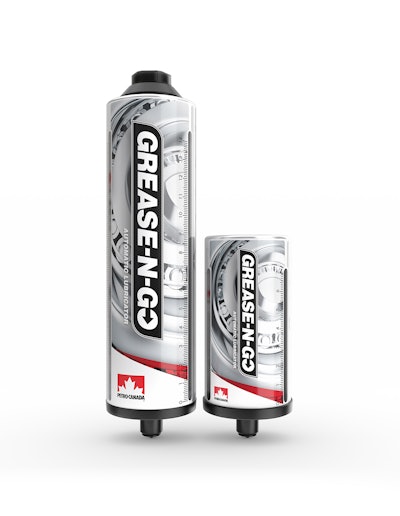 BKT Produces its Largest Tire for Rigid Dump Trucks
Central Hall Booth #4457
BKT has developed its largest tire to date, the EARTHMAX SR 468. The tire is designed to fit out rigid dump trucks. A prototype of the tire was produced in November 2020 in size 40.00 R 57, and is undergoing testing worldwide with BKT engineers.
The 57 in. (144.8 cm) tire is one of several radial tires in the EARTHMAX range which features an all-steel structure for improved durability in harsh operating conditions. The tire's casing design also protects it from damage. A feature of the EARTHMAX SR 468 is the special tread design and the compound, created to limit heat generation. The E-4 depth of the tread provides extreme resistance in highly challenging conditions, as well.
"A giant product has been created which will now be subject to the most rigorous testing...until we are sure we have achieved the highest possible level of quality and reliability, as always. Only when we are absolutely sure we can offer our users the best EARTHMAX SR 468 possible, will we officially launch the new 57 in. giant," said Dilip Vaidya, President and Director of Technology at BKT.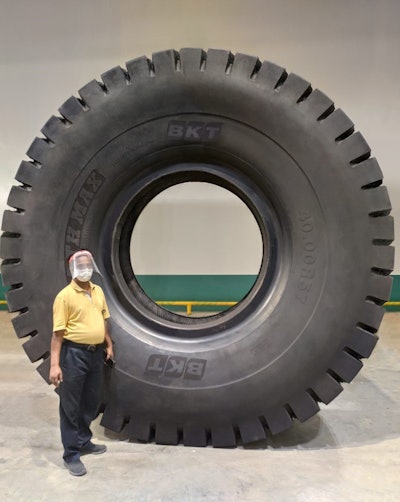 Companies in this article