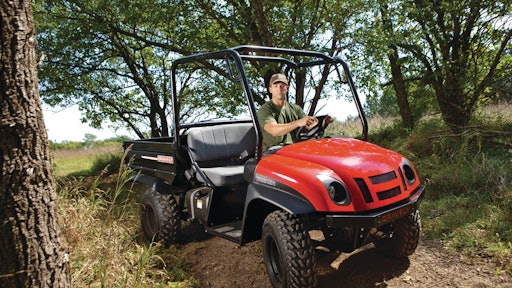 The redesigned Gravely Treker utility vehicle has been given a "big truck" feature with a column shifter -- the first in such a vehicle. A mechanical lever which makes gear changes electronically, the shifter makes it easier for operators to navigate through reverse, drive and neutral. In addition, a redesigned throttle and brake pedal are more durable and provide operators with better control.
Gravely's parent, Ariens Co., acquired the Treker line from Land Pride in March, 2009. The new Treker represents an all-new look for the machine originally designed and engineered by Land Pride, a division of Great Plains Mfg. Inc. The rebranded Gravely Treker was introduced last summer, primarily targeted to the rural lifestyle customer.
Originally powered by a 20 hp Honda engine, that has been replaced with a 22 hp Subaru offering more power, torque cooling efficiency.
Other upgrades intended to increase performance, enhanced user comfort and reliability in the Treker include a new limited slip differential provides the same capability as the previous generation's locking differential, with the added advantage of better durability. The Treker's exhaust was overhauled to provide lower intake temperatures and less restriction, providing improved performance.
Additional interior features include an enhanced footwell for more room, more storage in the redesigned dashboard, and a new seat design that eliminates water retention.