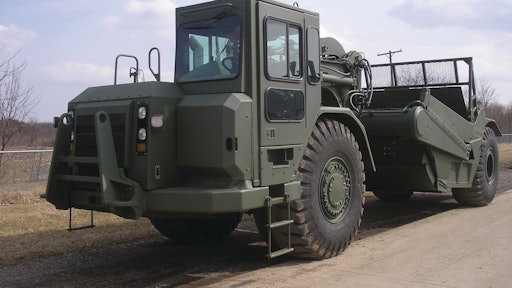 On August 31, President Barack Obama announced the end of the American combat mission in Iraq. "Operation Iraqi Freedom is over, and the Iraqi people now have lead responsibility for the security of their country," the President stated in his address to the nation. Approximately 50,000 of the 144,000 American troops (as of Jan. 2009) will remain until the end of 2011 to advise and assist Iraq's security forces, conduct partnered counter-terrorism operations, and protect U.S. civilians.
At the same time, we have shifted our focus to Afghanistan, a country with a much different terrain and infrastructure, and there are continued U.S. military presences in countries all over the world.
These evolving military efforts keep a consistent and constant demand for military equipment. Contracts are frequently being awarded for hundreds of pieces of equipment per order. As the orders continue to roll in, companies are finding stable revenue streams, while offering a global benefit to those in need of infrastructure rebuilding and protecting our militants in combat.
Rick Sharp, Manager of Marketing and Contracts for Caterpillar Inc.'s Defense & Federal Products – Machine Products Div. suggests, "construction equipment will be even more important in Afghanistan than it was in Iraq. The Iraqi infrastructure was well established, while the Afghanistan infrastructure is poor with many roads being dirt or unimproved. The terrain in Afghanistan is also extremely rugged, making work difficult. This means a great deal of road and infrastructure work will be necessary."
And while the terrain and infrastructure is different between Iraq and Afghanistan, Cat hasn't seen a change in the technology on equipment being supplied to the different countries. "We haven't seen a difference between machines delivered to Iraq or Afghanistan. Construction equipment serves the same purpose in both operational areas – to build/repair infrastructure," Sharp says.
Diversified in defense
Caterpillar Inc. recently announced it was awarded a long-term contract to manufacture over 900 Caterpillar 621G wheeled tractor scrapers for the U.S. Dept. of Defense (DOD), potentially worth up to $641.2 million. The machines will be manufactured in Cat's Decatur, IL, facility and will support the U.S. Marine Corps (USMC) and U.S. Army's efforts to construct roads and airfields, as well as other construction engineering operations that require soil to be moved quickly and safely.
"Some of the machines will receive armored cabs that we've already designed and are now starting to build the prototypes with our subcontractor," says Sharp. "The armor kit will be tested thoroughly by the USMC and U.S. Army."
And, while there are military specific requirements for the machines beyond armor such as lift and tie-down provisions to allow for easy military transportation, and keyless engine start, there is not a huge difference between the commercial and military versions of the 621G scraper.
"The government tries to procure construction equipment as close to commercial as possible," explains Sharp. "The closer the machine is to the commercial vehicle, the better Caterpillar and the U.S. Military can support it around the world with Cat's global dealer network," he says.
This is the single largest award Caterpillar has ever won from the U.S. DOD. "This is an important win for Caterpillar, our Decatur facility and U.S. Marines and Army soldiers," says Bill Springer, Caterpillar's VP with responsibility for Diversified Products. That says a lot for Caterpillar, since they have been working with the DOD since World War One.
Beyond its well known construction and mining machinery portfolio, Deere-Hitachi Construction Machinery hosted representatives of the U.S. Army TACOM at its Kernersville, NC, facility on September 16 to unveil one of the 113 HYEX (hydraulic excavator) units to be customized and delivered to the Army during the next nine months.
The foundation for the John Deere HYEX machine is the 240D LC Excavator, which was customized through collaboration between Deere engineers and Army Engineering to incorporate military specifications. For example, the John Deere engine that powers the commercial HYEX underwent alterations to enable it to run on JP8 jet fuel, the common fuel type found in vehicles in theater. As with Caterpillar's equipment modifications, special lift and tie-down lugs were added to enable safe loading and transporting of the machine.
The military-equipped vehicle requires an extra 70 feet of welds and double the welding time on the track frames alone compared to its commercial counterpart. Armor plating is installed in the Kernersville facility to offer protection to the underside of the cab from blasts below the machine. The Army replaces the standard cab with an armored version, and additional modifications are done by John Deere supplier G.R. Mfg. in Trussville, AL.
Military is in their blood
While some companies diversify into military equipment, tweaking heavy-duty commercial vehicles, others are narrowly focused strictly on the military industry.
Navistar Defense LLC, Warrenville, IL, an affiliate of Navistar Intl. Corp., is no stranger to vehicle orders either. Earlier in September, the company announced it had received $66 million in delivery orders from the U.S. Army TACOM Life Cycle Management Command (LCMC). (TACOM is an acronym meaning Tank-automotive and Armaments Command; however, when referring to the LCMC community, "TACOM" is a stand-alone proper name rather than the commonly known acronym.) The order of 492 vehicle units is in addition to orders placed under four existing Navistar contracts, and deliveries are expected to begin December of 2010.
The vehicles go to support security and rebuilding efforts in both Iraq and Afghanistan. "In less than seven years, we have received nearly 30,000 vehicle orders with a majority of those being military commercial off-the-shelf vehicles," says Archie Massicotte, president, Navistar Defense. The delivery orders include several variants with a shared vehicle commonality based on the International 7000-MV or WorkStar platform including general troop transport vehicles, fuel tankers, water trucks and wreckers to be produced at Navistar's Garland, TX, and West Point, MS, facilities. The company also will supply buses, produced in its Tulsa, OK, assembly plant.
September 21, Navistar Defense announced that it had showcased its International MXT and Navistar-Tatra ATX6 vehicles at the Africa Aerospace and Defense exhibition. The company plans to submit variations of these vehicles to compete for the future South African military logistic truck requirement. The MXT vehicle is currently in operation in Afghanistan supporting the British Army.
The company most recently announced the unveiling of its new high-mobility tactical vehicle (MTV) at the Modern Day Marine Exposition in Quantico, VA. "Since receiving our first contract in 2005 to support security and rebuilding efforts in Afghanistan, we have provided more than 21,000 medium tactical vehicles based on the 7000-MV platform in 13 different variants," says Massicotte.
Dave Schwartz, product manager for U.S. Army Combat Engineering and Material Handling Equipment explains that the 230 LCR HYEX machines they are currently running are doing well in the field, but are getting worn out. "These machines are running 14 to 15 hours a day, and frankly a lot of preventative maintenance work doesn't get done because of the pace of the work. There just isn't time to do it.
"The excavator is the number one piece of equipment in theater, and about 40 of these will go to Afghanistan to help build base camps, roads and schools, put in water and sewer lines, and move barriers. The remainder of the machines will fill shortage in the National Guard and Reserves in the U.S.," he says.
A recent partnership was formed on September 14 between New Orleans, LA-based Textron Marine & Land Systems (TMLS) and MDT Armor Corp., a division of Arotech Corp., in Auburn, AL. The agreement is to market, design and manufacture the Tiger light protected vehicle, based on a commercial, off-the-shelf Dodge RAM 5500 platform. The cost-effective all-terrain vehicle features a 350 hp Cummins engine and high reliability armor for a crew of six to nine persons.
The Tiger is ballistic and mine blast protected with a versatile cabin and large payload capacity for easy tailoring to the mission necessities. The off-the-shelf platform allows widespread maintenance and support, much like the Caterpillar's commercial vehicle perspective of cost-effective and efficient part maintenance, repair and replacement.
TMLS was also selected by the Government of Canada on August 31 to participate in the competition to be selected to submit a proposal to provide its Tactical Armored Patrol Vehicle. Textron plans to offer a 4 x 4 wheeled armored vehicle with a modern design aimed at shielding troops from roadside bombs and blasts while providing large power reserves for future electronics enhancements
JLG Industries Inc., McConnellsburg, PA, is most known as a manufacturer of aerial work platforms and telescopic material handlers, not so much for its military equipment, but as an Oshkosh Corp. company, it's easy to see the ease of military technology expertise and implementation. On September 10, JLG was awarded a $40 million contract to build 280 extendable boom forklifts (EBFL) for the U.S. Marine Corps.
EBFLs are otherwise referred to as Millennia Military Vehicles (MMVs) and are used to reach into trucks or shipping containers, lift loads over obstacles and pick up loads from both above and below grade. The MMV is a four-wheel drive, rubber-tired forklift with a lifting range from 4,000 to 11,000 lbs. It also features three steering modes – two-wheel, four-wheel and crab steering – for maneuvering in tight places. Used for relief efforts after Hurricane Katrina and the 2004 Tsunami, as well as in combat operations such as Iraqi Freedom, more than 800 MMVs have been deployed by the U.S. Marine Corps and U.S. Army.
The third quarter of this year, JLG saw an increase in demand for military telehandlers, which strengthened its outlook for the military segment overall, explains Jeff Ford, senior manager - marketing communications, JLG Industries Inc. "We recently developed a unit called the EIRV (engine installation and removal vehicle), based on the design of the MMV. The EIRV's modified boom is ideal for placing or removing engines on cargo aircraft," says Ford.
The EIRV can reach a 29-ft. horizontal extension, and 41-ft. vertical extension, along with a 6,000-lb. operating load capacity. New joystick software and jib attachment provides both standard machine and boom manipulation coupled with fine-tuned horizontal modes of operation for precise engine control and placement.
Everyone, whether a military vehicle and technology expert, or a commercial vehicle manipulator, is benefitting from the consistent demand in the military vehicle market. And, as Caterpillar's Richard Sharp pointed out earlier, the end of the combat mission in Iraq does not mean the end of vehicle requests. The infrastructure rebuild efforts demand construction equipment with a hint of armor and a dash of camouflage paint to keep the soldiers safe, whether building a road or in combat.
Companies in this article