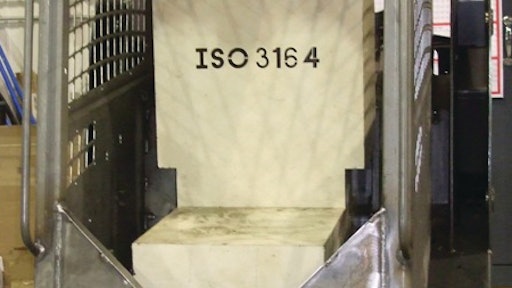 Many equipment operators look at cabs from the inside-out. And while enjoying the air conditioning and XM radio in a nice comfy seat are great amenities, the cab is more importantly the protective shell between the operator and the environment outside. With efficiency a priority, money the bottom line, and more unskilled workers manning the controls, the jobsite can be a dangerous place. Whether it's noise, chemicals, dust and other environmental conditions, or as severe as a sudden heavy rock fall in a mining quarry, an OPS (operator protective structure) cab can save an operator's life. Period.
Custom Products of Litchfield Inc., Litchfield, MN, specializes in designing, manufacturing and testing customized cabs, ROPS (roll-over protection structure), FOPS (falling-object protection structure), and OPS to government and industry concensus regulations. The company works directly with the OEM from concept to prototype to finished product every time.
Randy Reinke, president of Custom Products, says, many people ask why OEMs don't build their own cabs. "They can," he admits, "but consider the type of materials and the amount of vendor items we work with: rubber, glass, hardware, instrumentation, upholstery; things not often found throughout the rest of the machine." There may be several hundred part numbers in a cab design representing dozens of vendors. If an OEM builds its own cabs, it undertakes the responsibility of working with all of those vendors on top of the rest of the machine.
A specialist like Custom Products can keep current in the latest hardware and types of glass than perhaps a large OEM can, which is why, Reinke says, many tend to outsource.
"We get lots of questions asking if we have something 'off-the-shelf' that will work for a specific company. The answer is really, no, but the real answer is that we can make it customized to you and meet all of your needs and specifications," he says. "Cabs are not one size fits all. We are very much about adapting to our customers needs and applications."
A recent revamping of its facility proves that for Custom Products, customer comfort and partnerships are essential. The latest features of the building include a video conference room for interactive meetings in real time with customers across the country. The room will be networked to the engineering system so engineers can work out the details of the cab design with the customer, allowing the customer to suggest changes and see them on the screen in real time. "It allows us to meet and say, here's where we are in the design process. What do you think?" says Reinke. "Then the customer has the ability to say, 'No, it's too big, or we need a window here.' It's fine at that point. We haven't built it yet."
Beyond the video conference room, a second-story observation room outside of Custom Products' zero-degree (0 F) testing area gives customers a chance to watch destructive OPS qualification tests being done on the prototype and be able to see problem areas and troubleshoot with engineers on site.
A separate sample room is designated for arranged meetings between suppliers and OEMs. This allows Custom Products to bring its glass, hardware, or fabric suppliers face to face with the OEM so they have the opportunity to work out cab design details together. "We're very much about building long-term relationships with customers. This isn't a commodity. We start building the relationship early on," says Reinke.
Jim Schmitt, director of engineering and regulatory compliance, adds, "Offering contract OPS testing is another road leading to Custom Products, in terms of getting to know us and discovering our capabilities. Contract OPS test clients can become cab design customers as well." The company isn't a design house, however. It's a cab manufacturer.
Not-so-secret weapons
Randy Reinke's father founded the company in 1959. He started building cabs in 1962 and marketing them through farm implement dealers, which was the start of Cozy Cab, the aftermarket brand of Custom Products of Litchfield. The company stayed in the aftermarket until the early '70s when it started adding some OEM business and at the same time started adapting to the ROPS test standards that OSHA was writing.
Since April of 1972, Custom Products has conducted over 650 operator protective structure tests to a number of government and industry consensus standards, and it doesn't discriminate when it comes to customers. Some of its customers are its competitors, as they typically don't have the test facility that Custom can offer.
"Testing is part of the design process, but we also offer certification tests. We'll test for a competitor or we'll test for customers who have the capability in-house to build their own but don't have the certification ability. We also offer certification on a contract basis as a service." Not many cab manufacturing companies, even with in-house testing, can test at zero degrees and qualify operator protective structures.
Custom Products has had a zero-degree test lab up and running since 1972. The 1,500-sq. ft. test facility offers the OPS services to off-highway equipment manufacturers. According to the Safeguard for Mechanical Equipment Section 220.40(f)(3)(B)(iii) "Steel used in the ROPS must have capability to perform at 0 (zero degrees) F..."
"Mild steel's ability to remain ductile decreases at reduced temperatures," explains Schmitt. "There is an option to either buy steels that have known ductility at reduced temperatures, or to select the materials of choice and test at zero degrees. People often opt for the mild steel option because structural grade mild steel is more readily available, and many times it's less expensive."
The test lab is made up of 120,000 lbs. of test fixture to accommodate vehicles up to 200,000 lbs. gross vehicle weight. Custom Products has tested vehicles up to 300,000 lbs. and is preparing to accommodate a 350,000-lb. vehicle OPS cab to receive 700,000-lb. crush loads on it.
Schmitt is the company's "secret weapon". He is in the second generation of domestic engineers and scientists that develop, interpret and apply OPS regulations. He knew some of the founding fathers who originally developed rollover protection for agricultural tractors and construction equipment, and he maintains archival information for reference for the future and offers his knowledge as a resource to the industry. Says Reinke, "Jim will get calls from non-customers, customers and colleagues to talk about the concept of testing and the application of the tests." Jim also sits on numerous committees helping to write new standards or update standards as they change.
Take it to the limit
The cab manufacturing process begins with a blank canvas and a sit-down meeting. Custom Products presents a cab idea to the OEM and they exchange ideas on what to manipulate and customize. After numerous consultations with updates of the design, the final OK sends the design to the shop for prototype manufacturing.
Testing isn't done until the design phase is complete because the tests are destructive to the prototype. "When we get into the prototype phase, the shop will manufacture the parts, build the cab, make sure everything fits, then work out the final design. We're going to test it first before it goes into full scale manufacturing," explains Reinke.
"We'll test the prototype in the test lab, and if it meets the standards, we are ready to scheduling production. It can be upwards from 60 to 120 days of advanced production planning to buy the other vendor items such as glass and plastic parts.
"Often times customers will say, "Just push it to the limit and see how much it will take," but because of the cumulative nature of OPS testing, we can't push to the breaking point early in the test process and jeopardize subsequent loads. We have to be careful not to overtest."
Violating the operator zone
Represented by a boxy white structure and placed in a cab prototype prior to testing, the Deflection Limiting Volume (DLV) holds the place of the operator's environment. There are different sizes of DLVs depending on the regulation or standard to meet, as well as industry and machine specifications. The DLV designates a space that cannot be violated by the OPS or simulated ground planes in any way during the test. If the DLV is violated, the test is a failure and there must be changes made to the design to make sure the operator environment is not penetrated.
When a force is applied to the structure, you have deflection and movement; it bends from absorbing that energy, explains Reinke. "When a car hits a brick wall, you don't want it to be a tank because it'll bounce back and the operator will receive quite a shock. You want that accordion effect for some energy absorption."
There are load distribution devices applied to the prototype for testing. The standard in question determines the direction of the horizontal loads that are applied, says Schmitt. "In the construction industry, it is common to apply lateral, vertical and longitudinal forces and energies to verify the cab's operator protective qualities." When horizontal loads are applied to a construction cab, Schmitt plots a Force-Deflection Graph (shown above) which shows the amount of force inputted on the vertical axis. The area under the curve represents energy absorption. The energy measurement must meet a certain level as specified by the regulations of the particular industry for a given gross vehicle mass.
In the end, a booklet with all of the test results is given to the OEM. "The bottom line of what we are doing is selling product liability assurance and taking the customer out of that liability situation," says Reinke. "We put our neck on the line, too. We're going to prove that we've met those standards and that we've put the operator in a better situation in terms of the OEM's own product liability, if there should happen to be a rollover.
"The core of the design is, if it ever needs to do what it is supposed to do — to protect the operator during a rollover — you really want to do this part right."
Editorial Enhancements
Visit OEM's Video Network above to watch a clip, recorded in Custom Products of Litchfield's zero-degree (0 F) test lab, of a FOPS (falling object protective structure) test. The test drops a 500-lb. steel shaft from a height of 17 ft. 2 in. onto a Sandvik Mining and Construction cab that successfully met the FOPS standard.
Fight for a rewrite
Equipment that switches industries poses a risk to operators.
Consider a skid steer with a cab that has been certified and deemed qualified for the construction industry. Since OPS regulations are different per industry and vary by equipment type and weight, when that same skid steer picks up a forestry attachment, the operator is no longer riding in a qualified cab for the appropriate industry.
"Safety personnel are quite concerned about equipment that switches industries," says Randy Reinke, president of Custom Products of Litchfield, Litchfield, MN.
Rewriting standards keeps the equipment qualified for changing industry and machine demands. Currently there is a shift away from U.S. industry consensus standards to international standards with the amount of equipment being sold and manufactured around the world.
"One of the things we hope to accomplish with Jim [Schmitt, director of engineering and regulatory compliance] serving on committees, is to make sure that the standards are written to be applicable and appropriate to the industry. To try to change underground mining by raising the height of the operator cab is not going to happen. We try to bring our expertise to make sure that it's manufacturable, it's appropriate for the industry, and so that manufacturers can comply.
"In the Paperwork Reduction Act of 1995, OSHA took a highly technical section of the ROPS standard out that was quite critical. The zero-degree (0 F) testing was part of that. Jim led the effort and, with other industry representatives, worked five years to convince OSHA to put back all of the deleted text in the Federal statutes so everything that was in the field would be under the appropriate standard. They thought it was dismissible, and that they could reduce the volume of this paperwork by deleting it."