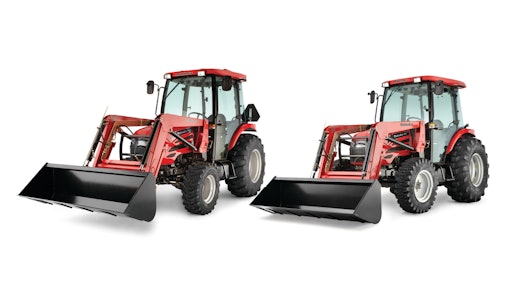 Houston-based Mahindra USA announces the all-new 6010 HST Cab and 6110 Shuttle Cab to its 10 series of tractors. The 10 series tractors are a value line of compact economy machines designed for a multitude of uses. The new 10 series models are both four-wheel drive and became available at Mahindra dealerships nationwide on October 31.
"The new 6010 and 6110 tractors continue Mahindra's tradition of providing our customers with the superior performance, power and value that they require and expect from the world's number one selling tractor," says Cleo Franklin, Vice President – Marketing and Strategic Planning for Mahindra USA. "These new tractors are economical, easy to operate, and ideal for general purpose farming, agriculture/livestock operations, and grounds maintenance."
Each 6010 tractor features a four-cylinder, 59 hp, turbo-charged and indirect injection engine that is the best in its class. The new models continue the strength of the 10 series, with a loader lift capacity of 3,122 lbs. Standard features on the new 10 series models include: ergonomic and spacious cabs, flat operator's platform for comfort, push button cruise and speed settings, load sensing function and standard AM/FM stereo with CD player.
The 6010 HST features hydrostatic transmission with three ranges and infinite speeds, and a 3,314 lb. hydraulic lift capacity. The 6110 Shuttle Cab features Synchro-shuttle with partial Synchromesh transmission, 12 forward and 12 reverse speeds, and a 3,527 lb. hydraulic lift capacity.
The 10 series offers heavy-duty performance at a no-nonsense price. The fuel-efficient engines will help owners reduce their operating costs and save money with the value pricing of the new products.