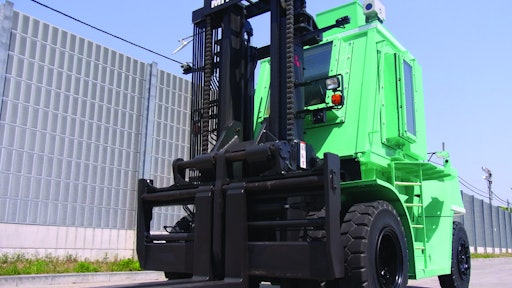 Only four short months ago on March 11, 2011, Japan was struck with an earthquake and tsunami which devastated much of its coastline including the Fukushima Daiichi Nuclear Power Station. Contaminated rubble needed to be cleared out, so Mitsubishi Forklift Trucks set out to manufacture a custom solution for the working conditions.
Starting immediately after the earthquake, Mitsubishi Heavy Industries (MHI) Ltd., parent company to Mitsubishi Forklift Trucks, began providing relief to the affected regions in various ways. For example, the company dispatched engineers to help achieve quick restoration of operations at thermal power plants damaged in the quake. It has also sent emergency supplies to the disaster areas using company helicopters and airplanes. In conjunction with the Fukushima Daiichi Nuclear Power Station, MHI has cooperated in conversion work to the Mega-Float provided by Shizuoka City to TEPCO to store large volumes of contaminated water.
The development of two radiation shielded cabin forklift began on April 1 by MHI. "Since the radiation shielded cabin forklifts were urgently needed, MHI developed and produced the forklift by completely separating from regular manufacturing," says Hideo Ikuno, spokesman for MHI. "In some departments, staff members had to work through the night."
The two machines were designed, developed and manufactured within a single month. The first of the two forklifts was delivered in early May to a joint venture formed by Taisei Corp., Kajima Corp. and Shimizu Corp. that is handling the cleanup at the site. The second unit was delivered later in the month.
This was Mitsubishi's first rapid design and development project in the case of a vehicle with a radiation shielded cabin. "MHI manufactured a front-only shielded cabin about 30 years ago, but the designing of a forklift cabin with this level of shielding is the first time for MHI," says Ikuno.
Approximately 100 people were involved in the machine's development, conducted at Sagamihara Machinery Works of MHI. Testing parameters of the machine's cab (cobalt 60 and cesium 137) were conducted at an undisclosed facility.
MHI incorporated its expertise in vehicle systems, filtering, heavy plate welding and radiation shielding into its existing 15-ton heavy-duty forklift, allowing its operators to work efficiently in the rubble while maintaining a safe working environment in radiation exposed areas.
The first radiation shielded cabin forklift's cab is fully-sealed and constructed of 100 mm thick steel plates with 230 mm thick lead glass. All of the cab sides are welded to ensure maximum shielding against radiation. The forklift cabs are equipped with special filters that remove dust and other radiation-contaminated material. The cab is also pressurized by air purifier to prevent external air from entering.
Each forklift measures 7.3 meters long, 2.5 meters wide and 3.9 meters high; weighs 30 tons and has a load capacity of 9,000 kilograms. Its attachments include hinged forks, bucket, box clamp and pivoting fork. Using these attachments, the forklift will enable efficient transfer and placement of rubble into low-level radioactive waste transfer containers.
"Conventionally, heavy machinery and heavy-duty vehicles are designed or produced without assuming the use in an environment with radiation," says Ikuno. "If we consider the scrambling that took place during the emergency situation, though there are not foreseeable uses for radiation-proof forklifts, the need for radiation shielded bas certainly exists."