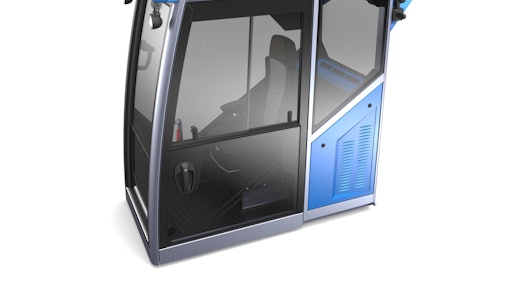 With its modular design, the new Global CAB from Fritzmeier gives machine manufacturers one thing above all - maximum design freedom with low investment costs. Thanks to its long experience in lightweight aluminum construction, this cab specialist has created a safety cab that meets ROPS requirements up to 20 tonnes. For requirements up to 50 tonnes an interior steel ROPS can be added. "This is possible because the ROPS cab is made of welded special aluminum section with a modular structure," explains Uwe Rastel, Vice President Engineering at Fritzmeier Cabs. "That makes it uniquely flexible." The reduction in mass also means that vision obstruction is significantly lower than with steel, giving better fields of view. As flexible as possible, as light as necessary With its customer-neutral basic safety cab, Fritzmeier CABS is meeting the need for high design flexibility paired with low investment. The Global CAB's length and width can be varied by using different modular parts. The available steel INNO-ROPS is installed inside the cab, on the machine platform. In addition to better fields of view, this gives higher weather resistance.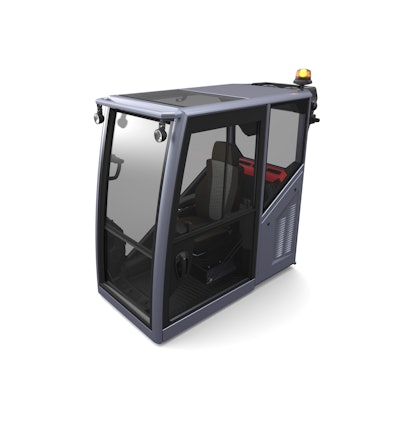 Where weight reduction is important, as in cranes, the aluminium construction of the Global CAB and its great variability make it an obvious choice. The use of aluminum makes it 30% lighter than the same cab in steel. Furthermore, with a recycling quota of 70% aluminum is an energy-efficient, resource-saving, environmentally sound material. It can be used over and over again without degradation of its properties.
A tool kit, for series and individual production If there is demand and interest, the tooling for the aluminum structure and the door designs for the series will be produced after bauma 2019. The Global CAB is a valuable option especially for smaller series, in which manufacturers are cost-driven to a large degree, since it requires only a small investment in tooling while providing the accustomed high Fritzmeier CABS quality.
The cab configures readily to the customer's corporate design by means of various interior and exterior components that can be modified in form and color. The variable length and width make it possible to use a sliding or hinged door as desired, with the same height and cab structure. The sliding door can be mechanically or electrically operated. Options like air conditioning, protective cage and various lighting configurations are also offered.