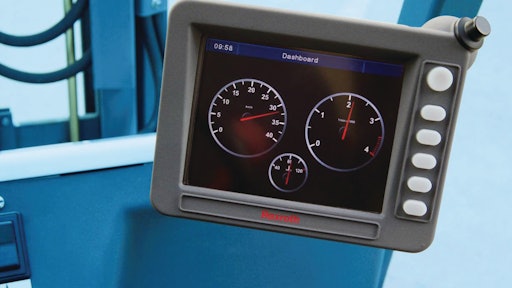 The importance of safety has never stopped growing in the mobile off-highway market. With fewer skilled workers on each job site, as well as a general preoccupation with safety throughout the entire country, camera systems have become essential for most managers and machine operators.
For most mobile equipment, cameras serve as a set of extra eyes for an operator's blind spots. Commonly cameras are placed on the back of large pieces of machinery so the operator can make safe decisions while maneuvering the equipment. Cameras can be mounted on a trailer to monitor the critical load conditions, at the end of a sprayer to monitor the valves, or on a lift boom to monitor the load.
There are countless places a camera can be mounted on a piece of mobile equipment, and the features available make the system even more versatile than it has been in the past.
The camera
In accordance with demand for camera systems to last the life of the vehicle, durability as well as functionality are both high priority for the user. When working in industries like mining and construction, the amount of hazards that could potentially damage the camera are great.
Vibration, dust, water and debris are just a few of the countless environmental hazards present on the work site, and the camera must be able to stand up to those conditions in order to deliver the durability that customers demand and expect.
Intec's XL Series of cameras was engineered specifically for extreme-duty environments. Military specific moisture protection — involving multiple internal seals — and industrial strength construction often allows Intec's cameras to outlast the machine they're mounted on.
The cameras are also integrated with robust active safety technologies such as pulse radar. "The combined camera/radar system provides the driver the means to both actively recognize and then verify hazards and needed avoidance measures," says Donald Nama II, president, Intec Video Systems Inc., Laguna Hills, CA.
Intec Video Systems manufactures the Video Sentinel, a fully remote pan and tilt scene surveillance system, ideal for aerial views. The Sentinel features a color zoom camera coupled with a thermal camera enabling the viewer to locate dangerous hot spots without committing extra manpower to the task, excellent for mining applications.
The AgCam by Dakota Micro, Cayuga, ND, features such tight waterproofing that the company has cameras that have been submerged in fish tanks for around two and a half years.
Caterpillar's Work Area Vision System (WAVS) camera is sealed to IP69K to enable pressure washing. And if water isn't the issue but rather snow or ice, WAVS includes an automatic internal heater to eliminate lens fogging and icing. The camera is able to operate from -40 C to 75 C (-40 F to 167 F).
Its photochromatic lens darkens in ultraviolet light exposure so as not to white out the cameras input when in direct sunlight. In the future, Caterpillar will be introducing an optional lens washing system for extremely dusty applications.
The SuperSight camera from Superior Signals Inc., Olathe, KS, has a built-in microphone to allow the operator to use the monitor to not only see hidden hazards, but to hear potential problems, as well. This enhancement for the safety system allows the operator to rely on two senses, sight and hearing, to heighten his or her awareness while in the cab.
The PathFindIR by FLIR Systems, Wilsonville, OR, features thermal imaging, currently used for BMW's night vision system (see title images on page 34). The PathFindIR detects living objects up to 300 m, allowing more reaction time.
The night vision system produces an image based on the differences in heat radiation of objects and people. The differences are then transformed into a crisp image. The system is unaffected by light, so there is no risk of the operator being blinded by oncoming lights. Nor does the image received by the sensor/camera depend on light allowing the operator to see objects that are not illuminated at all.
The monitor
Monitors, like regular television sets, come in a plethora of different resolutions and screen sizes, among other features. They have the option of both black and white as well as color LCD screens. The large selection of monitor sizes allows for easy and accurate viewing for the operator, yet sizes small enough so as not to be a vision obstruction in the cab.
Nowadays, current monitors feature an automatic ambient light sensor to provide high picture quality in any light condition. The monitors, like the cameras, are protected from the elements and built to endure heavy-duty conditions. The screen and camera are often covered in an antiglare anti-scratch protective lens.
Monitors can be attached in a variety of ways including dash-mounting and ceiling suspension to offer versatility and convenience for the user.
Intec has several monitors that feature dual-camera capability with push-button switching to quickly and easily view all camera angles. Many Intec monitors also feature on-screen distance grids to provide a reference for checking clearances when backing and turning.
Cables and switchers
Switchers for camera systems are used to select between many different video sources. This allows the equipment owner to use several different cameras to see in multiple blind areas and have all of the images go to one screen for the operator.
The WAVS switcher from Caterpillar "allows up to three camera signals to be connected to a single display and facilitates the automatic or manual selection of the desired camera. The machine can automatically select (trigger) the desired camera using the turn signals or transmission gear signals, which greatly enhances the user friendliness of the system," explains Ronald D. Brown, Electronics & Hydraulics business development manager, Cat OEM Solutions, Peoria, IL.
Intec's XL cables are jacketed in polyurethane to withstand the rigors encountered in mining and construction machine applications, says Intec's Nama II. The cables are moisture protected to military specifications and are resistant to abrasion and corrosion from industrial solvents. Intec offers multi-cable kits for installations with difficult access or pivot points.
Security, convenience and surveillance
According to Jeff Huckle, sales manager for Dakota Micro, camera systems are not just for security purposes. Yes, they help monitor the job site to prevent injury, damage, collisions and an assortment of other problems, but a camera's versatility has superseded its single purpose title.
Out of convenience, cameras have been placed on the end of booms and sprayers, for example. These are places where the operator can see obstructions and hazards, but where a closer look would be convenient. Huckle has had customers who use the cameras to see the air seeder, or to monitor the nozzles to make sure they are not clogged. Intec provides cab and mirror-mounted side view cameras for tractor trailer rigs.
Huckle says, "we also have a digital recording system to be used for surveillance or monitoring of, for example, a construction site. A construction building will be set up with cameras watching the site, connected to the internet. So, a construction office in another city or another state can log on and see the progress and whether the workers are actually doing any work or if they're doing anything wrong.
"There is a trend toward watching workers. There have been cases where people have been discovered stealing equipment or supplies. When the job site is empty at night, the system will watch for thieves and vandals. Some of these systems have alarm outputs with a dialer that calls the police if something or someone shows up."
Companies in this article