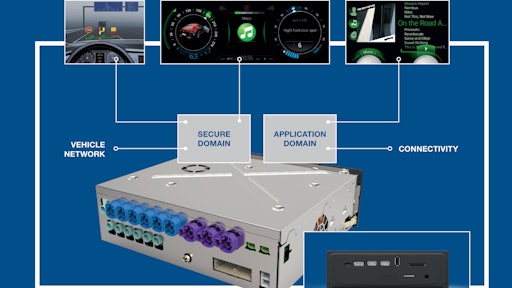 MTA, a leading company in the development and production of a wide range of electromechanical and electronic products for major vehicle manufacturers, presented at EIMA 2016 the latest version of its Human-to-Machine Interface system.
Thanks to the know-how acquired in recent years in the development of intelligent dashboards for different OEMs, with graphics with fast dynamics and very high performance processors, MTA is now able to offer a complete "In-Vehicle" system and with state-of-the-art specifications that manage, even simultaneously, both the infotainment and the instrument panel functions, thanks to the presence of an "intelligent" central unit.
The central unit of the MTA system is developed based on a flexible and powerful architecture that makes use of the Jacinto 6 multicore microprocessor produced by Texas Instruments, which is renowned for its high computing power. It can handle up to three displays inside the vehicle, as well as collect and convey the information coming from the vehicle and from the 4G connection. Furthermore, the unit is ready to be quickly adapted for additional functions based on specific customer requirements.
In addition to allowing the integration of information, the presence of this "electronic heart" makes the display and the central dashboard become external devices of the system, thereby allowing OEMs to easily replace them in the transition from one vehicle application to another.
In developing its HMI system, MTA not only focused on the electronic central unit content, but also paid a lot of attention to the ease of use for the user, for a completely safe drive, cooperating with specialized companies for this purpose.
At EIMA 2016, in the MTA booth there was a show car fitted with the central unit and several displays, to show the visitor what it can offer in the field of multimedia and connectivity technologies inside the vehicle.
The show car featured a large reconfigurable Full HD main dashboard that provides the driver with information; a multi-touch 12-in. display for use by both the driver and the passenger, which manages the infotainment features; two multi-touch 8-in. displays, for the entertainment of back-seat passengers.
The show car was also linked directly to a smartphone; for this function MTA integrates MirrorLink functions. In this way the smartphone user interface can be seen in the central display, with graphics adapted to the typical use and safety requirements for vehicles.