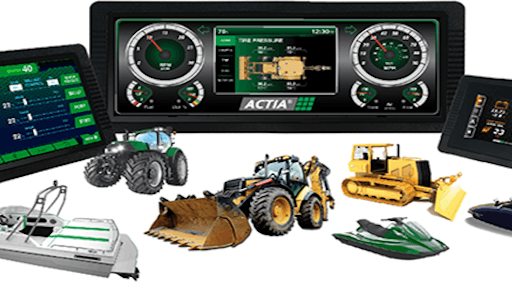 ACTIA Corp.

In a market dominated by mostly single-purpose monitors (Camera, GPS, Chart plotter, etc.), ACTIA is deploying a new generation of Multi-Function Displays (MFD). The 4.3-, 7- and 12-inch human machine interfaces (HMIs) not only allow the user to effectively monitor information, but also to intuitively control various key functions.
ACTIA's MFDs combine ruggedness (IP65/67) with flexibility (Linux OS) and thereby allowing the OEM to autonomously design applications and integrate functional solutions on many platforms where the elements are of concern.
Whether it's a small vehicle/machine/vessel (where space is an issue) or a large vehicle/machine/vessel (where safety is essential), the scalability in size can accommodate them all; inside or outside the cab. These beautifully designed-to-cost displays can easily be the centerpiece of any cockpit and are guaranteed to add a high-end automotive look to any vehicle/machine/vessel.
ACTIA's know-how in developing Human Machine Interfaces combined with its long history in diagnostics, will give any OEM an unprecedented edge to compete and grow market share.
High performance HMI with 4.3-, 7- and 12-in. WVGA TFT screen
Dedicated graphics/video processor allowing 4 channel real time video display
Sunlight readable luminosity (1000nit/1000:1)
Multiple interface options and protocols with the vehicle/vessel or machine
Multi-Touch PCAP Technology with optional capacitive or resistive touch screens
ACTI-GRAF ready
Request More Information
Fill out the form below to request more information about
ACTIA Corp. ACTI-Vision Multi-Function Displays