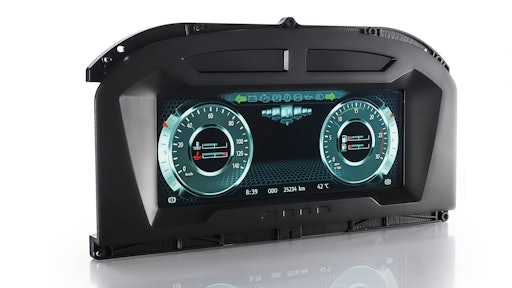 Continental Commercial Vehicles & Aftermarket (CVAM), a business unit of Continental, offers the MultiViu Professional instrument cluster style display.
State-of-the-art multipurpose information display
Offers commercial vehicle designers and manufacturers wide range of creative and functional options for dashboard and cockpit designs
Can take appearance of traditional analog gauges or show animated text, scales, bar charts and symbols
Features high-contrast, true-color, TFT 1440 x 540 pixel screen and 8:3 format that can display 2D/2.5D graphics
Available in screen sizes of 12.3 and 15.6 in. (31.2 and 39.6 cm)
Graphics are developed using model-based programming software that allows designers to create unique look and feel for display
Programming and control of graphics, texts, and animations is managed by CGI Studio, while functional programming and control of instrument and Human Machine Interface is achieved via KIBES

32

Software is based on OSEK and Linux operating systems
Several interfaces are available, including high-speed CAN, video, LIN, I/Os, Audio, and Ethernet
Can be used to display video feed which can be accessed automatically or on demand
Provides four capacitive buttons below screen for fixed functions such as reset and illumination
Optional telltale module places 11 telltales at top of display
Features crisp, easy-to-read graphics, offering premium image quality and wide range of user-customizable options
Scalable and robustly designed
*Editor's note: This product information was originally published in October 2017 and was updated on Dec. 3, 2019 with new/additional information.
Request More Information
Fill out the form below to request more information about
Continental MultiViu Professional Instrument Cluster Style Display