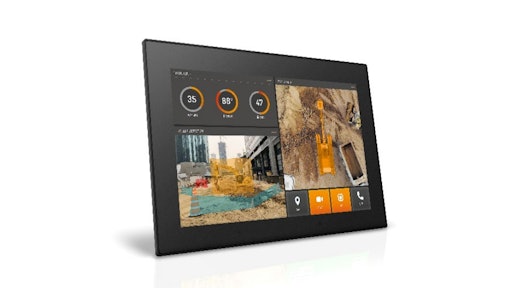 CrossControl

CrossControl offers the CCpilot V1000 and CCpilot V1200 for construction, agricultural and industrial machines. The displays are compact and can be used to monitor operations. With sizes from 7-in. to 12-in., the products can be deployed as a modular display platform for original equipment manufacturers (OEMs) that build equipment of different size and complexity.
The displays are supported by an open software platform, which means OEMs and system developers are free to choose from different toolchains including Qt, HTML5 and CODESYS. The platform features a windowing framework for Linux. This approach allows for the creation of a human machine interface (HMI) system that can deploy multiple independent applications in parallel. For example, based on this technology OEMs, system integrators and designers can create an HMI system with an in-house developed app for base machine control and instrumentation, a sourced app for steering or navigation and a separate vision system app.
The platform supports dynamic window size, resolution and frame rate and is agnostic to camera brand. Building on from displays with connected cameras, the platform enables computer vision with object detection for process guidance, automation, augmented reality and safety and offers additional performance with an optional internal AI accelerator.
With software capabilities and hardware, CrossControl's display computers provide a future-ready platform for machine intelligence.
Request More Information
Fill out the form below to request more information about
Computing Displays for Work Machines and Vehicles