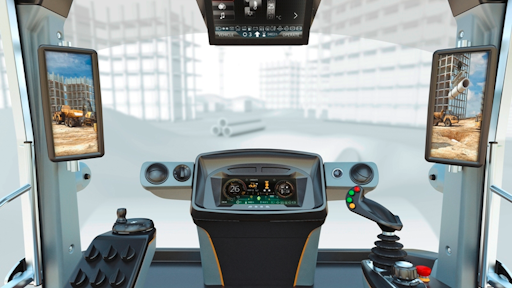 Continental, the international automotive supplier, tire manufacturer and industry partner provides flexible, individually adaptable human-machine interfaces that make the vehicle operator's tasks easier and enable more efficiency at work. The benefits and advantages of Continental's innovative interior product portfolio was demonstrated in a specially equipped vehicle cabin on display in Continental booth C32986 during the 2017 CONEXPO-CON/AGG International Exposition, March 7 – 11. The vehicle's cabin was fitted with an extremely flexible and user-friendly modular driver's workplace, fully programmable instrumentation for monitoring and controlling all functions, innovative panoramic camera surveillance providing a complete exterior view of the vehicle from the cab, and a windshield that can be darkened with an electrical sun protection system.
Modular driver's workplace improves ergonomics
Continental's modular driver's workplace is all about comfort and productivity. Designed to be extremely flexible and user-friendly, the workplace fitments can be adapted to match many applications and meet any customer requirement. All switches and controls are positioned within easy reach. Continental is constantly developing ways to expand driver workplace capabilities, from a simple cabin style configuration to a comprehensive design with cameras, multimedia applications and displays such as the innovative Continental MultiViu Professional12 instrument cluster. This fully programmable instrument cluster incorporates a high-resolution 12.3-in. color TFT display, a real-time 2.5D graphic display and a video display. It eases the driver's workload by presenting all of the machine's relevant information clearly – as animated text, scales, bar graphs and symbols. 
Monitoring and controlling functions with the MultiViu High
The MultiViu High Terminal is a fully programmable, multipurpose display platform that can be additionally integrated into the system to provide drivers with even more information so all of the machine's functions can be monitored and controlled.  It features a high-resolution 12.1 in. 1200 X 8800 pixel touchscreen that shows additional information such as geodata and camera data, enabling drivers to operate the air conditioning and media outputs easily and efficiently. The touchscreen interface can be completely customized to meet specific applications and can be connected to the ISOBUS system.
MultiViu High can be used to display any type of monitoring inputs as well as functions such as climate, navigation and radio. Operators can interact with MultiViu High through either the touch screen or CAN joystick. The unit also offers hands-free phone operation via Bluetooth connection.
Innovative camera systems put everything in view
Continental also presented the ProViu Mirror and ProViu ASL360 camera systems at CONEXPO. ProViu Mirror is a powerful alternative to exterior mirrors. Two cameras are mounted on each side of the vehicle. Their recordings are transferred to two right and left displays. Compared to conventional exterior mirrors, this technology significantly increases the visible area and maximizes driving safety.
The ProViu ASL360 panoramic camera surveillance system provides a complete exterior view of the vehicle from the cab. The system is designed to give equipment operators a perfect view of areas that would normally be difficult to negotiate. It saves time and money by allowing for more efficient maneuvering and precise and accurate positioning. By reducing the likelihood of accidents, downtimes and repair costs are also reduced. The ProViu ASL360 Camera System allows the operator to monitor the entire vehicle and its surroundings at a single glance, maximizing the field of view and eliminating the blind spots.
Four, wide-angle micro-cameras monitor the front, rear and sides of the vehicle and combine the video feeds as a single panoramic video stream. The system offers a choice of angles: top-down bird's eye, raw 180-degree, specific focus single views and multiple split screen. ProViu ASL360 can be easily installed on any type of equipment or vehicle and is especially beneficial for vehicles with large blind spots, such as front-end loaders, backhoes, mobile cranes, bulldozers, and excavators.
Effective sun protection for increased driving safety
Continental offers an electric sun protection system that gives added comfort and safety to drivers by helping them avoid the blinding effects of sun in the cabin. Drivers can now darken their windshields with an infinitely variable, electric sun protection system that not only helps increase driving safety, but also keeps the heat out of the cabin. Special films that are applied to the glass achieve the system's "Intelligent Glass Control" darkening effect. Electrical control signals are used to increase or decrease the amount of light that can pass through the films.