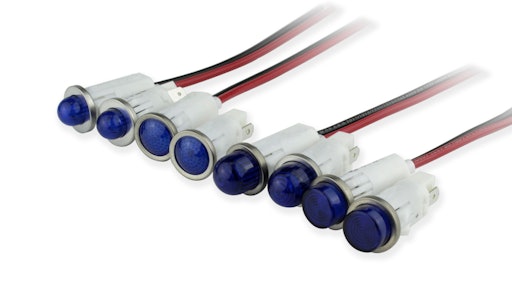 Visual Communications Company (VCC), a recognized leader in illuminated components announces a new lens option for its innovative 1092 Series. By adding a blue lens to its high-performance series, VCC is enabling enhanced design capabilities in applications ranging from smart home devices to industrial equipment.
The high-brightness and reliable 1092 Series offers a host of other benefits for designers and manufacturers. These indicators use a snap-in design to easily fit into a 0.5 in. (1.27 mm) panel quickly and without additional hardware to reduce costs in during assembly and installation. Available in four lens styles, the 1092 Series achieves full brightness in microseconds — whether used indoors or in full daylight. When the optional O-ring gasket is used, the 1092 Series is water, dust and oil resistant.
Benefits of using blue indicators include:
Consumer products will drive the design of industrial HMIs, and blue is a popular choice for consumer electronics
The color blue enhances the interactions between operator and machine by evoking feelings of calmness
"The addition of a blue lens option to the 1092 Series will greatly open up options for manufacturers looking to upgrade existing designs or create new ones that enhance overall operating life. This series offers benefits that drive efficiencies and reliability, including using less energy, producing less heat while being quick to cycle on and off," says Sannah Vinding, Director of Product Development & Marketing, VCC.