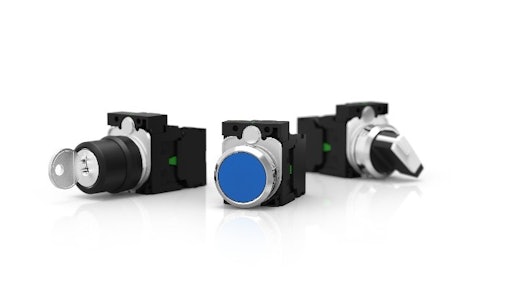 EAO, the expert partner for innovative, intuitive and reliable Human Machine Interfaces (HMIs), offers its Series 45 product line to address the required operational safety and reliability standards as found within modern machinery and industrial automation applications.
EAO's Series 45 is designed for robust use by meeting the requirements of the IP69K standard. Protection against dust penetration and liquid prevention is met in the most adverse conditions. It's also resistant to aggressive cleaning agents, oils, lyes and other chemical substances. Furthermore, high humidity and extreme fluctuations in temperature have no impact on functionality, making the Series 45 ideal for the most severe conditions.
The Series 45 meets the requirements of leading machinery manufacturers and makes it possible for seamless integration within machine interfaces for reliable operation of end user applications. Modular construction allows for easy customization and configuration on an individualized component basis. As well, complete part numbers simplify the customer experience with pre-selected combinations of popular switch configurations that can be ordered, packed, and received with a single part number.
Available functions of the internationally approved Series 45 include internationally approved pushbuttons, indicators, emergency stop switches, selectors, keylocks, toggle sticks, and more that all provide reliable switching for sophisticated applications in harsh industrial environments.