CM Labs announces the release of its new Signaller Training Station, a simulation-based solution that is the only one of its kind in the industry.
Designed to work in conjunction with CM Labs' Vortex Trainer and Advantage simulators, the Signaller Training Station allows trainers to simultaneously engage multiple students in a single exercise. While one apprentice operates a virtual crane via the Vortex simulator, another uses the Signaller Training Station to provide guidance.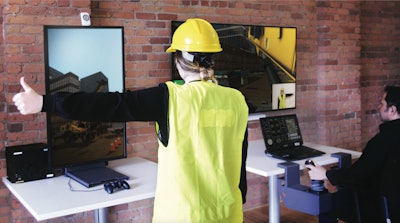 The trainee signaller can move around a realistically simulated worksite to inspect the lifting area, identify potential hazards, gain a clear view of all site activity, and provide hand signals to direct the crane operator via webcam and picture-in-picture display.
Together, trainees either fail as a team or succeed as a team. The result, says CM Labs, is new operators that are simply better prepared for any worksite, as they are learning critical skills before engaging with real cranes.
"From job planning to after-action review, collaborative learning builds effective teams," says Lisa Barbieri, CM Labs' VP Marketing. "CM Labs' new cooperative signaller station allows novice operators to train for effective teamwork and communications in a realistic and wholly risk-free environment."
Embedding the trainee signaller in a working simulation increases trainee engagement and motivation, she adds, making this an extremely effective platform to learn correct signaller and load positioning, proper hand signals, optimal lines of sight, and safe direction of lift operations.
Additionally, instructors can monitor the entire operation via an Instructor Operating Station that provides scoring and reporting capabilities, as well as the ability to introduce challenges such as equipment malfunctions or weather events, at any time.
The Signaller Training Station is designed for use with all CM Labs crane operator training packs, including the flat-top and luffing tower cranes, rough terrain mobile crane, and crawler crane.
CM Labs' signaller station not only reduces training costs by having team members train in tandem, reducing demands on instructors—it also makes it possible for organizations to train operators in ways that may be too risky or expensive to replicate in real life.
The Signaller Training Station made its world premiere, along with CM Labs' new Luffing Tower Crane Simulator Training Pack, at the Tower Cranes North America event held June 18-19 in Miami, USA.