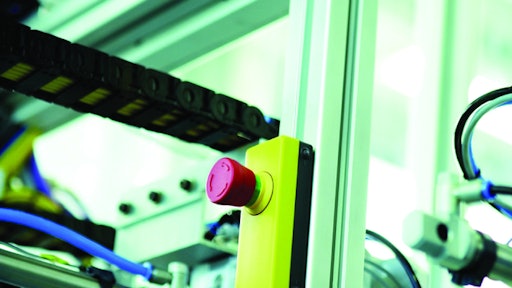 FOR IMMEDIATE RELEASE, CK457
C&K Components announces the availability of RAFI's E-Box, a low-profile housing for control components.
Permits convenient and quick assembly
Suitable for installing actuators of the RAFIX 22 FS Series
Can be used wherever single control component units are required at detached or remote locations
Modular system consists of bottom and top parts, contact module with contact block, and an emergency-stop actuator from the RAFIX 22 FS Series
Dimensions (109 x 40 x 27 mm) make it ideal for mounting on 40 mm DIN rails
Offers several mounting and assembly options, including DIN rail installation using RAFI's single-hole screw mounting method, or using a snap-on method built into the top housing
Contact blocks are available with gold contacts for 35V and 100mA maximum, or silver contacts for 250V and 4A maximum
Contact module is available with either two normally-closed contacts, or one normally-closed contact and one normally-open contact; and the emergency-stop Plus 1 version with two normally-closed contacts and one normally-open contact
Contact modules with LEDs are also available for use with illuminated actuators
Can be used on heavy-duty off road equipment. The contact block snaps into the actuator and is permanently attached. The rigid connection between the contact block and the actuator is suitable for applications where shock and vibrations can occur.
Request More Information
Fill out the form below to request more information about
Low-Profile Housing for Pushbuttons and Emergency Stop Switches