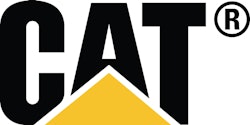 The Cat M300D Series German designed Wheeled Excavator models—M313D and M315D—have earned a solid reputation worldwide for reliable performance, long-term durability, versatility, fuel efficiency and low operating costs. Recent engineering updates have further strengthened these qualities with refinement of the operator's station. The new models provide a more-flexible design providing a new short boom option for ease of operation in tight jobsites, greater operator comfort with improved visibility, and reduced potential down time linked to serviceability. The new nomenclature highlights the change to this new wheeled excavator generation and is now based on the machines' weight.
Cab refinements. Simplicity and functionality.
New for the M315D2 and M317D2 is the operator station that adds increased comfort and visibility, while preserving the same sound levels, room and ergonomic layout of controls for ease of operation. The new design allows for better visibility with a new windshield and a larger skylight providing upward visibility, convenient for truck loading applications. In addition, the machines provide excellent lighting all shift long thanks to several halogen lights, a rain protector and wipers covering the entire surface of the windscreen for an easier operation when working in poor weather conditions. The front windscreen offers the possibility of storing the upper portion above the operator and is easy to release.
Accessibility to the cabin remains convenient with several well positioned handrails making ingress/egress easy, as well as anti-skid plates on top of all the steps to reduce slipping hazards.
The M315D2 and M317D2 will provide all the comfort that is expected from a Cat machine. Several seat options give operators the comfort they need for a long day of work and include full adjustment of all parts of the seat with lumbar support and weight adjustment. Caterpillar cabs are spacious and feature several large storage compartments. The automatic climate control further enhances this feeling in all climates with easy adjustment of the cab temperature with filtered ventilation.
The cab has been designed with the operator in mind, focusing on the importance of an ergonomic layout, with centralized and easy-to-use controls. The large color LCD monitor is easy to read in the local language and keeps the operator aware of any important information. It is easy to navigate through the various menus and the tool select function (optional) lets users preset up to 10 different hydraulic attachments for quick tool changes. The monitor allows managing the standard rear-view camera via quick-access buttons.
New boom, wide range of attachments and configurations for optimum flexibility and versatility.
Cat wheeled excavators are versatile by nature. Whether they operate in road construction, sewer and water or building construction, they are designed to make a significant contribution to the success of a customer's business.
The M315D2 and M317D2 now offer the choice between three boom options and four stick options. A new One-Piece boom will be available and will provide easy operation, especially when working in small areas where working close to the machine is necessary. The other One-Piece boom is still available and allows a better reach and digging depth, when there are no space constraints. One-piece booms fit best for all standard applications such as truck loading or digging. To make sure the wheeled excavators do fit all applications' needs, Caterpillar also offers a Variable Adjustable (VA) Boom, which improves right side visibility and roading balance. When working in tight quarters or lifting heavy loads, the VA Boom offers the best flexibility.
The wheeled excavators allow users to reduce travel times between jobsites and therefore transportation costs by offering a high travel speed (up to 37 kph). The machines can work on dirt or on roads, without being damaged. They are also excellent utility machines and will let users save time whenever they need to move material or items inside a jobsite. Operators can configure their machine with a blade for increased stability and dozing application and/or outriggers.
Cat work tools are designed to function as an integral part of the excavator and are performance-matched to Cat machines. Wheeled excavators are flexible. They offer a wide range of attachments like quick couplers, various specialized buckets, hammers, multi-grapples, vibratory plate compactors and shears to facilitate all the various jobs at hand.
Technologies, Fleet management, Serviceability
Cat wheeled excavators are designed to make maintenance quick and easy. The new design includes a new filtration system, perfectly suited for operations in challenging work conditions, even when using poor fuel quality. The new filter offers increased filtration capabilities and works in conjunction with a water separator. All daily maintenance can be done from ground level to enhance safety and maintenance points are kept centralized to reduce downtimes. Greasing points are grouped and very accessible for hard to reach locations. Cat wheeled excavators feature extended service intervals to further reduce costs. Two large toolboxes allow users to keep all tools and greasing devices at hand. A refueling pump is also available to allow time savings.
Product Link helps you take the guesswork out of equipment management.
The M315D2 and M317D2 can be equipped with the Cat Product Link system, which is deeply integrated into machine systems. With timely, useful information, customers can better manage assets and costs. Just a few clicks gives access to comprehensive remote monitoring, asset tracking and maintenance management. The powerful, web-based VisionLink application allows customers to see information from all assets – working time versus idle time, fuel usage, diagnostic fault codes, security alerts and more. When users know where their equipment is, what it's doing and how it's performing, they can maximize efficiency and lower operating costs. It pays to know Cat Product Link.
The Cat Machine Security System (MSS) is another asset-management tool available as an option. The MSS, which uses special keys with an electronic chip, controls who can operate the machine and when.