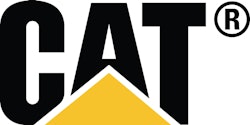 Caterpillar Inc. announces the addition of the CW34 Pneumatic Roller to the Paving Products machine family. The CW34 is an eight wheel roller with an operating range from 10 to 27 metric tonnes. This machine performs well on granular materials as well as all types of asphalt mix designs and can be used on all phases of compaction due to its high contact pressures. Typical applications include highways, city streets, county roads, lane additions, industrial sites, overlays, airport runways, and other production-sized jobs.
The CW34 delivers compaction with flexible ballast, oscillating front and rear wheels, front suspension, and optional air on the run, making this machine extremely productive. Rear ballast options include modular and non-modular steel, sand and water. The modular steel ballast system can be added or removed, making it easy to adjust operating weights and match job site requirements. The oscillating front wheels deliver vertical and horizontal forces that reduce air voids, ensuring uniformity across the surface, while the air on the run option allows the operator to quickly adjust wheel pressures in order to increase or decrease static loads for optimal surface quality.
This machine offers exceptional visibility due to the new console design and standard sliding station that rotates 90 degrees to either side. The operator can easily view wheel edges as well as 1 x 1 m in front of the machine. An LCD display and push button machine controls simplify operation for an all-around comfortable operating environment.
The optional Cat Compaction Control system provides an easy to use interface that keeps the operator informed of mat temperatures and rolling patterns. Infrared temperature sensors combined with mapping keeps the operator informed of current mat temperatures, machine position, and where coverage has taken place. This intuitive system greatly enhances nighttime performance, while also recording information for future data analysis and quality control documentation.
The CW34 powertrain functions much like an automotive-type system with continuously variable engine speed adjustment at the propel lever. An automatic speed control feature enables the operator to tune the system for a maximum speed within each of the three ranges including low, intermediate and high. When operating in intermediate and high, the system shifts smoothly through the speed ranges and offers a maximum speed of 19 km/h (12 mph) for quick movement around and between job sites. The system also has the ability to coast, leading to less fuel consumption and lower sound levels for an all-around more comfortable environment.
The CW34 utilizes the Cat C4.4B engine with ACERT Technology and can be outfitted for highly regulated or lesser regulated countries. These machines are fully capable of operating at temperatures up to 49 C (120 F) with maximum engine load, due to the high volume cooling system and large fan. The smooth operating Cat exclusive powertrain comes standard with ECO-mode, and automatic speed control, saving fuel and lowering operating costs.
Eight 13/80 R20 rubber tires provide an overall compaction width of 2,090 mm (82 in.) with 25 mm (1 in.) overlap. Each wheel is equipped with self-adjusting scrapers in order to prevent asphalt from adhering to the wheel surface. Optional cocoa mats can be utilized for better water retention, ensuring the wheels stay wet.
Reliable water spray systems are a must in order to keep up with production and maintain pace with the paver. The pressurized Cat system is designed with dedicated spray nozzles for each wheel. The system includes a single water pump, triple filtration, and adjustable intermittent operation. Triple filtration with filters located at the fill point, water pump and spray nozzles offer excellent protection against clogs. The adjustable intermittent mode conserves water and minimizes re-fills for optimal efficiency. An optional emulsion spray system with dedicated tank, lines, and spray bars enables releasing agents to be utilized on the wheels for additional protection against adhesion.
Working in unfavorable conditions is a regular occurrence in the paving business, however, when equipped with the Cab, comfort is optimized. Full floor to ceiling glass enables good sight lines to the wheel edges and both sides of the machine. An optional sun-canopy can be added to the ROPS for increased protection in adverse conditions.
If your interested in the Best Lifetime Value, the new ECO-mode feature not only conserves fuel, it also reduces sound levels. The standard 500-hour engine oil service interval maximizes uptime and minimizes lifetime operating costs. The large capacity hydraulic and cooling systems keep components cool, even in high ambient temperatures, for excellent long-term performance in all regions.