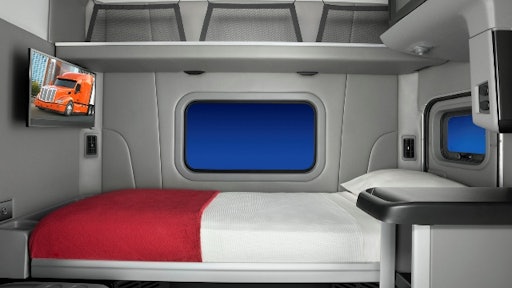 Ideal for weight conscious short- and regional-haul operations, Peterbilt is introducing a new 58-inch sleeper for its Model 579 in both low- and mid-roof configurations, Peterbilt Motors Company announced during the Mid-America Trucking Show. A cutaway display of the new sleeper was exhibited at the show.
The new sleeper, which is planned to go into production during the fourth quarter, reduces weight by up to 100 lbs. (versus the 80-inch sleeper) while including all of the driver-pleasing amenities found on Peterbilt's larger sleepers.
"The new 58-inch sleeper is designed with an open, spacious feel that drivers expect from a Peterbilt sleeper. It's thoughtfully engineered to include ample storage, driver comforts and exceptional fit and finish for quality rest and off-duty time," says Robert Woodall, Peterbilt Assistant General Manager of Sales and Marketing. "For customers in applications where less weight and a shorter wheelbase are critical, the Model 579 with a 58-inch sleeper is a perfect match."
The new sleeper includes a full-length door to help facilitate loading personal gear and belongings from outside the truck. Additionally, full-length, integrated extenders to minimize trailer gap and improve aerodynamic efficiency.
"The sleeper was designed with extensive research and customer interviews to help ensure every inch of space was considered for a layout that was both practical and premium," says Scott Newhouse, Peterbilt Chief Engineer. "Operators will enjoy the full-length mattress and abundant storage areas, including the cabinets, under bunk and back wall."
Other features include a television mount, refrigerator and microwave shelf.
Newhouse adds that offering the 58-inch sleeper in both low- and mid-roof configurations further increases its versatility to meet specific application requirements, including flatbed and tanker operations.