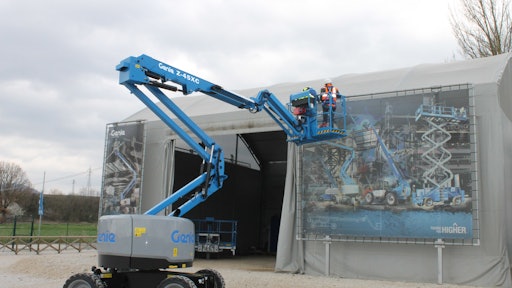 In response to increased demand for higher capacity aerial work platforms in Europe, Terex AWP put the spotlight on the new Genie Z-45/25XC boom lift — a redesigned 'extra capacity' version of the brand's best-selling rough terrain Genie Z-45/25J RT diesel powered articulating boom lift — at bauma. Combining up to 100% more lift capacity and weighing just 440 kg (967 lbs.) more than the standard model, with new design features including a new 1.83 m (6 ft.) dual-entry platform and reinforced components to support additional weight in the platform, the Genie team expects the new Z-45/25XC boom to offer owners the high rental return on invested capital (rROIC) that their business success relies on.
Providing operators the ability to perform a wider range of heavier lift and access tasks on rough terrain using a single machine — without the support of other equipment, the new Z-45/25XC boom is well-suited for a wide variety of applications on unfinished construction sites. Offering a maximum working height of 15.9 m (51 ft. 6 in.), a maximum horizontal outreach of 7.55 m (24 ft. 9 in.), and an up-and-over clearance of 7.3 m (23 ft. 11 in.), this new extra capacity unit combines the benefits of a dual-envelope design providing an unrestricted load capacity of 300 kg (660 lbs.) and a restricted capacity of 454 kg (1,000 lbs.). When operated with the primary boom in retracted position, this machine's maximum working height and horizontal outreach are reduced by no more than 1.7 m (5 ft. 6 in.).
"To adapt to its increased lift capacity, the new Z-45/25XC boom includes a larger reinforced rotator support, a wider jib and redesigned cylinders. To increase performance, decrease calibration time and improve the overall productivity, the new extra capacity model also boasts a new improved load sense system," says Christine Zeznick, Product Manager, Terex AWP EMEAR (Europe, Middle East, Africa and Russia).
Focussing on operator efficiency, "The new Z-45/25XC boom comes as standard with a newly designed 1.83 m (6 ft.) dual-entry platform featuring a side-entry swing gate and a front sliding mid-rail to provide quick and easy entry for two operators wearing a tool belt, carrying tools and loading jobsite materials. It also includes eight lanyard attachment points giving operators the freedom of movement they need to work anywhere on the platform," notes Zeznick.
As one of the few machines of its kind adapted to today's widespread need to enable people to work at height safely with increasingly heavy loads, "The new Z-45/25XC boom combines everything customers prefer about Genie machines — with up to twice more lift capacity than our standard Z-45/25J RT model," says Jacco de Kluijver, V.P. Sales and Marketing, Terex AWP EMEAR. "In addition to its intuitive proportional controls that offer the high-precision positioning and ease of operation that operators value so highly, end-users will find that as a result of its higher capacity capabilities, they will be able to handle a wider range of heavier tasks with just one machine.
"The fact that operators will need to reload less often will also help them to save time and work more productively," explains de Kluijver. "For rental fleet owners, these benefits respond to a growing market trend that we expect will lead this new machine to be in high demand to provide an excellent rental return on invested capital and boost their profitability rapidly."
Offering the cost-effective parts commonality and serviceability benefits shared by all Genie products, the new Z-45/25XC boom comes equipped with a standard Deutz D2011L03i 3-cylinder, 35.8 kW (48 hp) engine, can be driven at full height under maximum load, and features the brand's unique full-time, positive drive traction and active oscillating axle system.
Other key features of this new extra capacity unit include a tight turning radius and zero tail swing to provide the manoeuvrability required to work efficiently in confined areas, complete with a self-leveling platform with 160 degree hydraulic platform rotation and standard foam filled rough terrain tires.
The new Genie Z-45/25XC boom will be available in EMEAR in Q4, 2016.