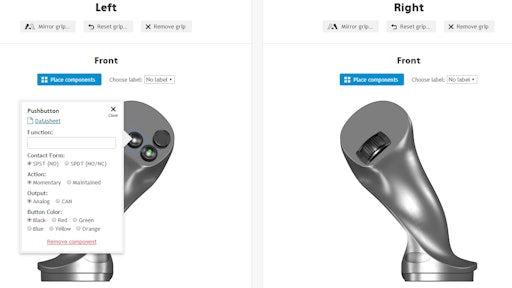 In conjunction with bauma 2016, SVAB launched a unique technology platform for its joystick grip, the SVAB Grip L8. As heavy construction machines are becoming more sophisticated with more functions and higher demands on the interface between man and machine, the need for multi-functional joystick grips grows.
With years of experience managing complex requests on the SVAB Grip L8, SVAB has realized the importance of making its offer flexible and solution-focused. To handle all these requirements without lots of engineering hours that generate long-term projects, SVAB created a technology platform for the L8 which has accumulated several years of special solutions and adaptations and made them into a configurable and quality assured standard range. The grip can be configured very freely based on component placement, color, functionality and interface to the machine.
In conjunction with bauma, SVAB also launched a newly developed online web configurator, known as Mongoose, a tool created for design engineers at OEMs where they can easily customize their own L8 grip configuration.
"Our goal is to make the purchase process simple for our customers. With this concept we can provide OEM customers with tailored joystick grip solutions with delivery within one week of the first order. I'd like to claim we are alone in the world to be able to pull this off," says Fredrik Eriksson SVAB's Marketing and Sales Manager.
SVAB Hydraulik demonstrated this platform during bauma 2016 where it co-exhibited with Tenstar Simulation.