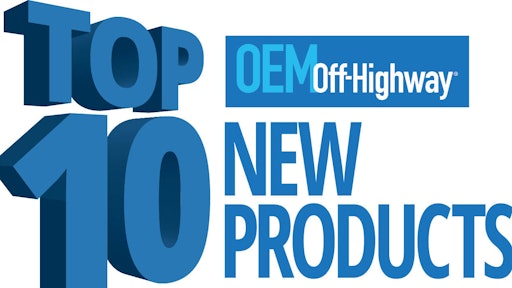 The Top 10 list features the most visited new products on OEMOffHighway.com in 2016. This year, Perkins Engines Co. Ltd. garnered a lot of attention with its numerous engine launches throughout the year at major tradeshows in Europe including Agritechnica and bauma Munich.
Besides the engines, this is the most diverse group of products we've had in the Top 10, which only highlights the wide range of needs our OEM readers have when researching components for their vehicle designs.
#1. 12.5-L Stage IV/Tier 4 Final Engine
Perkins introduces its turbocharged aftercooled 2206F-E13TA, a 12.5-L variable speed engine designed to meet EU Stage IV/U.S. EPA Tier 4 Final.
Designed to meet the specific needs of the agricultural market

Delivers up to 375 kW (503 hp) at 1,900 rpm and 405 kW (543 hp) at 1,700 rpm
Uses DPF, DOC and SCR to meet

emissions standards
Learn more about Perkins' 2206F-E13TA engine
#2. Suspension Steer Axle
Dana Holding Corp. has introduced the Spicer Model 990 suspension steer axle for high-horsepower tractors.
Independent front suspension offers isolation from body vibration and provides improved vehicle control, operator comfort, traction and handling characteristics for safer operation, especially at on-road speeds
Capable of on-road travel up to 60 km/h (37 mph) with a lower-rpm engine
Includes anti-lock braking system (ABS) and central tire inflation system (CTIS)
Learn more about Dana's Spicer Model 990 suspension steer axle
#3. 1.7-L Turbocharged Engine
Perkins has launched the 1.7-L, 3-cylinder turbocharged 403F-E17T engine which is a new addition to its 400 Series range.
Features common rail direct injection and full authority electronics
Offers power output of 30 kW (40 hp) with a maximum torque of 125 Nm at 1,800 rpm, while rated speed is up to 2,800 rpm
Does not require air-to-air charge cooler
Learn more about Perkins' 403F-E17T engine
#4. Control Box for Machine-Controlled Excavation
Topcon Positioning Group introduces the GX-55 control box for machine-controlled excavation.
Provides users with visual and audible features to safely and efficiently grade for 2D or 3D excavating tasks
Delivers real-time project information quickly
Large 6.5-in. sunlight-viewable and color LCD touchscreen is surrounded by integrated LED light bars for a continuous grade reference of the bucket's teeth
Learn more about Topcon's GX-55 control box
#5. Urea Quality Sensor
The urea quality sensor from VOSS Automotive is designed for use in diesel engine SCR aftertreatment systems.
Supply current of 40 mA at 12V or 30 mA at 24V
Urea concentration range of 5.0-62.5%
Measuring temperature range of -8-60 C (-17.6-140 F)
Maximum allowed pressure is 15.5 bar (224.8 psi)
Learn more about VOSS Automotive's urea sensor
#6. 4-Cylinder Engines
Perkins has launched the Syncro range of 4-cylinder, 2.8- and 3.6-L common rail diesel engines.
Delivers 45-100 kW (60-134 hp)
Powers up to 100 kW (134 hp) with 500 Nm of torque available with 3.6-L version
Maximum of 55 kW (74 hp) with torque of up to 325 Nm possible with 2.8-L turbo aftercooled variant
Learn more about Perkins' Syncro engines
#7. I/O Controller
maximatecc introduces CrossFire SX, a safety certified I/O controller.
Features 16 inputs and 16 outputs, all totally configurable in terms of I/O type
Inputs support digital, current, frequency and voltage on different levels
Outputs support high and low current outputs, PWM, PWMi, Digital HS/LS and H-bridge
Learn more about maximatecc's CrossFire SX controller
#8. Operator Display
Rexroth expands its BODAS modular system for mobile electronics with the BODAS DI4 display, a universally useable operating unit for mobile working machines.
Enables programming with CODESYS 3.5 development environment, allowing individual visualization and allocation of functions
CODESYS 3.5 development environment enables users to visualize any machine functions both statically and dynamically
Two hardkeys for set functions and 12 freely programmable function buttons are available
Learn more about Rexroth's BODAS D14 display
#9. Independent Suspensions
AxleTech International has shipped the first custom order of its 2000 Series model of independent suspensions and is releasing standard versions of Independent Suspension Axle Systems (ISAS) to its customer base.
Engineered for lightweight tactical and combat vehicles with a GVWR of up to 15,400 lbs. (7,000 kg)
Features company's double-wishbone design for unrivaled ride control and handling with superior cross-country mobility and safety in various terrains
Fills gap for 6-7.5 T vehicles that are lacking independent suspensions
Learn more about AxleTech's Independent Suspension Axle Systems
#10. Cab System for John Deere 1 Family Sub-Compact Tractors
Curtis Industries LLC announces the release of its cab system for the John Deere 1 Family sub-compact tractors.
Fits the 1023E, 1025R and 1025R with factory installed loader backhoe
Frame, doors and roof are constructed of powder-coated, commercial grade steel for durability and long life
Customizable by adding accessories such as roof-mount LED strobe and work lights, rear work lights, mirrors and heater
Learn more about Curtis Industries' cab systems