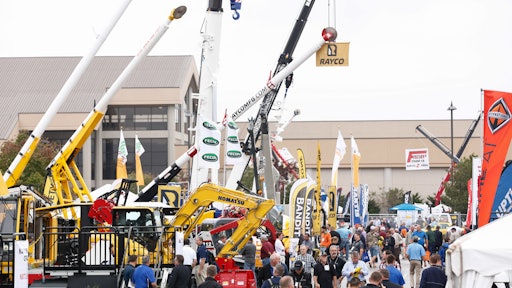 The 2017 International Construction and Utility Equipment Exposition (ICUEE) is set to break records with 28 ac. of utility and construction equipment, products and technologies in Louisville, KY. This year's event will feature 10 new field classroom education sessions for learning on the show floor in addition to the regular education opportunities.
ICUEE is once again teaming up with the Call of Duty Endowment for a benefit auction. All proceeds go to the Endowment, a nonprofit organization founded by Bobby Kotick, CEO of Activision Blizzard, to help military veterans secure quality employment and to raise awareness of the value they bring to the workplace. The organization has funded the job placement of over 34,000 veterans and has a goal of placing 50,000 veterans in jobs by 2019 (learn more, 20867853).
Several OEMs have announced key pieces of equipment they will be showcasing or launching at the show. Be sure to keep your eyes peeled for these and more at ICUEE 2017.
Manitowoc Cranes
Booth N2021
Manitowoc Cranes will highlight its Grove GHC30 telescoping crawler crane and a pair of National Crane boom trucks: the NBT45-1 and 890D. All three machines will be outfitted with special attachments to better show their effectiveness in the utilities market, and two of them — the GHC30 and NBT45-1 — will be shown at ICUEE for the first time.
The GHC30 is Manitowoc's newest addition to its line of Grove telescoping crawler cranes. The 30 USt crane is the smallest member of the GHC range and offers the same 100% pick-and-carry function as the rest of the line. With its full-power, three-section 83 ft. (25.3 m) telescoping boom, operators can easily handle a variety of lifts at various radii without setting up on outriggers like traditional hydraulic boom cranes.
The National Crane NBT45-1 will also be at Manitowoc's booth. The 45t boom truck sports a 142 ft. (43.3 m) boom and is well-suited to the utility sector, where energy work on de-energized power lines and new transmission infrastructure construction often requires the use of both a crane and an aerial lift. The model on show at ICUEE will be equipped with a two-person, 1,200 lbs. (544.3 kg) maximum-capacity, quick-attach yoke platform with wireless radio remote control.
Learn more at www.oemoffhighway.com/20972896
Booth K155 & K270
Ditch Witch has added the innovative new JT40 horizontal directional drill (HDD) to its industry-leading fleet of drills.
The new unit is equipped with two, 7-in. (17.8 cm) LED displays for a direct, transparent view into all critical machine functions and operations. In addition to the digital displays, the machine's real-time carriage-position indicator tells the operator the exact carriage location, for increased productivity and more intuitive operation. A multifunctional, radial operator control is highlighted on the display for better control efficiency, including mud flow, rotation and more.
The machine's raw power – provided by a 160-gross-hp (119.3 kW), Tier 4 Cummins diesel engine – gives operators 14% more horsepower in a smaller package than competitive models in its class. And for greater drilling efficiency, the JT40 offers an innovative, two-speed, rotational drive system that produces 5,500 ft.-lbs. of torque. The machine minimizes pipe-entry distance, giving operators increased drill pipe support as it enters the ground. It holds up to 600 ft. (182.9 m) of drill pipe onboard allowing for longer bores and increased ROI. And, the optimized carriage speed gives contractors class-leading cycle times for faster installations.
Learn more at www.oemoffhighway.com/20853320
Booth N3016
The Prinoth PANTHER T16 is now available with new track and configuration options to suit varying customer needs. There is now a choice between metal embedded solid rubber tracks (MERT) or the traditional D-dent track system. The T16 customers have been requesting the rubber track option in order to allow more versatility when crossing or traveling on roads, as well as being gentler on shop floors when up-fitting or maintaining the vehicles.
The T16 undercarriage was completely redesigned for the rubber track option to provide a sturdy undercarriage composed of five large wheels with both a tandem and a tridem suspension. PRINOTH's patented tridem allows uniform distribution of the load over the rubber track while offering the same suspension travel typical to all PANTHER models. The undercarriage is optimized by the automatic, hydraulically controlled track tensioning system allowing it to achieve the ideal track tension. This prolongs the track's life and allows for less maintenance and downtime. The endless rubber track on the PANTHER T16 has the same unique zigzag-patterned design which increases off-road mobility, providing outstanding traction and side-hill grip.
Learn more at www.oemoffhighway.com/20860214
Booth K175
The new JCB Teleskid skid steer and compact track loader, the 3TS-8T tracked model, is based on JCB's large-platform skid steer design. The Teleskid has a rated operating capacity of 3,695 lbs. (15,283.8 kg) retracted, or 1,600 lbs. (725.7 kg) with the boom fully extended, and an SAE operating weight of 12,615 lbs. (5,722.1 kg).
A JCB EcoMAX engine drives performance without the need for a DPF, and the high-strength steel boom is mounted on a single-piece fully welded chassis to maximize strength.
The JCB Teleskid cab is 33% larger than the industry average and boasts a fully adjustable, heated, air-suspension seat. It includes electric over hydraulic controls, optional switchable ISO/H-pattern controls, a 7-way multi-function joystick, and JCB's myCHOICE software to choose the level of joystick responsiveness.
JCB will also be showcasing its Hydradig wheeled excavator among more of its equipment portfolio at ICUEE.
Volvo CE
Booth K335
The Volvo CE SD45B soil compactor is designed for commercial and residential site development, utility installations, driveways and landscaping jobs. Providing up to 12 degrees of oscillation and 41 degrees of frame articulation in each direction, the SD45B offers the stability and versatility required to compact in confined areas. To optimize performance, the optional Volvo strike-off blade and padfoot shell kit further help to match the exact application and material type.
The fully integrated traction system provides superior climbing capabilities, even on steep inclines or slippery surfaces. The system, combined with the NoSPIN® differential, limits wheel or drum spin, improving productivity and safety.