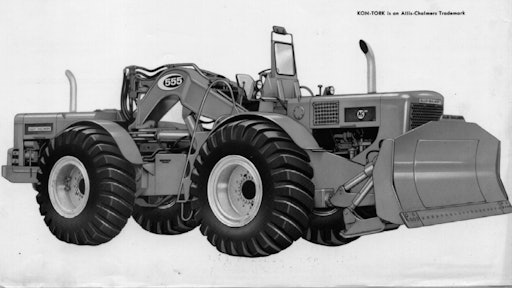 Allis-Chalmers spec sheet, 1963, HCEA Archives
In the last issue, we took a look at how and why the rubber-tired dozer evolved. One of the major applications of these machines was pushloading scrapers, so let's look at the wheel tractors built specifically for that service.
We saw how rubber-tired tractors had superior mobility and speed compared to crawler tractors. One of the goals of a pushloading operation was to get the pushloading tractor into position for a new pass quickly and safely, and the wheel tractor had the advantage over crawlers in this regard.
The application of the wheel tractor to pushloading took three distinctive routes. One was the use of a conventional wheel dozer. The most powerful wheel dozers of the late 1950s through mid-1960s, such as the Michigan 380 and 480, and Hough D400 and D500, were often used as pushers, while having the flexibility to undertake other dozing tasks as well.
Another was to use two-axle tractors that were normally used to pull scrapers. This was not a common practice, but in at least one case four or five of these tractors were ganged up in pushloading a single scraper. Their processing back into position for another push must have been quite a sight.
The third approach was to design rubber-tired tractors designed specifically for pushloading.
One type was the integral, single-unit design. R. G. LeTourneau built several of these over the years, culminating in the one-of-a-kind 840 hp (626 kW) K-104 that was sold in 1962. The most powerful wheel dozer—in fact, the largest dozer of any kind—ever built was the Western 2000, a 1,650 hp (1,230 kW) pusher built in 1963 for Western Contracting Corporation.
The other type was built by combining two modified single-axle prime movers into a single machine by yoking them in-line, with all controls on the lead unit. LeTourneau's Tournatwos, built from 1951 through 1953, were the first, and were continued by LeTourneau-Westinghouse as their Twin C Pusher. The Twin C was offered only into the late 1950s, but the concept hit its zenith in the early 1960s.
Cat dealer Peterson Tractor Company had assembled two or three compactors on special order using paired 631A and 631B prime movers, and one 631A set was converted to a pushloader by replacing the tamper wheels with tires. Allis-Chalmers built a few 731 hp (545 kW), 75-ton 555 tractors, the last tandem prime movers to be commercially offered. Impressive as they were to look at, the 555s were commercial and mechanical failures, but they helped introduce another engineering concept for construction machinery that we'll look into next time.