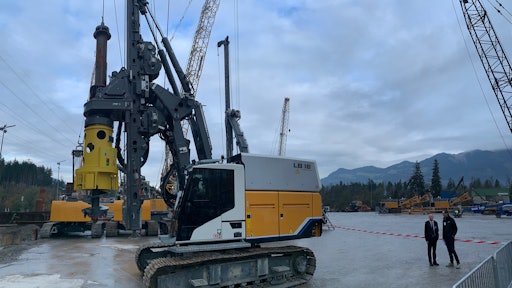 The future of machinery is efficient, digital and environmentally friendly. This was the running theme at a recent press event held by Liebherr International in Kirchdorf, Germany.
Throughout the proceedings, Liebherr showcased innovative equipment, offered insightful education and shared the company's vision for the future of machinery and construction sites. Follow along here for links and information — including videos, product demos, equipment information, industry developments, hands-on experiences and more.
Liebherr Shares Vision for the Future of Machinery and Construction Sites
On the first day of the event, executives from Liebherr International held a press conference to share the company's vision for the future of machinery and construction sites. Executives explained that the future is efficient, digital and environmentally friendly. They also described new product offerings that encompass these values and are aimed at driving the industry forward. Read about the full press conference here. You can also listen in to the ForConstructionPros.com Digging Deeper Podcast with Liebherr International's Andreas Böhm and Holger Streitz.
Liebherr Showcases Battery-Powered Drilling Rig - The LB 16
The Liebherr LB 16 is a battery-powered drilling rig that reduces emissions and noise and doesn't require being plugged in. It features an electro-hydraulic drive concept and can operate for up to 10 hours before recharging. Learn more about the innovative machine here or watch our YouTube video.
Taking a 360 Spin Around Liebherr's Test Track
Curious about how companies put their dump trucks to the test? So were we. Fortunately, the Liebherr team let Christoph Trappe take this exciting 360 video while driving around the company's test track in Germany. Learn more about his test drive on our sister site, or watch the video on the YouTube app with your VR headset to get the full experience.
Liebherr Offers an Up Close View of Equipment Digitization
Liebherr has released the Liebherr AR Experience, its first augmented reality (AR) app. This app uses AR to project digital 3D data onto your actual surroundings, enabling contractors to perform construction site planning like never before. Users can view or utilize the data from anywhere at any time on their smartphones, tablets or any other device on which they have the app. Read more about the futuristic tool here or watch our video on YouTube.
How Do Companies Check How Loud Their Equipment Is?
While at the Liebherr press event, we got to take a look at how companies monitor equipment noise. The Liebherr Sound Check Station utilizes an operator and microphones on the side to check machinery noise levels and ensure they fall within acceptable limits. Watch this video here to learn all about it.
Liebherr Demonstrates Its Semi-Autonomous Articulated Dump Trucks
In this video, Liebherr's Martin Bucher discusses how the company's semi-autonomous equipment works and offers a live demo. Check out our coverage on YouTube.
As always, we had a blast learning about and experiencing the latest innovations in machinery. Many thanks to Liebherr International for giving us such an inside look at their machines and processes.
Companies in this article