Deere & Company brochure A-1733, 1967, HCEA Archives
From their inception in 1919, motor graders were strictly rigid frame, and the only innovation to help maneuverability and reduce turning radii was the Austin-Western all-wheel steer that we examined in the last issue.
All this changed with John Deere's 570. Introduced in 1968, the 570 was the first motor grader with an articulated frame. While it worked perfectly well in wide-open, straight-ahead blading, the articulation gave it a major advantage in confined areas.
Hydraulic side-shift of a motor grader's moldboard did much to increase its ability to reach the blade away from the grader's path of travel, such as for sloping, ditching and working around obstacles. But side-shift could only reach so far, and good luck blading in such places as a narrow cul-de-sac or within the corner of two curbs!
The 570 addressed this problem with a 22-degree articulation left and right. Its turning radius was only 18 ft. (5.5 m), compared to 36 (11 m) for the rigid-frame Cat No. 12-F which had a similar 12-ft. (3.7 m) moldboard and was only 30 in. (0.76 m) longer. The 570 had an exclusive lock-unlock differential that allowed the inside and outside wheels to move at different speeds, eliminating wheel spin and skidding. Combined with the now-standard fully hydraulic blade, it could reach into places other grader operators could only look at, with the operator steering with one hand and manipulating the blade with the other.
This combination of maneuverability, side shift and non-spin differential had several cost advantages. Manual labor was greatly reduced; drive chain, sprocket and tire wear were reduced; less time was wasted on reverse moves; and there was no need for a smaller grader just to get into tight areas.
Because of these advantages, articulated frames became standard for almost all motor graders.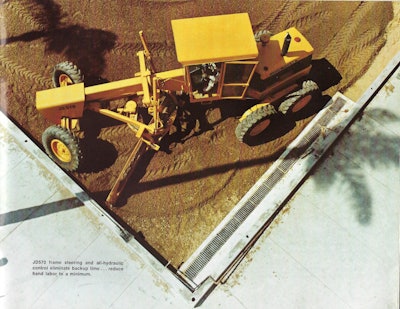 The Historical Construction Equipment Association (HCEA) is a 501(c)3 non-profit organization dedicated to preserving the history of the construction, dredging and surface mining equipment industries. With over 3,800 members in over a dozen countries, activities include publication of a quarterly educational magazine, Equipment Echoes, from which this article is adapted; operation of National Construction Equipment Museum and archives in Bowling Green, OH; and hosting an annual working exhibition of restored construction equipment. The 2020 show has been postponed to August 27-29, 2021, in Concordia, KS. Annual individual memberships are $35.00 U.S. within the USA and Canada, and $55.00 U.S. elsewhere. HCEA seeks to develop relationships in the equipment manufacturing industry, and offers a college scholarship for engineering and construction management students. Information is available at www.hcea.net, by calling 419-352-5616 or e-mailing info@hcea.net. Please reference Dept OEM.