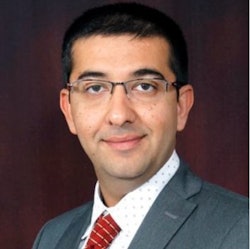 responses submitted by Naimesh Dave, President, Oilgear
Global Markets, Government & Trade
What are the key global markets your company sees as growth opportunities and why? How would passage of an infrastructure or other similar bill in the U.S.—or the equivalent in other countries—benefit the industry?
From an Oilgear perspective, we have locations in 11 different countries. We get to participate in global markets and really understand what the trends are in each one of them. If you look at what has happened just in the last 6 months or so, there has been a dramatic shift. And some of the trends we were seeing have accelerated. Prior to going into this recession, led by COVID, we were seeing a nice rebound and uptick in Asia-Pacific. The markets were starting to get better; customers and the government were really starting to focus on quite an investment in their infrastructure. That has accelerated tremendously in the last last few months. That trend will continue we believe. Europe is another story. Europe going into COVID has been really struggling. For the last 2-3 years they've been in recession. But with stimulus support from the Eurozone, they are recovering faster than North America. We're seeing a number of projects now led by Germany and France, and even Spain, that are [showing] some good signs of recovery in Europe. Latin America is still unknown yet for us. They're still in the middle of it, so in the next few months we'll see them picking back up. But North America seems to be having a start and stop. There was a pretty good start in May or June and then it felt like since July we have taken a step back. It's a slower ramp up, but certainly an improvement.
There's a number of steps being taken from a fiscal and monetary standpoint. But I think the one that really can accelerate and support North America, particularly the U.S., is an infrastructure bill. There are a number of reasons for this. A lot of the infrastructure we have his aging. There hasn't been a lot of investment in many years, and so it's due. I believe this is a great opportunity for the U.S. to leverage the low rates that are outstanding to really invest in ourselves basically. I think an infrastructure bill could support the recovery faster, [and] also support the next generation. Infrastructure is really where we can say we would be building a stronger foundation for the future.
READ MORE: State of the Industry 2020
Impacts of COVID-19
What have been some of the biggest challenges your company, and the industry as a whole, has faced due to the COVID-19 pandemic?
I think COVID had positive and negative impacts. Certainly the negative impact of COVID has been more employee related. We got started early on it; given the global [presence] we have, we've been in it since December when it started in China. We learned quite a few lessons upfront which we've been able to leverage globally and keep team members safe which is good.
I think people are getting more and more comfortable with video chats, they're getting comfortable with remote work. This whole notion of remote connectivity has really taken off. It's been like that within the organization and also outside the organization. We have many customers who typically would have come into the location whether to do a site survey, or testing; we've been able to do all of that remotely. We have implemented a new kind of remote technology on our test stand. For example, we hosted a day at our site for a large OEM [customer] which normally has a lot of aspects to undertake. We were able to mimic exactly what we would do normally. We were able to have different functional teams participate accordingly and walk them through and that was very well accepted by the customer. This trend around the ability to now work remotely, connect remotely, there is a long-term impact and it will continue to get supported based on what we see and as a way to attract talent.
Have the challenges brought to light any potential opportunities for change or improvement within your company, or the industry?
I think the positive and what has improved since is the levels of productivity. Across the board travel has been down internally and for our customers as well. It's amazing when we step back and think about how much time we used to spend traveling. Some travel is absolutely necessary, but much was really not necessary and we just used to do it because we were used to doing the travel. I think we're doing some of that now remotely, which is really supporting productivity; you can really get a lot more done, get more meetings completed, you can achieve quite a bit in a short time frame when not traveling and having the ability to work remotely. I think that's where we continue to see the improvement. How we are serving the customer, that has shifted and has gotten better too because where we used to be able to do one meeting for a customer now we're able to do multiple. Some of the tools and diagnostic things we are implementing now—and have been implementing over the last few years around proactive remote networking and remote data collection— that trend has really accelerated and that will be the benefit we'll continue to see going forward.
Challenges & Opportunities
What are the biggest challenges facing the industry currently, or do you see the industry facing in the coming years?
One of the biggest challenges the industry was facing prior to COVID, and I think has accelerated, has been around this whole notion of talent. It's really hard to find good people or a new generation wanting to continue in [the industry]. It feels like everybody wants to go into technology, and so talent has been [an area where] we struggle. We've got a lot of knowledge sitting in some of the team members we have and across the industry, and as they continue to get closer to retirement it's been a struggle to find the right people and continue to keep up with [industry] knowledge transfer. I think COVID has accelerated that trend even more so. More people have opted to retire and fewer people think about this space, so that's been a challenge. Which is why what I talked about previously, the ability to do remote data diagnostics and IoT, will provide a resolution to this challenge. And, I think the good thing is, the market is starting to adapt to those new tools.
Are there any technologies or trends which you are currently excited about in the heavy-duty vehicle industry, or most looking forward to seeing in the coming years?
Data and smart monitoring will continue to accelerate. I think we are barely at the entry level of that, particularly in the industrial space. We haven't really matured it, particularly in heavy industries like forging and extrusion. We're barely getting started. I think that trend will accelerate, and we're positioned well to participate and be a leader. Outside of that, I think the other thing we continue to see is the continued need for higher pressure. We've got a lot of different pumping and valve technology we're developing with our innovation roadmap to support customers on that, where we see a need for higher pressure applications. The third one, which is a big one that has taken a toll is hybrid and electric [technology]. We're seeing that pick up a lot more. As customers are pivoting from mechanical to electric and electrohydraulic, we've been supporting that transition. So, we've got a number of customers across the globe who we're working with in that transition.
Watch the full interview with Naimesh Dave for more of his insights into current and future industry trends.
Companies in this article