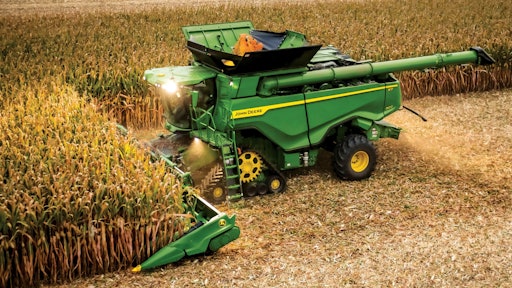 John Deere Ag and Turf Division
The Consumer Technology Association (CTA) has announced the CES 2021 Innovation Awards honorees, including those products recognized as Best of Innovation. The CES Innovation Awards is an annual competition honoring outstanding design and engineering in consumer technology products across 28 product categories.
Honorees are chosen by an elite panel of industry expert judges, including members of the media, designers, engineers and more. The panel reviewed submissions based on innovation, engineering and functionality, aesthetic and design. Honorees recognized as Best of Innovation are given to those rated highest across the product categories.
The CES 2021 Innovation Awards received more than 1,200 submissions and those designated as honorees, including product descriptions and photos. The full list of Best of Innovation and all honorees will be revealed during CES 2021 (Consumer Electronics Show) which will be held as a virtual event January 11-14.
Among this year's honorees are manufacturers working in or related to the heavy-duty on- and off-highway equipment industries.
John Deere, for instance, has been nominated in the Robotics category for its X Series Combines. The new combines are equipped with ActiveVision camera technology which helps farmers see inside the combine's grain tank to help monitor grain as it's being harvested. These agricultural machines also feature artificial intelligence, computer vision and self-driving capabilities which aim to provide productivity improvements for farmers.
The X Series Combines is one of a handful of products which have been recognized with a 2021 Best of Innovation award.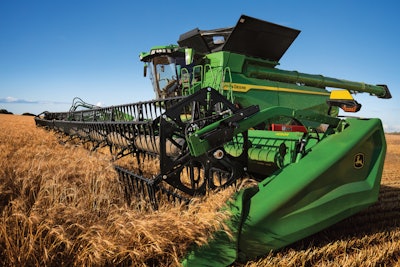 Continental receives three honoree awards
Continental, which develops a variety of technologies for various industries, has been selected for three awards; its Transparent Trailer technology and Advanced Radar Sensor (ARS) 540 were selected in the Vehicle Intelligence and Transportation category. Meanwhile, the company's Ac2ated sound partnership was in the In-Vehicle Entertainment and Safety category.
Continental says the Transparent Trailer technology allows drivers to "see through" a trailer in haul and check the area behind and beside it. Based on its Surround View system, the technology enables safer driving while towing. Two cameras and a control unit work together to provide a panoramic view that renders the trailer virtually invisible. The result is a seamless live feed for drivers to see the road and any obstacles behind the trailer.
The ARS 540 is a production-ready 4D image radar. It supports automated driving systems all the way from partial to full automation. While previous systems were only capable of capturing information on range, speed and azimuth angle, the ARS 540's long-range radar sensor calculates an object's location in addition to range, speed and azimuth angle also with its elevation to create a precise map of the driving environment up to 300 m (xx ft.). In particular, the elevation measuring capability of the radar sensor allows the most varied of objects, even relatively small objects, to be detected even more precisely. Moreover, the extended capability allows the ARS 540 to provide high-resolution detail for object identification to manage complex driving scenarios, even in adverse lighting and weather conditions, and at higher speeds.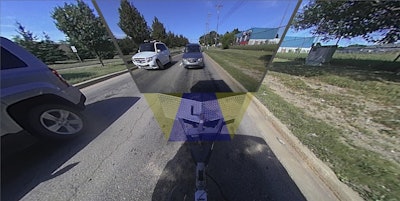 Head up display looks to improve driver safety
First International Computer Inc. has developed the Commercial Vehicle Head Up Display which uses augmented reality and Laser Beam Scanning (LBS) technology. It aims to improve driver safety by projecting virtual images onto the vehicle's windshield. Images can be over 100 in. (xx cm).
Information shown includes that of advanced driver assistance systems (ADAS), vehicle clusters, navigation systems and location-based services. The high contrast of the system ensures visibility under natural light.
The system was nominated for the award in the Vehicle Intelligence & Transportation category.
Self-driving technology for trucks
Kodiak Robotics has received the honoree award in the Vehicle Intelligence & Transportation category for its self-driving technology for long-haul trucks.
Founded in 2018, Kodiak Robotics is developing technology with the goal of enabling fully autonomous operation of trucks. The technology was developed specifically for long-haul trucks which have different requirements and challenges than vehicles operating in urban environments.
Kodiak delivered its first load in 2019, with a Safety Driver behind the wheel of the truck. The company currently delivers freight daily between Dallas and Houston, TX, operating autonomously on the middle-mile highway portion of the route. Kodiak plans on deploying fully driverless in the coming years.
"From our sensor fusion system that maximizes the value of every sensing modality, to our unique lightweight mapping solution that allows the Kodiak Driver to navigate ever-changing highway construction zones, Kodiak is developing the world's most advanced technology stack purpose-built for long-haul trucks," said Don Burnette, Kodiak's co-founder and CEO, in the press release announcing the CES award.
Intelligent driving for Class 8 trucks
PlusDrive by Plus (formerly known as Plus.ai) has received a nomination in the Vehicle Intelligence & Transportation category for its intelligent driving system for Class 8 trucks which includes advanced automated driving capabilities. At the touch of a button, operators can engage the system to take over some of the more boring and tiring parts of long-haul driving such as sitting in traffic, switching lanes, handling merges and driving at night.
PlusDrive says the system is optimized to provide fuel efficiency, a high level of safety and a more comfortable driving experience. The system will be integrated onto Chinese OEM FAW's new J7+ intelligent trucks in 2021. It will also be available in the U.S. as an OEM-backed aftermarket solution.
READ MORE: PlusAI Debuts Self-Driving Commercial Truck Solution at CES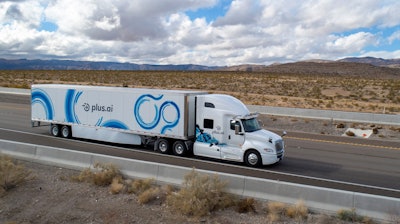 Companies in this article