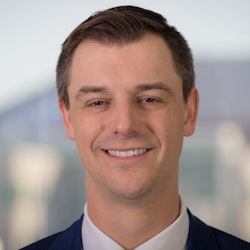 Each year, our State of the Industry issue looks at the top trends and technologies within the heavy equipment industries. We also dig into current and future market conditions, as well as regulations which may currently or in the coming years have an impact on how the industry will go about designing its equipment.
To get the best insights, we speak with executives from a variety of companies working in the industry—everyone from associations, to OEMs to component suppliers. Below are responses provided by David Batcheller, President, Appareo.
Read all of this year's executive Q&As.
Global Markets, Government & Trade
Are there any policies you are keeping your eye on that could impact (or have already impacted) your company and the industry?
In the area of policy making, the area of vehicle electrification is something that Appareo is watching. Governmental movement to subsidize, incentivize, or encourage development and purchase of electric vehicles is going to have meaningful implications for both on-vehicle technology and off-vehicle infrastructure. Purely in consideration for the on-vehicle technology, inverter design, sensors/connectivity, and advancements in energy storage (and on-shoring of battery production) have the potential to leave a deep imprint on the course of off-highway equipment development throughout the course of the decade.
Supply Chain Disruptions
At what point do you foresee the current supply chain disruptions becoming less of an issue?
As an electronics manufacturer we experience the same challenges as the rest of the industry in access to raw materials, namely semiconductors, to manufacture the telematic and control products our equipment manufacturer customers desperately need to keep their lines running. Unfortunately, the demand trend is staying strong, the electronic component fabricators are deeply backlogged, and the addition of capacity takes billions of investment and years to manifest. Moreover, those manufacturers are not financially incentivized to drive capacity materially beyond current demand. Although the topic area is deep enough to warrant an article by itself, in summary our advice to customers is that 2022 should not be expected to be the year in which electronic supply chain pressure is lessoned/alleviated. In the interim, price increases in the semiconductor marketplace are becoming commonplace and that pricing pressure may roll downhill to both manufacturers and end-customers. It should be expected that the market will continue to be challenging well into 2023.
What industry challenges have these supply chain disruptions brought to light, and what can the industry as a whole do to overcome them?
In a short-term context, the best advice we can give to manufacturers is in the area of coping with the supply chain situation and arming their suppliers to be as equipped as possible to deliver success for them. In this area, forecasting is crucial. Right now many assemblies we manufacture have significant, sole-sourced, content that is running lead times of 52-72 weeks. Orders we're placing for late 2022 (as of August 2021) are being returned from our suppliers with 2023 commitment dates for delivery. As a result, we're driving significant order volume and commitments components well into calendar year 2023. To that end, if you haven't already delivered order expectations and forecasts for the entire calendar year 2023 to your electronics suppliers you may be too late to secure the inventory needed to keep your production lines moving. Forecasts that used to be only directional for long term capacity planning are now material for component ordering and security – so get long term (at least 2-year month by month, ideally 3 year) forecasts to your electronic suppliers.
Flexibility is going to be a key trait for all manufacturers to effectively navigate the supply chain situation over the next 18 months. Be prepared to flex, adapt, and evolve.
Data, IoT & Connectivity
What potential do you see in the use of artificial intelligence and augmented/virtual reality—both for the design and manufacture of products as well as within equipment?
Using AI to reduce the skill and training necessary to operate off-highway equipment represents an important industry opportunity to deal with both the labor shortage and the evolving expectations of our workforce.
What advancements do you see on the horizon for connectivity and machine learning in the next decade?
The next major shakeup in connectivity and data is coming in the middle to latter half of this decade. Things to watch for in advancements here are going to be vehicle-to-everything communications, very high reliability cellular data links, and very low power/low-cost cellular technologies emerging to fuel a new generation of IoT products. The variety, capabilities, and affordability of these connectivity technologies is going to provide the data fuel that is necessary to build the massive stockpiles of data necessary to fuel a host of exciting machine learning and AI applications.
What challenges remain for the continued adoption of data, IoT and connectivity related technologies or systems?
There is a large and persistent gap between the desires of manufacturers to deliver capabilities to customers, derived from data and connectivity related products, and the end customer/operator's awareness of those capabilities. There are two layers of this challenge, one of which resides at the dealer level and another at the operator level. I'd argue that the most important, short-term, problem for the industry to tackle in driving adoption of data and connectivity related technologies is the incentive and educational system that is constructed to drive dealers to educate, train, and support customers in the utilization of these systems.
Automation & Smart Systems
What role will telematics continue to play in the heavy vehicle and equipment industry?
Telematics will continue to evolve to capture a larger portion of the field or jobsite. Expect to see portions of the jobsite that were previously never connected to be incorporated into vehicle networks and information, for example, about unpowered attachments and tools (e.g. location, time in service, histograms regarding utilization, etc.) to become much more commonplace. The ubiquitous drive to be connected to everything will continue to capture portions of our industry and drive products and capabilities from a large-fleet-only market of software/app tools into software and data-based tools that are increasingly catering to smaller famers and contractors.