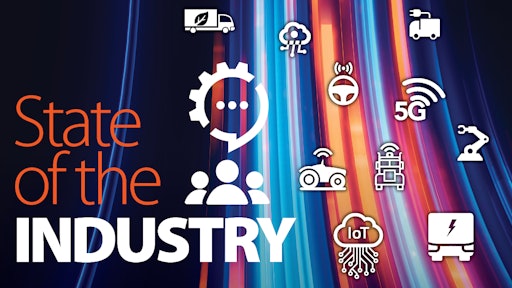 Electrification and automation continue to be among the dominant trends in the heavy equipment industries. Component manufacturers and OEMs alike are growing their investments in these areas, and see them as key drivers for innovation going forward.
As the global economy began to recover in the last half of 2020—and along with it the heavy equipment industries, particularly construction and agriculture—there came supply chain disruptions and labor challenges. While the latter is nothing new, the global health pandemic exacerbated the issue and is a component of the supply chain struggles manufacturers in all industries are facing.
In this year's State of the Industry interviews, executives within the heavy equipment industries provide their insights into these supply chain and labor challenges, and what they've been doing to overcome them. They also provide their thoughts on the continued growth of electrification and automation, and other key industry trends.
Interview topics for 2021 include:
Global Markets, Government & Trade
Supply Chain Disruptions
Diesel, Electric & Other Power Alternatives
Data, IoT & Connectivity
Automation & Smart Systems
Challenges & Opportunities
Links to all of this year's full-length Q&As can be found below.
anyseals USA: Ryan Webster, Vice President of Sales and Marketing
Appareo: David Batcheller, President & CBO
Aquajet: Keith Armishaw, Business Development Manager – North America
Association of Equipment Manufacturers (AEM): Dennis Slater, President
Astec – Material Solutions: Stephen Whyte, VP Product Management
Balluff Inc.: Will Healy III, Marketing Manager Americas, Balluff Worldwide, and Dennis Lewis, Managing Director, Sales and Marketing, Balluff Inc.
BKT USA, Inc.: Minoo Mehta, President
Brokk Inc.: Jeff Keeling, North American Sales and Marketing Manager
CASE Construction Equipment: Terry Dolan, Vice President – North America

CHETRA: Vladimir Antonov, Vice-President for Industrial Machinery
Cummins Inc.: Jeremy Harsin, Global Construction Market Director
Dana Inc.: Marcus King, Vice President of Off-Highway Global Sales, Business Development, Strategy, and Program Management
EAO AG: Reinhard Kalla, Head of Product Marketing
Eberspächer: Steffen Such, Executive Vice President of the Special Markets Business Unit
FUCHS PETROLUB SE: Lars Eggers, Head of Global Business Segment Off-Highway
Hatz: Mike Hartoonian, President & CEO Hatz Diesel of North America, Inc., Dr. Maren Hellwig, Head of Digital Business Development, Motorenfabrik Hatz GmbH & Co. KG, and Dr. Sebastian Wohlgemuth, Director R&D, Motorenfabrik Hatz GmbH & Co.
HED Inc.: Chad Repp – Business Development Manager – CANect Telematics, Russ Farrell – Applications Engineering Manager, and Tom Szewczyk – VP of Operations
HORIBA Automotive: Joshua Israel, Market Development Manager
John Deere Power Systems: Nick Block, Director, Global Marketing & Sales, John Deere Power Systems
Multi-Wing: Sham Morten Gabr, Chief Strategy Officer
Poclain Hydraulics Inc.: Frédéric Michelland, CEO
Proemion: Robert Michaelides Jr., COO
Schaeffler Group USA Inc.: Brian Kreifels, Vice President OEM Sales North America, Jeff Hemphill, Chief Technical Officer, and Shoukat Ali Bhamani, Chief Information & Digital Officer
SICK, Inc.: Jeff Wuendry, Account Manager – Transport Logistics
Siemens Digital Industries Software: Hendrik Lange, Director, Heavy Equipment Industry
Southco Inc.: James Stroud, Business Development Manager
Topcon Positioning Systems: Tom Hansen, Senior Director, Global OEM Development and Sales
TTControl GmbH: Janosch Fauster, Director Application Development Center, and Markus Plankensteiner, Vice President Sales & Marketing
Volvo Penta of the Americas: Martin Bjuve, President
Yanmar Compact Equipment North America: Tate Johnson, President