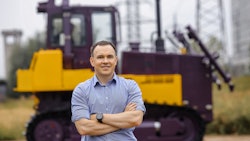 Each year, our State of the Industry issue looks at the top trends and technologies within the heavy equipment industries. We also dig into current and future market conditions, as well as regulations which may currently or in the coming years have an impact on how the industry will go about designing its equipment.
To get the best insights, we speak with executives from a variety of companies working in the industry—everyone from associations, to OEMs to component suppliers. Below are responses provided by Vladimir Antonov, Vice-President for Industrial Machinery, CHETRA.
Read all of this year's executive Q&As.
Global Markets, Government & Trade
What are the key global markets your company sees as growth opportunities and why?
Historically, the principal market for CHETRA is its home market - the territory of the Russian Federation and ex-USSR countries. The key markets for us outside Russia are Africa and Southeast Asia, two regions with good prospects for growth due to their rich mineral resources and large quantity of projects in energy, mining and infrastructure.
Are there any policies you are keeping your eye on that could impact (or have already impacted) your company and the industry?
Yes of course. The policies both in Russia and abroad make certain influence to our operations. But our principal goal is our clients' maximum satisfaction. We are doing our outmost to supply customers with machinery which will let them perform their operations in full volume.
How would passage of an infrastructure or other similar bill in the U.S.—or the equivalent in other countries—benefit the industry?
We do not work in the U.S. market, so this bill does not influence our operations. But we are monitoring the same infrastructural investment programs in other countries and are sure that they will support the demand for off-highway machinery in our key markets.
How, if at all, has the current state of the global trade tensions—particularly those between the U.S. and other countries—had an impact on your business?
We are not impacted by the trade tensions you've mentioned. My position is that political differences should not harm business relations between private companies.
Supply Chain Disruptions
How have supply chain disruptions impacted your business over the past year?
We have the possibility to supply our machinery with interchangeable components from different suppliers. Taking into consideration the fact that a major portion of the crucial components (such as the frame, transmission, undercarriage, cabins, working tools, etc.) are produced at our own facilities, we know how to minimize these risks.
At what point do you foresee the current supply chain disruptions becoming less of an issue?
It is vital to influence the reasons of such problems, not their results, and to have a scenario of the possible risks overcoming.
What industry challenges have these supply chain disruptions brought to light, and what can the industry as a whole do to overcome them?
The challenges are different for each manufacturer and depend on the level of dependency from external suppliers. A company can be hit hard if it has just an assembly line and a limited list of suppliers.
If a company acts as our company does, i.e. has a full production cycle starting from foundry, has a range of interchangeable components vendors and well-established business processes, it can effectively act under different political and economic challenges.
Automation & Smart Systems
How has automation helped the heavy vehicle and equipment industries become more productive?
Production line automation and robotization is everywhere. More than a half of Russian factories use robots. In the pandemic year it helped to keep the efficiency rate for some companies and not stop the production process to others. Industrial robots sales in Russia have grown 6 times compared to 2010 – from 230 to 1,410 pieces per year! And our country still has a good potential because Russia's robotization rate (the quantity of industrial robots per 10,000 employees) in accordance with International Federation of Robotics' data is 6 while the average rate for the world is 113.
The Russian market for industrial automation is becoming one of the most attractive in the world as the industry experts say.
What further benefits will automation bring to the heavy vehicle and equipment industries?
The global economic crisis caused by the COVID-19 pandemic has shown that information technologies become a priority area for industry development.
Modern solutions let the customers to manage the efficiency of equipment they use, which makes equipment more attractive, especially in conditions where the dependence on the human factor is very high.
The active introduction of humanless technologies is a good illustration for that. Our machinery has become a part of the "Digital mine" project – an integrated and fully automated system of ore extraction and transportation.
How has the development and use of smart systems evolved, and what further impacts will they have on the industry?
Smart systems are our future, which we already live: there are some successful samples of their implementation (for example – bulldozers with remote control and robotization elements) as well as some tasks that have not been realized yet, but there is an understanding of their introduction (for example – 100% humanless mining).
What role will telematics continue to play in the heavy vehicle and equipment industry?
The telematic technologies will allow increased efficiency of heavy machinery and decrease the customers' project cost.
For example: all CHETRA bulldozers and sidebooms are equipped by remote control system allowing to monitor the machine key parameters, critical regimes of operation control, fuel consumption and working hours statistics. Any machine can be stopped remotely in case of emergency, and our service department specialists can contact the driver or customer's fleet manager and give him recommendations on periodical maintenance which allows the prevention of machine failure.
Dozer remote control allows operation in dangerous or hardly reachable working environments.
Using our machine as a part of "Smart site" or "Smart mine" fleet control system will allow one operator to control up to 10 different machines in automatic mode.
Challenges & Opportunities
What are the biggest challenges facing the industry currently, or do you see the industry facing in the coming years?
The main trend of heavy machinery development in the nearest future is automation: from automated movement and tools control to the 100% machine robotization and provision of its interaction with other machines working in the same technological cycle.
What are some of the biggest opportunities you see in the industry?
What I see is a transition to the lifetime cycle contract which means (in general) a shift from supplying heavy machinery to providing a package of services including machine development, manufacturing, supply and long-term aftersales support.
Are there any technologies or trends which you are currently excited about in the heavy-duty vehicle industry, or most looking forward to seeing in the coming years?
Yes, I feel excited about the coming heavy machinery robotization and growth of its ecological safety.
Among the industry trends I see is the tendency of a transition to outsourcing the technological processes in mining and construction.
What do you think will be the biggest change to occur in the heavy-duty vehicle and equipment industries in the next decade?
I see two of them: growth of efficiency due to introduction of automatic production lines/humanless technologies and production lines modernization caused by decarbonization trends.