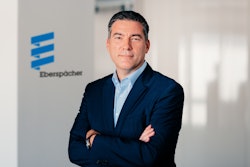 Each year, our State of the Industry issue looks at the top trends and technologies within the heavy equipment industries. We also dig into current and future market conditions, as well as regulations which may currently or in the coming years have an impact on how the industry will go about designing its equipment.
To get the best insights, we speak with executives from a variety of companies working in the industry—everyone from associations, to OEMs to component suppliers. Below are responses provided by Steffen Such, Executive Vice President of the Special Markets Business Unit, Eberspächer.
Read all of this year's executive Q&As.
Global Markets, Government & Trade
What are the key global markets your company sees as growth opportunities and why?
The Eberspächer Group is a globally operating company with around 80 sites worldwide. Thus, it´s important for us to have international trade agreements. We continue to further develop our market position by promoting innovations and through acquisitions and partnerships in existing and new markets. Sure – there are markets where we see more potential in than on others. But for our thermal management solutions, for example, we see opportunities worldwide – not only in the driver's and the operator's cab of off-highway vehicles, but also in the passenger compartment of e.g. busses: all over the world, demands for comfort are rising. And our thermal management solutions offer comfort in every kind of vehicle and drive type. With our production site for bus and coach AC systems in Monterrey (Mexico), Eberspächer is Central America's first manufacturer that produces all-electric air-conditioning systems for electric buses. This production line was built to supply our Central and North American customers. Furthermore, the thermal management in the segments utility and cargo, agriculture and forestry offer potential in the Americas and Asia for products applicable in combustion engines as well as in alternative drives. Together with the group's AC specialist Eberspächer Kalori, which we acquired in 2018, we provide a comprehensive range of climate control products for vehicles of all drive types with a lot of opportunities especially in the USMCA region. In the Asia-Pacific region, especially in China, we strive for continuous growth. In all divisions we have built up new production sites in China within the past years and further growth plans will be realized in the future. And also in India, we have e.g. our exhaust technology joint venture activities to further grow in this region. New emission standards like China National 6 or Bharat Stage VI are driving these investments in our Purem by Eberspächer Division.
Supply Chain Disruptions
How have supply chain disruptions impacted your business over the past year?
Like everyone in the industry, semiconductor shortages have hit us. We notice the lack of availability of semiconductors indirectly in all areas where our customers can no longer manufacture entire vehicles. Production stops are being put in place. Therefore, we are not allowed to deliver. But it also has a direct impact. We have a large product range in vehicle electronic products for e-mobility, for which we need semiconductors. It is a great challenge for us, as it is for the entire industry, to completely meet the delivery requirements of our customers. We have set up a global task force team to master the challenge and hope that everything will return to normal but we predict that this will probably last into the year 2022.
Diesel, Electric & Other Power Alternatives
How, if at all, do you see the role of diesel engines evolving in the coming years? How will electrification—or other alternative energy/power systems—continue to advance in the heavy equipment industry?
For our thermal management solutions, we see opportunities in the electrification of mobility in the heavy equipment industry. The trend of e-mobility can also be recognized in the municipal sector, among others. Municipalities are increasingly turning to alternative drives for off-highway vehicles like hybrid- or electric-driven tractors, wheel loaders or small excavators. Electric forklifts are also being used more often.
Together with our AC specialist Eberspächer Kalori, we provide a wide range of suitable systems for these new requirements. We have products especially for off-highway applications in our portfolio—like cabin pressurization systems for pollutant- and dust-free air, HVAC systems for off-highway combustion engine applications as well as for electrified powertrains from 24-800V or heat pump solutions. In the field of battery management systems we also have experts in our group of companies with our Canadian subsidiary Eberspaecher Vecture and our specialists for vehicle electronics. In our exhaust technology business, we see quite big potential for diesel engines in the heavy-duty and long-distance transport. It is our goal to provide clean mobility with our emission control systems, meeting the highest emissions standards worldwide. We assume that with Euro 7, the potential for reducing emissions in conventional combustion engines has largely been exhausted. By this time, the air emitted will, on average, be cleaner than the air taken in. To achieve this, the colleagues at Purem by Eberspächer have invested a lot in recent years, for example, in electrical heaters for the catalytic converter and exhaust gas flow, power electronics, burner solutions, highly efficient mixers and mixing structures as well as new acoustic and emission valves. However, climate-damaging CO2 remains. Fossil fuels must therefore be replaced as quickly and consistently as possible by renewable and carbon-neutral forms of energy, namely green hydrogen and synthetic fuels. After all, CO2 targets cannot be achieved through e-mobility alone. The aim should be to operate combustion engines in a climate-neutral manner by drawing the same amount of CO2 from the atmosphere during the production of the fuel as is emitted during operation by the end-user. This will continue to require exhaust systems in the future and our teams are already working on these. In addition, there are markets and fields of application such as heavy commercial vehicles, where pure electromobility is difficult to imagine. We this in markets like South America, Africa and many Asian countries such as India. In addition, wherever long distances are to be managed, like in the heavy-duty traffic in Northern America. According to current forecasts, even in extreme scenarios experts predict that more the 70 million new vehicles with combustion engine will be counted in the year 2040. These are opportunities for us to further drive the clean mobility of tomorrow.
Data, IoT & Connectivity
What will be the best use cases for the Internet of Things (IoT) and data in the coming years? What challenges remain for the continued adoption of data, IoT and connectivity related technologies or systems?
We are currently working on connectivity solutions meeting the needs and requirements of our customer. With our new e-connected platform, we launch a completely new product family: the cloud-based application will bundle all digital services in the future and enable customers, especially fleet managers, to use and manage digital services and information in one place. The first digital product that will be available via the platform is a Cold Chain Monitoring Service. It monitors temperature, location, battery stats and vibration during transport as constant, defined temperature is imperative for product groups such as food, pharmaceutical and medical products. Soon to come are also digital services geared to the off-highway segment such as predictive maintenance for our thermal management components – services that focus on uptime and minimizing operating cost. Also in product development and manufacturing, digitization is offering huge potential we are already exploiting today. In some areas, we are already mapping the product development process and associated process planning completely digitally. In this way, we offer our customers more cost-effective concepts in less time, as, for example, fewer prototypes are required to be built and tested. Through appropriate simulations, any design or process issues are detected and solved at an early stage. For example, we use digital tools like virtual and augmented reality as well as material flow and robot simulations within our manufacturing processes and to optimize them. We also use mobile maintenance tools for the remote maintenance of our systems. We see many chances and opportunities in this field. Of course – this brings some challenges for IT security and data protection, but we are convinced that they are manageable.
Challenges & Opportunities
What are the biggest challenges facing the industry currently, or do you see the industry facing in the coming years? What are some of the biggest opportunities you see in the industry?
In the present time, transformation is the biggest challenge—but also a big opportunity. The whole world is becoming more and more diverse in terms of technologies. And this brings a lot of chances along with it. We follow our slogan "Driving the Mobility of Tomorrow" offering smart solutions for all kind of drive types—including hydrogen mobility: With increasing decarbonization, hydrogen is gaining in importance as an energy carrier for future mobility. This could be through fuel cell technology for electric powertrains or by combustion engine technology for traditional powertrains. With the acquisition of ViCTORi LLC, better known as VAIREX air systems, we are expanding our product portfolio and open up the fuel cell market—according to our targeted development of new business areas in the field of "Hydrogen for Mobility." The U.S. company situated in Boulder, CO, develops and produces fuel cell cathode air compressors and related components. Thus, VAIREX's products are core components of air supply systems for fuel cells. With this healthy mix of different technologies, we are sure to shape and contribute to the clean mobility of tomorrow.
Companies in this article