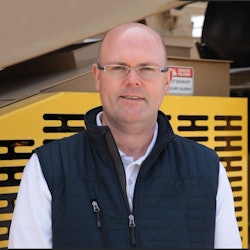 Each year, our State of the Industry issue looks at the top trends and technologies within the heavy equipment industries. We also dig into current and future market conditions, as well as regulations which may currently or in the coming years have an impact on how the industry will go about designing its equipment.
To get the best insights, we speak with executives from a variety of companies working in the industry—everyone from associations, to OEMs to component suppliers. Below are responses provided by Stephen Whyte, VP Product Management, Astec – Material Solutions.
Read all of this year's executive Q&As.
Global Markets, Government & Trade
What are the key global markets your company sees as growth opportunities and why?
North America is a key market for Astec and our competitors, but we are steadily increasing our global market share through some strategic initiatives.
Are there any policies you are keeping your eye on that could impact (or have already impacted) your company and the industry?
Some of the mandates around COVID-19 have had an impact on our industry; everyone will be looking forward to getting out and helping customers again. The market is already very active, and the passing of an infrastructure bill will increase this even further.
How, if at all, has the current state of the global trade tensions—particularly those between the U.S. and other countries—had an impact on your business?
With regard to the U.S., it has had an impact on steel pricing with limitations on imports of certain materials.
Supply Chain Disruptions
How have supply chain disruptions impacted your business over the past year?
All Astec employees are working hard right now to limit the impact to customers. COVID-19 has caused many disruptions to the supply chain and simultaneously we are seeing a huge spike in equipment demand. This translates into long days for our employees, but they never cease to amaze.
If impacted, what has your company done to try to overcome this industry challenge?
Putting an Astec Strategic Procurement team in place to work in conjunction with local procurement has helped immensely.
At what point do you foresee the current supply chain disruptions becoming less of an issue?
We are doing all we can to limit the impact with regard to procurement and manufacturing, but the reality is COVID-19 will continue to be a disruption. For how long? It remains to be seen.
What industry challenges have these supply chain disruptions brought to light, and what can the industry as a whole do to overcome them?
Coming together as OneASTEC has helped us overcome some of these disruptions. Increased communication and visibility help effectively address issues.
Diesel, Electric & Other Power Alternatives
How, if at all, do you see the role of diesel engines evolving in the coming years?
Diesel engines will still play a part in the short term, as the infrastructure to support a complete switch to electric equipment is still being developed. Going forward it's important to develop equipment that is easily adaptable to future trends, such as all-electric, hydrogen and biofuels which could extend the use of current diesel hydraulic equipment.
What alternative fuels do you foresee entering the heavy equipment industry in the next 5-10 years?
Astec has a wide range of products available, such as our all-electric Portable, Modular and Stationary plants, Diesel Hydraulic and Hybrid Mobile units capable of running either diesel hydraulic or electric hydraulic so we can satisfy most customer requirements.
How will electrification—or other alternative energy/power systems—continue to advance in the heavy equipment industry?
What you clearly see in the industry is that no one solution fits all. We offer various systems depending on the application and power requirement.
What new emissions regulations do you see on the horizon, and how might they impact future product development?
Short term, we already have units which are Stage V compliant, it's a requirement for our customers in Europe. It's always a challenge to find enough space when designing equipment, so it helps when new Stage V engines are typically more compact that previous counterparts. If I reference back to the earlier question [about the role of diesel engines], it's important to make sure that designs are forward compatible.
Data, IoT & Connectivity
What will be the best use cases for the Internet of Things (IoT) and data in the coming years?
Increased productivity and lower running costs. At the end of the day it all boils down to cost per ton over the lifetime of the equipment. What may seem like a good purchase up front due to lower cost, may turn out to be very expensive over the product life cycle.
Geofencing/machine location
Preventative maintenance
Predictive failures
Ordering spare parts automatically
Real-time production costs
What potential do you see in the use of artificial intelligence (AI) and augmented/virtual reality (AR/VR)—both for the design and manufacture of products as well as within equipment?
We are actively using this technology in our manufacturing and product support teams to help teams working remotely and in international manufacturing locations.
What advancements do you see on the horizon for connectivity and machine learning in the next decade?
Our customers and equipment work in very harsh environments. This technology can help deliver fully autonomous plants and systems in the future, along with an increased level of interaction between our plant and equipment used upstream and downstream.
What challenges remain for the continued adoption of data, IoT and connectivity related technologies or systems?
Data transfer in remote locations is getting much better, but still remains an issue.