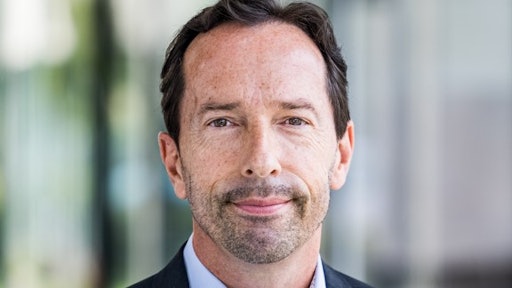 Danfoss Power Solutions
Our team was happy to talk with Eric Alström, president, Danfoss Power Solutions, about our industry in 2022 and what to expect heading into 2023.
What was your company's biggest challenge in 2022?
Like in many industries, supply chain disruptions were a considerable challenge this year. We're working hard to localize our supply chains, ensuring that our supply is closer to our customers. This is a significant change. Although container availability is easing, we are still going full force on regionalization. This can generate time and cost savings while freeing up working capital that we can put to better use. Inflation has also led to increased raw material prices and much higher electronic component prices, as well as significant challenges in the supply of semiconductors.
Despite the compounding factors, Danfoss Power Solutions has grown organically by 19% year to date. The demand for mobile hydraulics remained high, and we saw record order intake and strong growth across all regions. In addition, we continue to set monthly records in order intake in our electrification business, Danfoss Editron.
Are changes in the workforce, including retirements, affecting your company?
The first of our three key priorities at Danfoss Power Solutions is our people. After coming together as the new Danfoss Power Solutions, we track our employee metrics very carefully. We see very high engagement rates, a motivated workforce, and passion around recommending Danfoss as an employer. But, like everyone else, we are influenced by the trends in the market, including labor shortages, aging societies—especially in developed countries—and different expectations toward employers from the next generation entering the workforce.
We are addressing these trends by focusing on succession planning, strengthening our leadership pipeline, and investing in leadership development. At the same time, we strongly believe that our company's purpose and our focus on environmental, social and governance and diversity, equity and inclusion help us attract people who want to engineer tomorrow to build a better future. We're doing cool things, from autonomous solutions to software design, connectivity, and electrification. We're not a stodgy old-school hydraulics company. Of our roughly 1,800 engineers, 350 are software engineers, and we are quickly growing employment in this area.
Finally, we are focusing on becoming a more diverse, inclusive workplace where everyone—no matter their background, skin color, age or sexual orientation—feels that they belong. Diversity for us is the key to leading our organization into the future. Diverse teams deliver better results, and they have much better innovation track records. Diversity of thought is a superpower.
In what technological areas do you see the potential for the most innovation next year?
Innovation will happen where there's a need to address issues or challenges. Global megatrends such as urbanization, food supply and climate change are a few areas where we already see this happening. Urbanization means increased rates of construction as the demand for housing and infrastructure grows. Meanwhile, the agriculture sector must increase food production to feed the world's growing population. With experienced operators leaving the workforce, there's a need to put experience onto the vehicle. We can do that through autonomous solutions, which increase operator safety, productivity, and precision.
To combat climate change, there are growing calls for energy-efficient and zero-emission solutions in sectors such as transport and construction. Energy-efficient hydraulics have never been more important than they are today. At Danfoss, we're significantly investing to make hydraulics as energy efficient as possible through both incremental improvements to existing products as well as large-scale, disruptive efficiency improvements, such as our digital displacement technology. At the same time, we're also investing in electrification. Our Editron division is helping electrify off- and on-highway vehicles and marine vessels, directly reducing carbon emissions. In fact, this is the fastest growing division within Danfoss Power Solutions.
In summary, autonomy, electrification and energy-efficient hydraulics—both conventional and new-to-market technologies—are areas where we continue to make significant investments to stay ahead of the competition.
Which industries face the most hurdles in the move toward electrification? Automation?
Electric or hybrid powertrains can improve the efficiency, productivity, and fuel economy of any machine or application. Hybrid solutions improve machine performance while battery-powered machines enable zero-emission operation. The challenge is charging infrastructure. Charging stations aren't typically available in remote areas, which is an obstacle in electrifying forestry machines and some agricultural machines. Fortunately, fuel cells can provide an alternative to batteries for zero-emission operation. We believe in hydrogen technologies for many of the market segments in which we do business, even if the technology readiness for mass implementation is some years out.
As for autonomy, the hurdle is the variety and complexity of sites at which an off-highway machine will work. Mining and material handling are clear leaders with good economic tailwinds driving autonomy, but we believe many off-highway use cases are well suited for autonomous solutions. These machines tend to operate in controlled environments, making it easier to manage safety and liability concerns. Autonomy is accelerating in specialty agriculture and airport ground support, driven by severe labor shortages. Construction, on the other hand, is an industry we see adding operator-assist capabilities, but not aggressively moving to full automation. Some segments of construction, such as roadbuilding and trenching, will progress more quickly than commercial or residential construction, where full autonomy is years away.
Do you perceive that most OEMs recognize and respect their roles as stewards of the climate?
OEMs have a history of making their machines more fuel efficient with each new generation. That has a positive impact on the climate as it reduces emissions. Today, we also see OEMs interested in understanding the climate footprint of their machines and initiating projects to reduce that footprint. The increased demand for product circularity strategies as well as carbon and greenhouse gas (GHG) footprint declarations is evidence of this trend, as is the wave of battery-powered machine introductions for emission-free operation.
As an original equipment manufacturer (OEM) supplier, Danfoss is focused on developing sustainable products and solutions to help our customers decarbonize. We offer products with the highest efficiency on the market, solutions that save energy during operation, and systems that enable hybrids or fully electrified machines to pave the way to zero-emission work sites and more. In addition, we're further improving our components in terms of GHG emissions and circularity.
Are there any other insights looking toward 2023 that you'd like to share?
I'm often asked whether hydraulics is going away in favor of electric solutions. The answer is hydraulics is here to stay, at least for the foreseeable future. Power and energy density are major challenges for electrifying many off-highway applications, and this will remain the case for years to come. Take, for instance, the power source: It is difficult to have enough energy in a battery to keep large off-highway machinery working for normal duty cycles. In addition, packaging electric motors is very difficult due to the sheer size of such products. Yes, electrification is growing, and we are significantly investing so we can supply our customers with whichever solution they prefer – hydraulic or electric. But we remain bullish on hydraulics. It's our core. There's strong growth in the industry, there's progress being made in conventional hydraulics, and there's step-change technology in development at Danfoss Power Solutions.
Check out the full report.