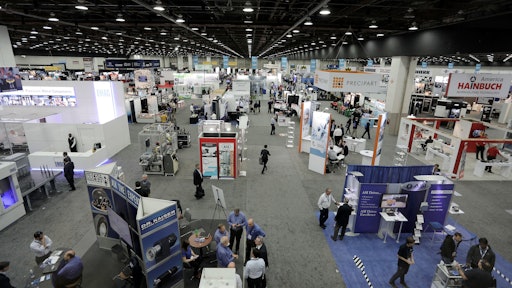 AGMA
The inaugural Motion + Power Technology Expo (MPT Expo) recently took place in Detroit, MI. It brought together the mechanical power transmission, fluid power and electrical drive industries for three days of education sessions, technical presentations and product exhibits.
Hosted by the American Gear Manufacturers Association (AGMA), the event was a collaboration with the National Fluid Power Association (NFPA). The event built upon AGMA's previous event, the Gear Expo.
Creation of MPT Expo enabled an expansion of the topics and exhibitors for the event. And as industry continues to evolve, so will the businesses and collaboration between AGMA and NFPA's members.
The 80,000 sq. ft. exhibit floor was filled with a variety of technologies including gears, drivetrains and various other components aiding the motion of vehicles and machines. An entire pavilion was dedicated to exhibitors relating to the fluid power industry, making it easier to locate them for attendees to which they would be of interest.
A large portion of the floor was also dedicated to manufacturing equipment, demonstrating the new systems available for creating the various components shown elsewhere at the event.
Electrification was a key topic of interest at the show, with several technical sessions focusing on the topic. John Bennett, VP and Chief Technology Officer at Meritor Inc., spoke about the future of electrification for commercial vehicles, and how it may effect traditional mechanical components. He noted that electrification is bringing changes to several aspects of a vehicle, including gearing. Gears and other components common today will likely still be needed, but may be in a different form than we're currently used to today.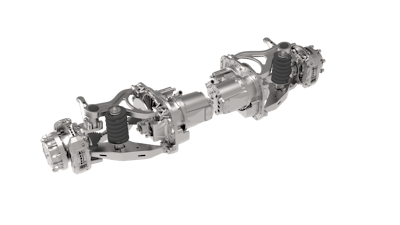 Integration of electric motors into axles is one of the ways drivetrain components are changing due to electrification. How they are configured will continue to evolve and likely will have an impact on the types of gears needed. Overall, Bennett said the type and quantities of gears may change as vehicle electrification increases. Manufacturers should be aware of this so as to not be caught off guard.
Jeff Hemphill, CTO of Schaeffler Americas, spoke on how electrification may effect component designs in the future, as well. He noted bearings, for instance, are being exposed to new elements such as electric discharge which can adversely affect their performance. Changes to a bearing's surface technology such as using ceramic coatings can help overcome this issue, he said.
Hemphill, like Bennett, noted the importance of manufacturers keeping an eye on current trends including electrification and automation. They will have an impact on how components and systems are designed, and if manufacturers don't want to be left behind they should be planning now for these changes.
He said Schaeffler has taken initiative to investigate ways in which its bearings and other technologies may be used in the future. Part of this includes the development of an autonomous shuttle vehicle concept. For it the bearings and gears will be used in new ways, offering new opportunities for the company's components.
"Humans over predict changes in next year and under predict changes in 10 years," said Hemphill. Change can happen quickly, and so manufacturers of all types should be ready to adapt.
The next MPT Expo is currently scheduled to take place September 14-16, 2021 in St. Louis, MO.