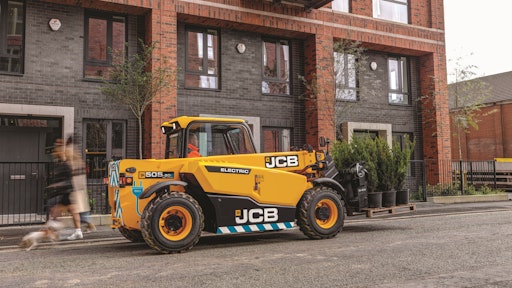 JCB
In late 2020, JCB announced the expansion of its E-TECH range of zero-emissions vehicles. This included the launch of the company's first electric Loadall telescopic handler, a new electric site dumper, as well as offering a fully glazed cab on the 19C-IE electric mini excavator. In addition, JCB has developed a new rapid Universal Charger which is compatible with current and future E-TECH electric machines.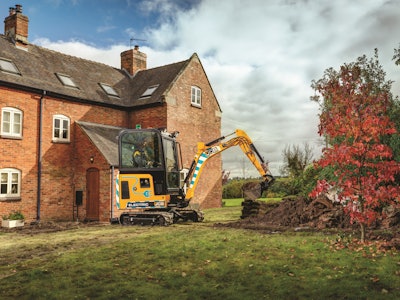 "The pace of change is rapid, and we need to be equally quick in responding to the growing environmental challenge posed by climate change and the need to improve air quality," said Tim Burnhope, Chief Innovation Officer at JCB, during the company's virtual launch event for the new products. As such, the company has placed an emphasis on developing clean technologies in the form of electric-powered equipment and near zero-emissions diesel engines.
New electric telescopic handler
JCB's new 525-60E all-electric Loadall telescopic handler—called the 505-20E for customers in North America—is designed to provide zero-emissions operation in construction and agriculture applications. The electric machine looks similar to its diesel counterpart, and is just as powerful and productive, said Richard Brooks, Engineering Director for JCB's Material Handling and Access Product Group, during the launch event.
A 96V lithium-ion battery is used in place of a diesel engine in the new 525-60E and provides full-shift operation. Use of a lithium-ion battery enables quick, clean, maintenance-free charging using either an onboard charger or JCB's new off-board rapid Universal Charger said Brooks. The Universal Charger can fully charge the telescopic handler's battery to 100% in 60 minutes.
Top-off charging also occurs during machine operation via a regenerative braking system. According to Brooks, the robust battery can be charged over 5,000 times which is the equivalent of 10 years of use in typical duty cycles. The battery is capable of operating in temperature ranges from -20-60 C (-4-140 F), enabling it to be used in various locations around the world.
A motor controller converts the battery's direct current into alternating current to power the 17-kW (23-hp) transmission system motor and 22-kW (30-hp) hydraulic system motor. It manages electric power demand from the transmission and hydraulic systems to ensure optimal machine performance. The motor controller balances acceleration, deceleration and hydraulic control while loading, placing and transporting goods, said Brooks.
For the driveline of the 525-60E, JCB has replaced the hydrostatic drive components used in the diesel version with new, highly efficient electric motors. "The 17-kW drive motor is connected to the front and rear JCB axles that have been developed to be as efficient as possible, whilst maintaining the strength and durability of those on the diesel-powered machine," said Brooks.
A new hydraulic system was developed for the electric machine, as well. Its 22-kW motor powers an efficient, low noise internal gear pump to provide the same flow and pressure as the diesel machine. Brooks noted that hydraulic flow is not linked to engine rpm; joystick position alone determines the flow and speed of operation.
Smart, regenerative hydraulics capture and store energy when lowering and retracting the boom. This energy can be used by the battery, extending the amount of time the machine can work before needing to be recharged.
The 525-60E provides a maximum lift capacity of 2,500 kg, and maximum load of 2,000 kg at its full lift height of 6 m. For the North American version, this would equate to a maximum lift capacity of 5,500 lbs. and a maximum lift height of 20 ft.
Zero-emissions and low-noise operation capabilities make the telescopic handler suited for use in both indoor and outdoor operations, including noise sensitive job sites.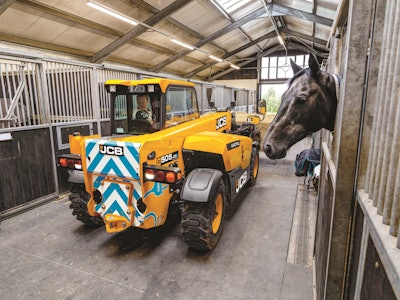 Additional electric site dumpers now available
In mid-2020, JCB introduced the HTD-5e E-Dumpster. The all-electric walk-behind dumpster can carry up to 500 kg (1,102.3 lbs.) and is powered by a 48V lithium-ion battery. Its 9-kW (12.1-hp) motor delivers travel speeds up to 3 kph (1.9 mph).
During its virtual launch event in November, the company announced the release of a larger electric site dumper, the JCB 1TE. It is designed to work indoors, underground and in other emissions-sensitive areas. "It's an ideal partner for our 19C-1E electric mini excavator," said Andy Whyman, Group Engineering Director at JCB. "It's a high tip dumper with a full-size steel skin that has a maximum load over height of nearly 2.4 m (7.9 ft.)."
He noted it is a durable machine with a heavy-duty articulated chassis which can handle a maximum payload of 1 metric ton (1.1 U.S. ton). Use of drive axles and a dropbox instead of hydrostatic drive motors enables the new site dumper to provide continuous all-wheel drive, aiding mobility and thus productivity on job sites.
Two 5 kWh lithium-ion batteries power the machine. A 7-kW (9.4-hp) hydraulic motor delivers drive power to the dropbox while a second hydraulic pump powers the hydraulic circuits for steering and lifting.
Enclosed cab for mini excavator expands market use
JCB first introduced its 19C-1E fully electric mini excavator in 2018 which then went into full production in 2019.
The electric mini excavator is five times quieter than its diesel counterpart, said Whyman. It now comes with four next-generation lithium-ion battery packs, ensuring energy capacity of 20 kWh. This provides not only a full day of work but also additional electric power where needed such as for systems in the cab.
The new, more spacious cab JCB has introduced for the 19C-1E provides instant heat to rapidly defrost the windows and keep operators warm. This makes the machine well suited for use in colder, wetter climates said Whyman. "We see plenty of opportunities for this machine in Northern Europe, North America and in Scandinavia where electric solutions are already in high demand," he said.
Power consumption is managed to ensure heating the cab while also guaranteeing optimal machine operation. "When operating on its maximum setting, the heater only draws on half of the power from one battery," explained Whyman. "There is no impact on digging or tracking power when the heater is in use." This is because machine operations are able to draw power from the remaining battery energy not used by the heater.
The new cab is Roll-Over and Falling-Object Protective Structures (ROPS/FOPS) certified and equipped with easy-to-replace laminated flat glass. It ensures optimal visibility with its 70/30 front windshield split and clear jointing which prevents the digging area from being obstructed. A clear view around the entire machine is provided, as well, further aiding visibility.
LED working lights and wipers like those used on diesel models are included to aid visibility in poor working conditions or at night.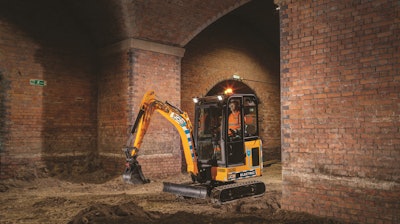 Charging is an integral part of the equation
The new high-powered Universal Charger was developed to provide a single rapid charge solution for all JCB electric machines in a customer's fleet, said Bob Womersley, Director of Product Innovation at JCB, during the virtual launch event. It works with electrical systems from 48-96V and above.
This new off-board charger can be easily installed at any site offering 480V three-phase electrical supply. It comes with both four- and five-pin electric connectors for use across Europe. The charger will also be made available to customers in North America and other parts of the world.
Womersley said all JCB electric machines come factory supplied with a standard built-in charger, as well as preparation for use of the new universal charger. "You simply plug your machine into the Universal Charger for a high-speed boost during the workday," he said. This ensures the piece of equipment will continue running and meeting the productivity needs of the job site.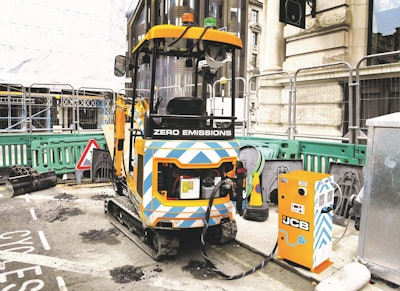 Fully charging the 19C-1E mini excavator with the Universal Charger takes just 2-1/2 hours, enabling job sites to stay productive said Womersley.
For customers who do not have a three-phase electrical supply on their job site, JCB has launched a new range of power packs to support the growing line of electric machines. They provide zero-emissions, silent electrical backup to remote job sites or those not connected to the electrical grid. Womersley said the power packs will come with four or eight robust, JCB proven batteries. He said they are beneficial for not only powering JCB machines but also general backup power for job sites. They can also be paired with, as well as recharged by, a JCB generator being utilized on site if necessary.
Development of the new charger and the electric machines are part of JCB's Road to Zero Program through which it is looking to offer 100% electric, zero-emissions machines to meet a range of customer application needs. Burnhope said there is a lot more to come from JCB regarding electrification developments, as well as other emissions-reduction technologies such as alternative fuel options.
READ MORE: JCB Develops Hydrogen Fueled Excavator
"We've come a long way in a short period of time, and we are fixated on accelerating our next steps on this road to zero," he concluded. "We won't wait around. We know there's much more to do and we are getting on with it."
Companies in this article