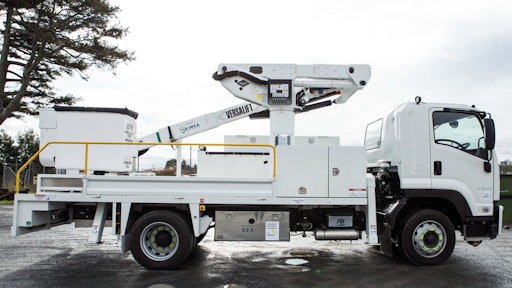 SEA Electric continues to lead electric vehicle development in the commercial truck and van industry with the first 100% electric bucket truck. The bucket truck, also known as an Elevated Work Platform Truck (EWP) or "cherry picker" truck, is powerful enough to operate the elevated boom and travel over 200 km on a single charge.
The new electric bucket truck is designed by SEA Electric's engineering team in Melbourne, Australia, and transformed from an Isuzu chassis in a combined project between SEA Electric and CAL Isuzu (Hamilton) in New Zealand. The EV bucket truck will be deployed in New Zealand for Wel Networks, a local power company, for power line maintenance.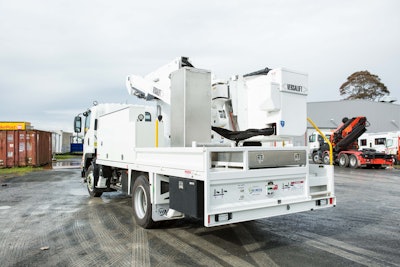 The electric EWP truck is beneficial to industries requiring mobile elevated platforms as it provides significant savings on diesel, servicing and maintenance, resulting in low total life operating costs.
The communities in which this truck operates appreciate its zero noise, zero emissions and zero exhaust fumes.
The electric EWP truck is built on an Isuzu FTR chassis and can be adapted to most OEM glider platforms. Powered by the SEA-Drive 120b power-system with a 136 kWh battery capacity, producing 150 kW continuous power and 250 kW maximum power. More importantly for a commercial vehicle the SEA-Drive 120b produces maximum torque of 2,500 Nm, has a range of up to 350 km (unladen), with onboard three-phase charger that can be charged to 80% within 6 hours.