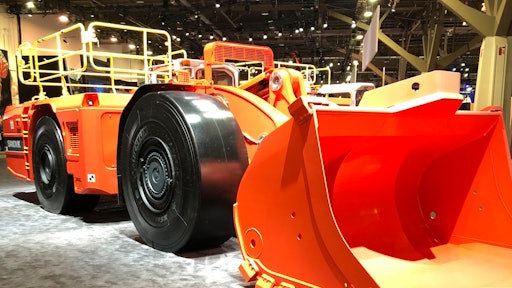 S. Jensen
Sandvik Mining and Rock Solutions introduced new products and services, and exhibited some of its latest technologies at MINExpo INTERNATIONAL® 2021, including battery-driven equipment to enable emission-free underground mining and help customers improve sustainability and profitability.
Sandvik is continuing to strengthen its electric equipment range with product introductions such as the Sandvik TH550B, its latest 50-ton battery-electric truck. The new truck features Sandvik's patented self-swapping battery system, including the AutoSwap and AutoConnect functions, for improved availability and safety. Sandvik also virtually introduced the Toro LH514BE, an AutoMine compatible cable-electric loader, boosted with cutting-edge battery technology. The company also showcased the Sandvik LH518B — the industry's largest battery-electric loader — and launched the Sandvik DS412iE, its first battery-powered rock bolter that rounds out the company's first full zero-emissions offering for all underground drilling applications.
Sandvik introduced its Remote Monitoring Service at MINExpo, a well, which is a robust solution that analyzes underground mining equipment data to identify abnormalities and develop predictive solutions to increase uptime and reduce operating costs.
On the surface drilling side, Sandvik showcaed the Sandvik DR410i rotary blasthole drill rig, Leopard DI650i down-the-hole drill rig and Pantera DP1600i top hammer drill rig, part of the Top Hammer XL system. Booth visitors also had the opportunity to learn more about AutoMine Surface Drilling and the system's new AutoCycle functionality that enables a fully autonomous drilling cycle.
50-tonne BEV truck combines best of two worlds
The new Sandvik TH550B 50-tonne battery-electric truck combines the best of two worlds: Sandvik's half-century of experience designing and manufacturing equipment for the underground mining industry, and the innovative Artisan battery packs and electric drivelines. This combination of proven solutions and third-generation BEV (battery-electric vehicle) technology is a game changer for any site in pursuit of a more sustainable and highly productive fleet.
Rethink the machine, keep the same mine
Sandvik TH550B combines proven solutions and third-generation BEV technology. The truck has been designed to best utilize the innovative technology of its Artisan battery pack and electric driveline, enabling full leverage of the possibilities that the battery technology brings. Based on the philosophy of rethinking the equipment rather than the mine, the truck is simple to implement in any underground hard rock operation where a 50-tonne truck is required. Infrastructure needs are minimal, with no requirement for overhead cranes or other heavy handling equipment. All that is needed is a battery bay with an electric connection.
As battery equipment power is not constrained by mine ventilation limitations, the most powerful electric motors available can be utilized. The Sandvik TH550B electric drivetrain delivers 540 kW of continuous power, and 6,400 Nm of continuous torque output, allowing high acceleration and fast ramp speeds for shorter cycle times.
Fast and easy battery AutoSwap and AutoConnect
The patented self-swapping system of Sandvik TH550B, including the AutoSwap and AutoConnect functions, is designed for improved equipment availability and safety. Sandvik offers the fastest BEV pit stop on the market, taking only a few minutes. Sandvik TH550B disconnects and puts down the depleted battery, trams to pick up a new one, and automatically connects. During this quick and simple procedure, the truck operator controls the swapping without leaving the equipment cabin.
While tramming downhill, the truck uses regenerative braking to recharge the battery. For safety and reliability, the truck utilizes cutting edge battery technology, based on a lithium-iron phosphate chemistry (LiFePO4 or LFP), a fit-for-purpose choice for underground mining.
Sandvik BEV loaders and trucks lining up
The Sandvik TH550B truck builds on its predecessor, the Artisan Z50, now tailored to include common Sandvik systems and design solutions to seamlessly fit the truck into the Sandvik product range. In addition to Sandvik TH550B, Sandvik battery-electric loader and truck offerings includes the 18-tonne LH518B loader as well as 4-tonne A4 and 10-tonne A10 from the Artisan line. Sandvik is continuing to develop additional battery-electric loaders and trucks in other size classes, including a 65-tonne battery truck in the near future.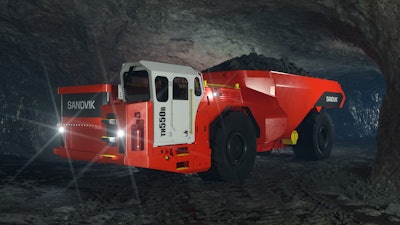 Toro LH514BE with AutoMine merges automation, cable electrification and battery technology
The Toro LH514BE, Sandvik's new battery-assisted loader, is a unique combination of technology: an AutoMine compatible cable-electric loader, boosted with cutting-edge battery technology. This one-of-a-kind equipment leverages from the latest technologies.
Innovative power train technology for easy electric loader relocation and boost for ramp drive
The Toro LH514BE looks like a traditional electric loader while in operation, trailing cable connected to the mine electric grid, but the technology is not ordinary. When this loader needs to be moved to another area or to the maintenance bay, the difference is clearly visible: the power cable is disconnected from the electric grid. While the operator drives the loader to the new location, the Toro LH514BE gets its power solely from its battery. This battery-assist enables easy relocating and suitability for ramp drive.
Less heat, less CO2 – and no stops for refueling
One of the noteworthy features of the Toro LH514BE is the elimination of refueling or recharging stops. There is no diesel engine that would require fueling, and the battery does not need to be swapped because it is recharging during operation. The loader produces no exhaust emissions and significantly less heat than conventional equipment based on combustion, supporting mines in improving sustainability by reducing CO2 emissions. As a battery chemistry, the Toro LH514BE utilizes Lithium-Iron Phosphate chemistry (LiFePO4 or LFP) which is a fit-for-purpose choice for underground mining environments.
AutoMine compatible loader with built-in intelligence
The Toro LH514BE is available with Sandvik's high-performing, robust and comprehensive automation system AutoMine. With AutoMine, a fleet of equipment can be converted into a high-performing autonomous production system, providing significant safety and productivity improvements for mine operations. The Toro LH514BE can be delivered with AutoMine, or the system can be easily retrofitted later during the loader's lifetime.
As standard, the loader features Sandvik's intelligent control system and a 7-in. touchscreen display, providing easy access to data. General battery health and status monitoring data as well as battery charge information is also available on the control system diagnostics. As usual in Sandvik's large loaders, the integrated weighing system (IWS) option measures payload data and records the results to My Sandvik Digital Services Knowledge Box. The Knowledge Box transfers the data to the My Sandvik internet portal for visualization of fleet health, productivity and utilization. The OptiMine solution can also use transferred data for improving mining process efficiency.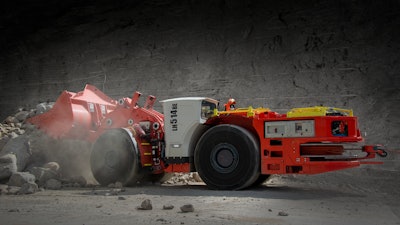 OptiMine integrates Newtrax offering for OEM-agnostic digital suite for underground hard rock mining
Together with Newtrax Technologies, Sandvik has introduced the next generation of the OptiMine solution, which combines the Newtrax digitalization offering with the existing Sandvik suite of digital process optimization tools as one integrated OptiMine product.
OptiMine is a comprehensive OEM-agnostic digitalization solution for underground hard rock mines with the key capabilities the market needs for improving safety and productivity:
Operations Management

including worker safety, mixed-fleet monitoring and short-interval control

Collision Avoidance

for the first time as an integral part of the OptiMine system

3D Mine Visualization

including features such as onboard navigation and heatmap diagnostics
In late 2018, Sandvik announced its partnership with Newtrax to offer the most advanced and comprehensive digitalization solution for underground mines with OptiMine software as the 'brain,' and the Newtrax products as the 'nervous system' monitoring machines, people, and the environment. Today, by merging the 'brain' and 'nervous system,' underground mining customers can benefit from a streamlined, focused and holistic approach to digitalization under OptiMine.
"Our commitment to providing underground hard rock mining customers with the world's leading digitalization solution is reinforced by this offering integration to make the technology easily accessible and deployable," said Alexandre Cervinka, Newtrax CEO.
"We're thrilled to bring together the best of both worlds combining the Sandvik and Newtrax offerings as a single OptiMine package that empowers our customers to boost efficiency and safety," said David Hallett, Vice President of Automation at Sandvik Mining and Rock Solutions.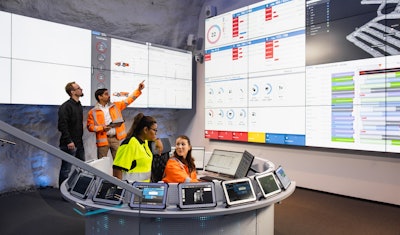 Sandvik adds DR410i to iSeries family of intelligent blasthole drills
The technologically advanced Sandvik DR410i blasthole drill, which takes the guesswork out of daily operation and delivers reliable, high-yielding production results, was among the products introduced at MINExpo 2021.
Compact and powerful, the Sandvik DR410i is designed to deliver unmatched productivity and return on investment for 6 to 9-7/8 in. (152-251 mm) rotary and DTH holes, with a standard mast offering a first pass capability of 33 ft. (10 m) and a maximum depth of 153 ft. (46.6 m). The extended mast option delivers a first pass option of 46 ft. (14 m) with a total depth capacity of 106 ft. (32.3 m) across all recommended pipe diameters.
Sandvik DR410i is automation-ready, with functionality for both on-board and off-board automated needs. This scalable solution — from on-board automation that increases drilling efficiency to the AutoMine Surface Drilling solution that enables line-of-sight, control room or fully autonomous operation — is designed to meet customer needs, both now and in the future. All Sandvik rotary drills are designed to deliver superior productivity and value to meet individual customer requirements.
Productivity – Durability and innovation improve performance
Key features of Sandvik DR410i work collectively to increase productivity. The Sandvik Intelligent Control System Architecture (SICA) provides the operator with real-time feedback regarding the machine's performance and health, ensuring quality and consistency from hole to hole. Some of the other key productivity-enhancing features include:
Single-pass depth to 14 m without the need to add pipe
Rotary or DTH drilling options
58,000 lbf (258 kN) weight on bit
Onboard automated features such as Auto Drill ensure hole-to-hole quality and consistency
Auto Mast and Auto Level functions ensure consistent operations and reduce wear on structural weldments
Breakout wrench speeds change from one pipe to another
Value – Reducing costs with improved efficiency
Sandvik DR410i is equipped with several features that improve the efficiency of customers' operations while simultaneously cutting costs and improving TCO.
Scalable solution, from on-board automation to full autonomous operation
Live oil sampling station eliminates potential for system contamination
Fast-fill fluid service center speeds fluid replenishment
"We continue to expand our iSeries family of rotary blasthole drills with Sandvik DR410i," said Dave Shellhammer, President, Rotary Drilling Division, Sandvik Mining and Rock Solutions. "This automation-ready, mid-size drill provides mines in hard rock conditions with a powerful and productive option to drill the perfect hole more safely, providing exceptional value. The rapid expansion of our iSeries family reinforces our culture of fast-moving innovation and our never-ending focus on our customers, whose feedback we have used in the development of this new product."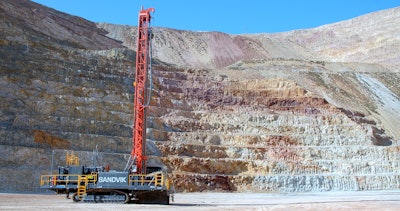 Sandvik displays industry's largest battery-electric loader
Sandvik showcased what is considered the industry's largest battery-electric loader at MINExpo. The 18-tonne Sandvik LH518B is the combination of Sandvik's decades of engineering expertise and Artisan's innovative powertrain technology and battery system proficiency.
Rethink the machine, not the mine
Launched in September 2020, the Sandvik LH518B has been designed, ground-up, entirely around the loader's Artisan battery system and electric driveline to best utilize the possibilities that the battery technology brings. It was not enough to replace some components or redesign only a part of the equipment: by the designers rethinking the whole machine, a mine doesn't need to rethink its infrastructure. In practice, changing the loader battery does not require any cranes or forklifts, thanks to the patented AutoSwap feature.
Unmatched productivity
The Sandvik LH518B delivers impressive capacity for its size: its design solutions allow the loader to fit in a 4.5 x 4.5 m tunnel and carry 18-tonne loads. In addition to an innovative boom and bucket system, the Sandvik LH518B features independent front and rear drivetrains, allowing high payload capacity while keeping a low overall height. For superior productivity, the Sandvik LH518B is equipped with three 2,000 Nm permanent magnet motors. With no torque converter, transmission or engine to rev up, the loader is fast and agile. There are no emission restrictions based on installed power to limit the electric motor selection, which enables the use of the most powerful motors available that are suited for the underground conditions.
Fast and easy battery AutoSwap and AutoConnect
The Sandvik LH518B is equipped with AutoSwap, a patented self-swapping system for the Artisan battery pack. Battery swapping is fast and easy with minimal manual handling: changing the battery only takes about 6 minutes, and it can be done in a passing bay or old re-muck bay with no overhead cranes or external infrastructure needed. The new AutoConnect feature available for the first time on Sandvik LH518B is making swapping even easier and faster by automatically connecting and disconnecting the battery pack. Aside from unplugging and plugging in the charger, the operator doesn't need to leave the cabin, which saves minutes on the swapping procedure and reduces effort and risk in the swapping process. The purely battery-powered loader reduces heat and emissions underground, helping mines reach their sustainability targets and reduce ventilation costs. The robust battery pack uses Lithium Iron Phosphate chemistry (LiFePO4) and is purpose-designed for use in underground mining.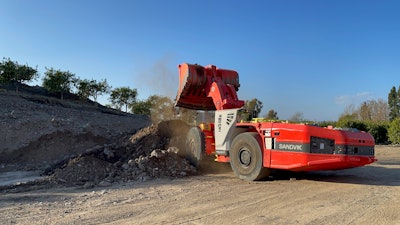 Companies in this article