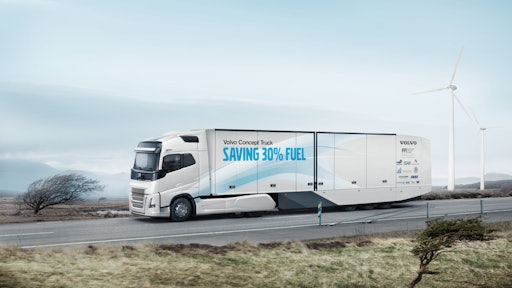 Volvo Trucks
In February, a final deal for carbon dioxide (CO2) regulations for heavy-duty vehicles was reached by the European Parliament, Commission and national governments.
The regulation calls for a 15% reduction in CO2 by 2025 and a further 30% by 2030.
While many from the industry support working to further reduce carbon emissions, some worry the targets and timeframe are too stringent. The European Automobile Manufacturers Association (ACEA)—a trade association of the 15 major car, van, truck and bus producers in Europe such as Daimler Trucks, Volvo Group and Scania—has said the reduction targets are highly demanding because their implementation does not solely depend upon the commercial vehicle industry. In addition, a baseline target has not yet been set.
Prior to the final regulation being reached, ACEA Secretary General Erik Jonnaert said that when finalizing the new regulation, it was essential that decision makers take into account the long investment cycles of truck manufacturers, the low operating margins of transport operators, as well as the absence of charging and refueling infrastructure for alternatively-powered trucks.
According to ACEA, achieving the targets will only be possible if customer uptake of zero- and low-emission trucks drastically increases over the coming years. These vehicles, however, can have expensive up-front costs which may be prohibitive to customers. There is also the challenge of infrastructure, which is currently lacking for alternatively-powered vehicles in the European Union (EU).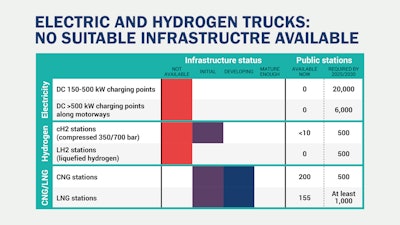 ACEA released in January statistics on the current lack of charging and refueling infrastructure, and what would be necessary to meet the new CO2 regulation. It estimates 6,000 high-power charging points for electric trucks would be needed along EU roadways, and another 20,000 'regular' charging points suitable for trucks will be required.
"The shocking fact is that there is not one single public charging point for long-haul trucks available today," stated Jonnaert. "What is more, a standard for the required high-power plugs doesn't exist yet."
The currently available high-power charging points are only suitable for passenger cars as they do not meet the higher power and energy demand required by heavy-duty trucks. Hydrogen filling stations are also among those currently only meeting the demands of passenger cars in the EU. ACEA said 1,000 truck-specific stations will be needed across the EU by 2025/2030.
"We can now only call upon member states to urgently step up their efforts to roll out the infrastructure required for charging and refueling the alternatively-powered trucks which will need to be sold en masse if these targets are to be met," stated Jonnaert.
"Cutting climate emissions from heavy-duty vehicles is an incredibly important task, and it's fundamental to our initiatives in sustainable transport. At Volvo Trucks, we're well-positioned to take on this challenge.
"In order to speed up the transition, we would, however, also like to see stronger financial incentives for the customers who take the lead and choose more climate-friendly vehicles," said Roger Alm, President of Volvo Trucks.
"We're at the stage where the technology will soon be ready for wider applications in heavy-duty transport. If demand is stimulated and the new charging infrastructure network is expanded, the volume will also be able to increase at a faster rate than would otherwise be possible," said Lars Mårtensson, Director of Environment and Innovation at Volvo Trucks.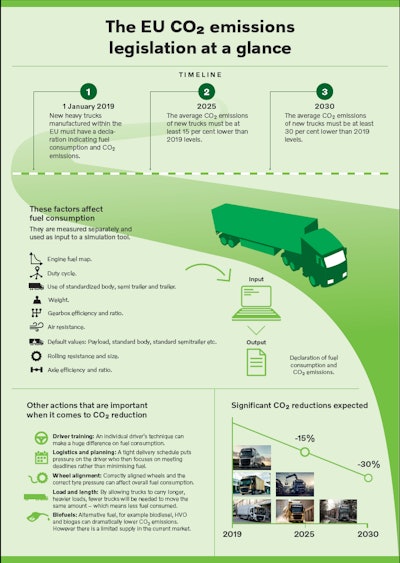 Scania believes the new CO2 regulation is a tool that will enable the industry to help reach the Paris climate objectives. "Such standards focusing on tail-pipe emission need to be combined with an integrated approach. Renewable biofuels and other alternative fuels, driver training, more efficient logistics, new powertrain technologies, and additional measures will also be required," commented the company's President and CEO Henrik Henriksson.
The company agrees that technologies like electro-mobility will be helpful for achieving the regulation, but it is not yet a mature technology and enough infrastructure does not yet exist. Because of this, and the substantial research and development efforts that will be required of manufacturers, Scania says it welcomes the review of the emission standards that are to occur in 2022.
"This review should consider the availability of refueling and charging infrastructure for alternatively-powered vehicles, as well as the market uptake of such vehicles. The review should also contain a method to better reflect a well-to-wheel perspective in order to include biofuels. Furthermore, longer and heavier vehicle combinations have to be considered. Such combinations are often used in Sweden, Finland and Denmark, as these vehicles are one of several methods used to increase the efficiency in the transport system," Henriksson concluded.
Companies in this article