The U.S. Environmental Protection Agency (EPA) Acting Administrator Andrew Wheeler launched the Cleaner Trucks Initiative (CTI) to further decrease nitrogen oxide (NOx) emissions from on-highway heavy-duty trucks and engines. He was joined by EPA Office of Air and Radiation Assistant Administrator Bill Wehrum, White House officials, state partners, labor representatives, and leaders from the trucking and engine manufacturing industry. The CTI will include a future rulemaking that will update the existing NOx standard which was last set in 2001 while also streamlining compliance and certification requirements.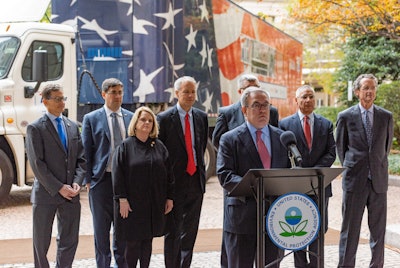 "The Cleaner Trucks Initiative will help modernize heavy-duty truck engines, improving their efficiency and providing cleaner air for all Americans," says Wheeler. "The U.S. has made major reductions in NOx emissions, but it's been nearly 20 years since EPA updated these standards. Through rulemaking and a comprehensive review of existing requirements, we will capitalize on these gains and incentivize new technologies to ensure our heavy-duty trucks are clean and remain a competitive method of transportation."
"Today's announcement makes clear that reducing NOx emissions from heavy-duty vehicles is a clean air priority for this administration," says EPA Office of Air and Radiation Assistant Administrator Bill Wehrum. "EPA's Cleaner Trucks Initiative is an important signal to all interested stakeholders that we will work hard on reducing emissions while producing a more effective and efficient program."
Attendees at the EPA included: Bill Sullivan of the American Trucking Association; Lewie Pugh of the Owner-Operator Independent Drivers Association; Jed Mandel of the Truck & Engine Manufacturers Association; Josh Nassar of the International Union, United Automobile, Aerospace and Agricultural Implement Workers of America; Ben Grumbles of the Maryland Department of the Environment; and Becky Keogh of the Environmental Council of States.
From 2007-2017, U.S. NOx emissions dropped by more than 40%, but there is more work to be done. It is estimated that heavy-duty trucks will be responsible for one-third of NOx emissions from the transportation sector in 2025. EPA expects that any update to the standards will result in significant mobile source NOx reductions, which will aid communities across the country in the attainment of ozone and particulate matter standards.
EPA last revised NOx standards for on-highway heavy-duty trucks and engines in January 2001. The Agency is not required by statue to update the standard. EPA intends to publish a proposed rule in early 2020.
In addition to NOx emissions standards, the CTI will cut unnecessary red tape while simplifying certification of compliance requirements for heavy-duty trucks and engines. Areas of deregulatory focus will include onboard diagnostic requirements, cost-effective means of reassuring real world compliance by using modern and advanced technologies, the deterioration factor testing process, and concerns regarding annual recertification of engine families.
Working together with partners in states and industry, environmental results can be achieved through the pursuit of commonsense regulations that encourage economic growth. New programs borne out of the CTI offer opportunities to streamline regulations through smarter program design and reduce the overall regulatory burden while protecting human health and the environment.