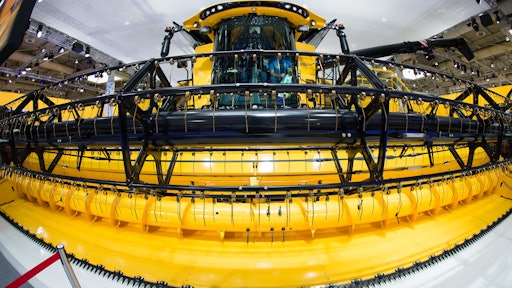 DLG 2017
Agritechnica is the world's largest tradeshow for agricultural technology and engineering advancements. For the 2017 show, over 2,800 exhibitors from 52 different countries showcased their vehicles, implements, attachments, components and technologies to improve the future of crop production and efficiency for an ever-increasing global population. 
A good sign of returning market confidence for the ag industry came from the Agritechnica visitor survey. It showed that there was a high willingness to invest, as more than two-thirds of surveyed attendees intended to invest within the next two years, primarily for replacement and expansion purposes.
After viewing the brief highlights of the show's product launches on the next several pages, head online to www.oemoffhighway.com and search "Agritechnica 2017" for even more products and vehicle launches.
Kohler Flex Offers Solutions to Comply with Emissions Regulations Around the World
KOHLER Flex is the range of solutions for emission control that Kohler has designed to enable each configuration of the KDI platform to comply with all emissions standards and regulations, worldwide.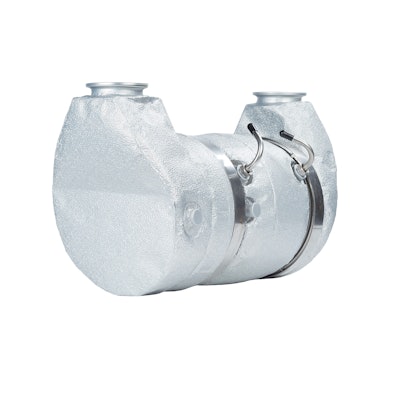 At the heart of KOHLER Flex there is the clean combustion of KDI engines that enables the adoption of a compact DPF to meet the Stage V emission standard. 
KOHLER Flex combines the clean in-cylinder combustion of KDI engines, made possible by high-pressure common rail (2,000 bar), four valve heads, turbocharger and cooled EGR, and the most compact aftertreatment devices (DOC, DPF and SCR) to comply with all emission requirements.
Each combination of KOHLER Flex has been designed in line with the all-in-one philosophy, with the objective of minimizing change for engine installation into existing packages.
Read more at oemoffhighway.com/20983243
Oerlikon Fairfield Exhibits Electric Drive System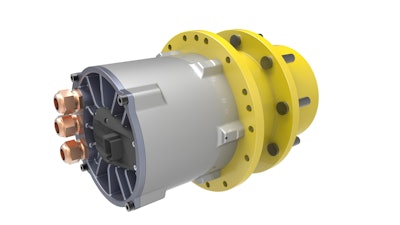 Oerlikon Fairfield presented its innovative electric drive system for off-highway vehicles which integrates an Oerlikon Fairfield Torque Hub planetary drive with an Interior Permanent Magnet Motor produced by Ashwoods Electrical Motors to create an ultra-compact drive solution that is up to 30% smaller and lighter and 20% more efficient than traditional motors used in off-highway traction applications.
The improved efficiency, small package size and competitive cost of this integrated solution sets a new benchmark for electric drives in the off-highway sector. The unit is so compact that it enables vehicle manufacturers to provide a steerable four-wheel-drive configuration where previously there was not enough space to offer this possibility.
The complete unit can deliver 4,000 Nm of drive torque and 5,600 Nm of braking torque, yet the motor is up to 30% smaller and lighter than current production solutions that use larger, less efficient brushed DC or induction motors coupled to a planetary gearbox. The Oerlikon Fairfield/Ashwoods Electric Motors solution provides a triple planetary ratio in the length of the standard double planetary design.
Read more at oemoffhighway.com/20982639
FPT Unveiled a New Stage V Engine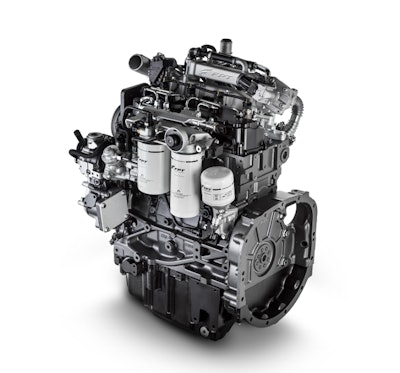 FPT Industrial launched its F36 Stage V engine, specially designed for off-road applications which require extreme compactness and versatility. It is ideal for vehicles that need maximum visibility and maneuverability, such as tractors and telehandlers.
The FPT Industrial new F36 Stage V has been completely redesigned starting from an increased engine displacement from 3.4 to 3.6 L with no changes in external dimensions, thus ensuring unchanged compactness. Improved engine hardware includes new turbocharger and optimized piston design to cope with higher performance, increasing power output by 14% (up to 143 hp) and torque by 20% (up to 600 Nm), achieving best-in-class torque density (+20% versus market average in 3-4 L range) and power density (+2% versus market average in 3-4 L range).
The overall aftertreatment packaging is unchanged between Stage IV and Stage V, avoiding machine redesign across emission stages. Furthermore, oil change interval of 600 hours, one-side serviceability and a maintenance-free after-treatment solution allow emission compliance with minimum operating costs and simple maintenance operation over its lifecycle. All these characteristics allow an increase of 10% in productivity.
Read more at oemoffhighway.com/20982617
Continental's Molds Microchip into Track Tread for Condition Monitoring Concept
Continental is unveiled a first-of-its-kind proprietary track-condition monitoring concept for the Trackman at Agritechnica 2017 tradeshow in Hanover, Germany.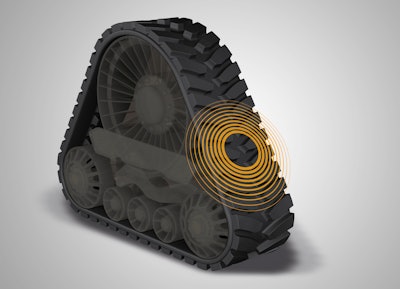 "Our core value as a brand is to deliver innovations that are meaningful to our partners in the field," says Rob Schultz, Continental's Product Manager for Rubber Tracks. "This new track sensor concept was developed by the engineering team at our St. Marys, OH, plant, and communicates with the operator. It is another one of those options we have developed to help revolutionize farming."
The track sensing technology incorporates a microchip molded into the tread of the track, and communicates directly with a user-friendly monitor in the cab to provide operators with real-time data. "This interaction allows the tractor operator with the information needed to predictively maintain its tracks, avoiding downtime altogether," says Schultz. "It's a direct result of Continental's global focus of knowledge sharing and vision of tomorrow's needs." The track condition monitoring recognizes potential issues early on to help avoid downtime. "In the future, targeted monitoring will enable predictive maintenance, which means that operators can respond to components before downtime occurs and replace them accordingly."
Read more at oemoffhighway.com/20982528
HELLA Showcases Shapeline Modular Lighting
HELLA presented its modular lighting series Shapeline at Agritechnica which will allow manufacturers of agricultural machinery to combine lighting systems.
Shapeline is available in two different design versions: the classic straight-line "Tech Design" and the dynamic curved "Style Design." Tail lights, brake lights, direction indicators and position lights are thus available in many different designs that can be mutually combined. This allows manufacturers of commercial vehicles to lend any small or large vehicle series individual and, above all, consistent appearances. For both design versions, micro-optics in the interior and exterior lenses furthermore provide a homogeneous appearance when turned on and off. An additional advantage: the lamp series is multi voltage-capable, making it suitable for both 12 and 24V systems.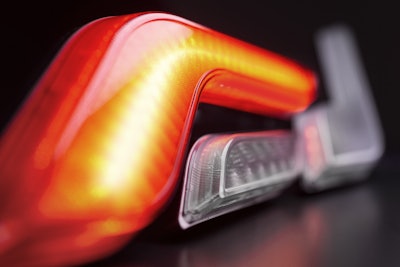 Read more at oemoffhighway.com/20983922