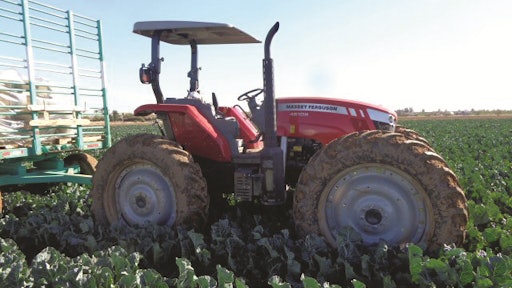 Massey Ferguson, a worldwide brand of AGCO Corporation, is introducing a high-clearance (HC) utility tractor to meet the needs of specialty crop growers throughout Central California and other specialty crop regions of North America. The Massey Ferguson 4610M High-Clearance Utility Tractor delivers the crop clearance growers need to care for high-value crops such as berries, broccoli, potatoes, tobacco and many other types of produce without damaging the crop. The tractor is available through Massey Ferguson dealers and will be configured to fit the needs of each individual operation.
"For more than 150 years, Massey Ferguson has been manufacturing equipment to meet the varied needs of producers around the world," says Warren Morris, Tactical Marketing Manager for Massey Ferguson. "We've used this worldwide experience to expand the Massey Ferguson utility tractor portfolio with products that fit the needs of specialty crop producers. The MF4610M HC models are rugged, efficient, dependable tractors that bring professional produce operations cost-effective new choices to meet their production and business needs."
A tractor with versatility
The MF4610M HC tractors are designed with versatility to fit many needs. Weighing more than 4 T, the tractors boast 100 engine horsepower, a long wheelbase and excellent power-to-weight ratio for stability in the field. Two different tire sizes provide the tractor with drawbar ground clearance of either 27.7 or 31 in. In addition, the MF4610M HC tractors may be configured for either 60-in. or 80-in. track widths and as many as seven track settings with the use of axle extensions.
To provide the ultimate in speed control for slow-paced field operations, an 18x18 power shuttle transmission with six creeper gears is standard on the MF4610M HC.
To handle a wide variety of implements, the MF4610M HC is equipped with a category II hitch, 540/540E PTO and up to three rear hydraulic remotes. With 4,400 lbs. in lift capacity at 24 in. behind the ball ends, this tractor can complete even the most demanding tasks. Telescopic lower links make implement changes easier and faster. Finally, easy-access service points combined with intuitive electronic controls make daily maintenance checks fast and easy to provide maximum uptime and performance.
Updated technology improves power management and lowers emissions
The tractors are powered by a Tier 4, three-cylinder engine from AGCO Power. The engine features four valves per cylinder to improve airflow and enhance the fuel/air mixture.
"Following the same philosophy as AGCO's high-horsepower tractor engines, the MF4610M HC tractors use selective catalytic reduction (SCR) with diesel exhaust fluid (DEF) to treat the exhaust after combustion," explains Morris. "This keeps all components doing what they do best, and doesn't rob the engine of power and torque when it's needed the most. This approach also does not require the expense and downtime of tractors using diesel particulate filters."
Electronic engine management is incorporated into the power system with a high-pressure common-rail (HPCR) fuel injection system. The engine management system monitors every aspect of the engine's operation, resulting in optimum performance and lower fuel consumption.
Operator's station improves ease of use, comfort and visibility
The open, streamlined operator station has a highly illuminated digital instrument panel which makes it easy for the operator to monitor engine RPMs as well as the engagement of other key machine functions. In addition, an ergonomically designed right-hand console puts the PTO, 3-point hitch and hydraulic control levers within easy reach.