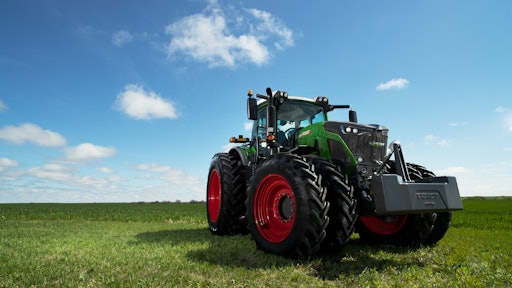 Fendt, a worldwide brand of AGCO, will introduce fully redesigned Fendt 900 Series tractors to North American producers at the 2019 Farm Progress Show, Aug. 28-30 in Decatur, IL.
The five new Fendt 900 Series tractors are all-around workhorses built upon Fendt's 90 years of engineering innovation and manufacturing excellence. The 900 Series tractors are designed specifically to meet the needs of producers in North America and are available in five models ranging from 296-415 hp. They feature many of the cutting-edge technologies first introduced on the Fendt 1000 Series in agile, crop-friendly machines that will handle any task a crop producer, large-scale cattle operation or custom farming operation faces. As with all Fendt machines, they deliver unmatched reliability and are backed by the Fendt Gold Star Customer Care full warranty and service for 36 months or 3,000 hours.
"If you've dreamed of having a totally reliable, high horsepower tractor that can tackle nearly every job on your farm and help lower your operating costs, the Fendt 900 Series tractor is one you will want to take a serious look at," says Andrew Sunderman, Tactical Marketing Manager for High Horsepower Tractors. "Fendt engineers designed and built these tractors with the goal of lowering the operating costs and providing optimum use for our customers."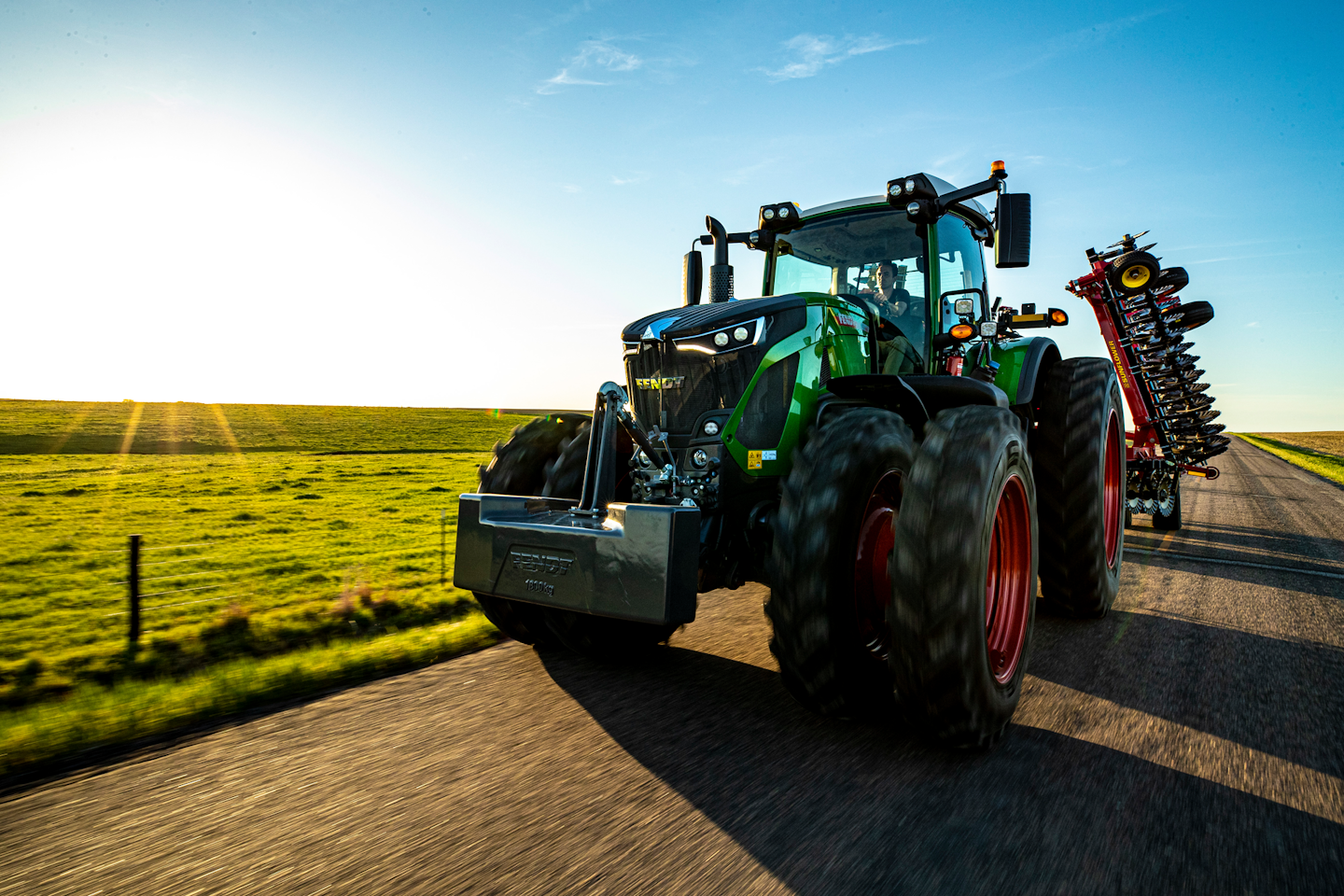 "To do that, they used technologies in common with the Fendt 1000 Series tractors, such as a MAN engine that operates with Fendt's low engine-speed concept and the Fendt VarioDrive CVT transmission. These technologies have brought our 1000 Series customers a huge benefit that can clearly attribute savings to the bottom line. We fully expect to see the same level of performance and fuel efficiency in this smaller, more maneuverable package," Sunderman says.
The 900 Series includes five models, the 930 (296 hp), 933 (326 hp), 936 (355 hp), 939 (385 hp) and 942 (415 hp). The powerful, 6-cylinder, 9.0 L MAN engine with the low-rev engine concept works in unison with the Fendt tractor management system (TMS) and Fendt stepless VarioDrive continuously variable transmission (CVT). This combination allows the engine to operate at a maximum engine speed of 1,700 rpm, providing exceptional pulling power while using less fuel and reducing wear on the engine components. Each of these design aspects helps reduce the cost of ownership over the life of the machine. Even more impressive than the low maximum engine speed is the tractor's ability to deliver maximum torque from 1,150-1,400 rpm for maximum pulling power and effective power transfer, which maintains the desired ground speed and reduces wheel slip for minimal impact on the soil.
Row crop-friendly features benefit crop productivity, operation efficiency
"Our goal is to bring customers tools that help them increase their productivity while lowering their capital and input costs per acre," Sunderman says. "To that end, the 900 Series tractors are designed to fit any operation as the primary high horsepower tractor. They offer a light base weight with high ballasting capabilities, are compact and maneuverable, easy to configure and adapt to any operation and feature the Fendt-exclusive VarioGrip™ in-cab, tire inflation system that helps reduce yield-robbing compaction."
The operating weight of the five Fendt 900 machines ranges from just under 25,000 lbs. up to 42,000 lbs. Their convenient front mono-block ballasting system, with weights from 1,918 lbs. (870 kg) to 5,512 lbs. (2,500 kg) lets the operator quickly re-ballast the tractor for the job at hand. They are compact and agile. The narrow transaxle combined with the pull-in turn action provides a shorter, smoother, more precise turn for better maneuverability in tight spaces and with narrower implements. The maintenance-free double-wishbone front-axle suspension system also provides industry-leading ride comfort and stability on the road. With nearly 8 inches of vertical travel, it also ensures stable ground contact and traction on uneven field terrain.
The Fendt VarioGrip tire inflation system allows the operator to deflate tire pressure from the cab with the push of a button, providing up to 15% more tractive power and improved ground contact with reduced soil compaction in the field. This Fendt-first innovation also allows automatic tire inflation before traveling down the road, to improve handling and fuel efficiency at road speeds up to 31 mph. VarioGrip is controlled through the VarioTerminal, which takes the guesswork out of achieving the right tire pressure for the best results. An extensive selection of wheel and tire options offers nearly limitless combinations to fit the needs of any operation.
Industry's best warranty and service
Each Fendt 900 Series tractor is backed by Fendt Gold Star Customer Care, assuring more value and more uptime. This includes a full warranty, with no deductible, for 36 months or 3,000 hours and all scheduled maintenance, including the cost of oil, filters, belts and maintenance items during this time. In the rare case of a breakdown, Fendt dealers provide industry-leading parts support. If the part isn't available from the dealer, it will be shipped via the fastest option from the nearest AGCO Parts Distribution Center or the factory. Highly trained technicians use the latest technology to quickly diagnose problems at the farm or the shop to save Fendt owners time and money through reduced downtime and lower service fees.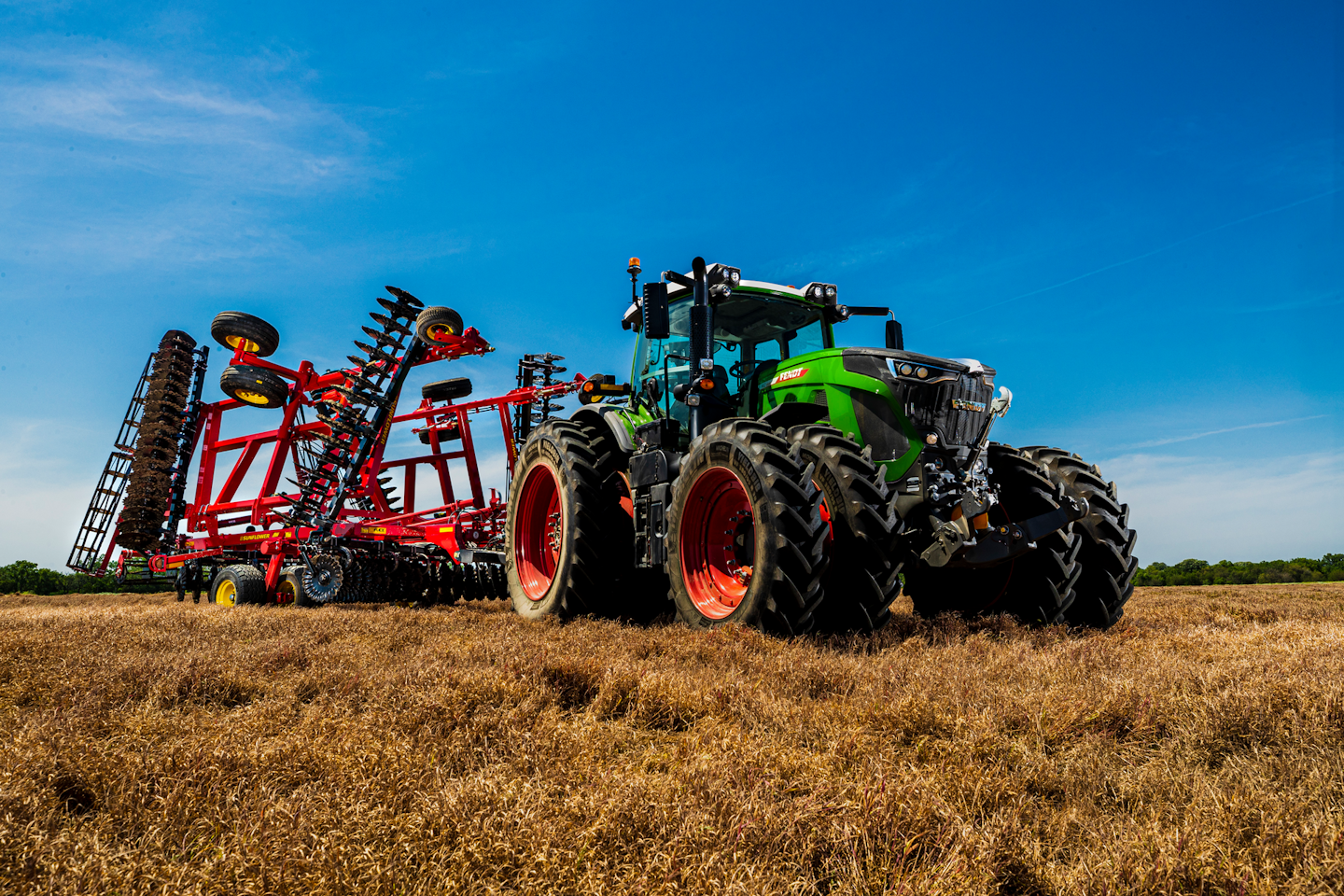 Equipped to match a wide range of implements and jobs
The new 900 Series tractors have a wide range of implement connections at the front and rear to operate a varied combination of front and rear implements, providing more versatility than any tractors in their power class. The tractors offer both front and rear 3-point hitch with position control and responsive load-relief control, front and rear PTO, two front and six rear electrohydraulic double-acting valves, as well as fender controls for the linkage, valves and PTO. The standard rear 3-point hitch offers an impressive 21,500 lbs. of lift capacity, while the optional front 3-point hitch can lift up to 12,310 lbs. for even more versatility. 
The 900 Series is available with three hydraulic pump options providing up to 113 gpm of hydraulic oil flow through the optional dual-pump, dual-circuit hydraulic system. The Fendt-exclusive dual-circuit hydraulic system provides two levels of hydraulic capacity, keeping full capacity on reserve until the tractor is paired with an implement with high hydraulic demands, such as a large planter. This reduces horsepower needed for less demanding work and ensures the tractors can power the most demanding implements today and well into the future. The system also provides higher flow at lower engine speeds for better fuel efficiency and less engine noise for a better operator experience. Just like the other Fendt tractors before it, the 900 Series features separate hydraulic oil reservoirs for the implement and vehicle hydraulic systems, ensuring adequate flow while preventing cross-contamination in the hydraulic oil and extending the service interval to 2 years or 2,000 hours. 
Operator comfort and convenience is Fendt hallmark
True to Fendt tradition, the 900 Series doesn't disappoint when it comes to operator comfort and ease of use, making long hours in the field shorter and less stressful for operators with ranging levels of experience. The quiet, roomy Life cab includes the Fendt-first Profi joystick, comfortably positioned on the armrest. It repeats the easy-to-learn-and-use color-coded control buttons found in all Fendt tractors, so moving from one Fendt to the next is a natural and stress-free transition.
Fendt also originated the touchscreen central control system. The 900 Series includes the latest 10.4-inch VarioTerminal for control of all tractor settings and adjustments, implement control, guidance, cameras, documentation and more. This system is set up and field ready from the factory for immediate on-farm use.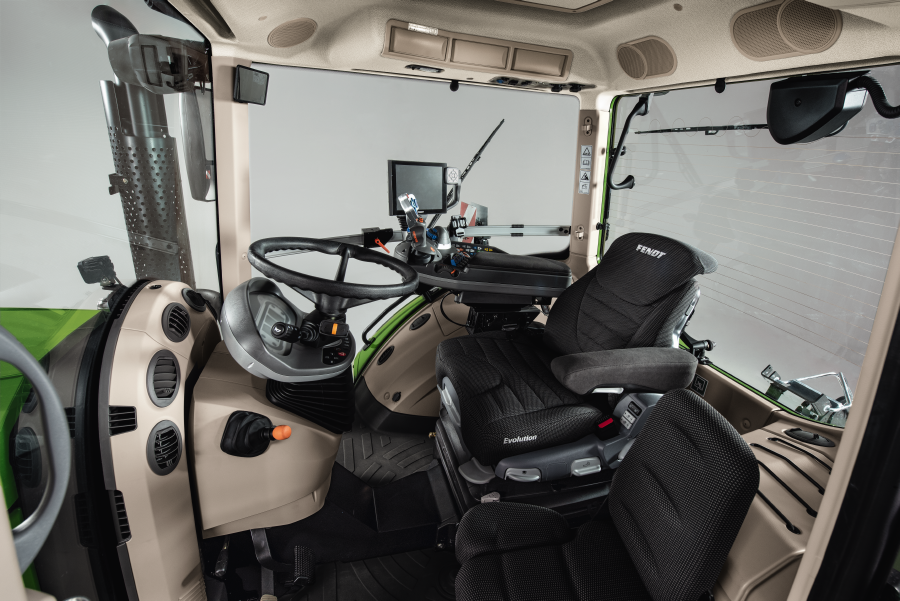 For operator comfort, Fendt uses more air than any other manufacturer. In the Fendt 900, air is employed in the cab suspension system and air-ride seat. Air brakes for the machine and air brake controls for towed implements provide smooth, effective and reliable stopping power. Fendt's exclusive front suspension design also contributes to ride comfort.
A sleek, narrow hood design and nearly 60 sq. ft. of glass surrounding the operator offer a full 360 degrees of visibility. In addition, the 900 Series offers the same state-of-the-art lighting system found on other Fendt tractors. With a full package of optional LED lights, this lighting system will produce up to 66,860 lumens, providing clear visibility around the tractor even when operating at night. The cab also features a heated, laminated windshield and a segmented windshield wiper with 180- and 300-degree wiping for improved security and visibility.
New Infotainment system available only on Fendt 900 Series
The Fendt 900 Series' new and exclusive Infotainment system provides state-of-the-art audio, full and easy-to-connect Bluetooth capability and personal connectivity to the farm field. Strategically positioned high-fidelity speakers provide excellent audio quality and user experience. A USB port on the VarioTerminal connects the operator's smart phone or tablet to the Infotainment system, and convenient touchscreen control through the Varioterminal eliminates the need to independently operate and power the smart device.
"To truly understand and appreciate the innovations and class-leading features, capabilities and comfort of the Fendt 900 Series tractors, we invite producers to come see this tractor at the Farm Progress Show and other major farm shows this fall and winter, and at their local Fendt dealer," Sunderman says. "We're confident they'll appreciate what they see."