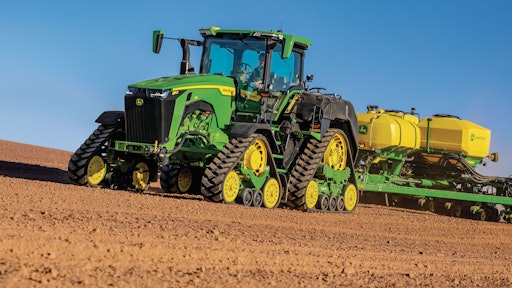 John Deere Ag and Turf Division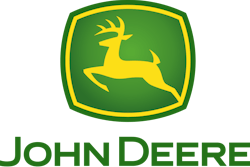 John Deere has introduced several new pieces of agricultural equipment to aid customers in the coming year. In addition, it launched new technology features aimed at helping improve spraying operations for farmers.
Many of the machines were debuted during Commodity Classic 2021, a global agricultural industry event organized in conjunction with the Association of Equipment Manufacturers.
8 Series Tractors include new technology features
John Deere has updated its 8 Series Tractors for model year 2022; included in this series are the wheel 8R, two-track 8RT and four-track 8RX models.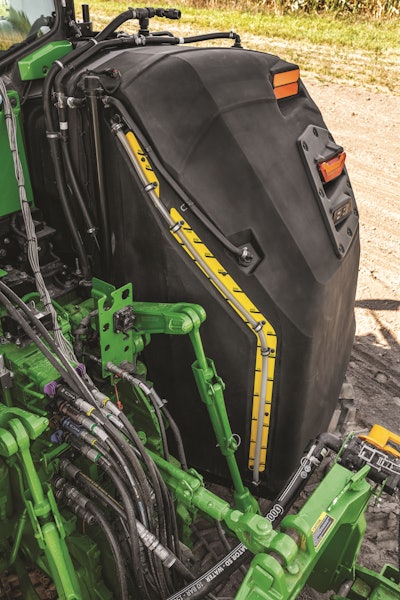 Technology enhancements made to the new machines include the option of a Central Tire Inflation System (CTIS) on the 8R Tractors. John Deere says it is designed to save time, reduce costs and help farmers cover more acres per day.
The CTIS is designed to make it faster and easier for farmers to adjust tire pressure which is often necessary when switching between transport and field operations. Operators simply need to select "road" or "field" setting and tire pressure will be automatically adjusted. The "road" setting increases air pressure in the tires to reduce tire wear while improving transport, ride quality and machine handling. The "field" setting decreases air pressure to create a larger footprint with more lug engagement to reduce slip and ground pressure which helps to minimize field damage.
"Using CTIS, operators can monitor and adjust tire pressure as quick as 2 PSI/min, from the cab, push-button easy," said Ryan Jardon, Tactical Marketing Manager for John Deere, in the company's press release announcing the machine upgrades. "CTIS makes it easy to adjust and optimize inflation pressures regardless of the task."
A new integrated 1,000 gal. capacity ExactRate Tractor Tank is now available for the 8RX Tractor. When used in conjunction with a John Deere planter equipped with 600 gal. tanks, the company says farmers can cover up to 80 acres between fills (at 20 gal./acre). This means they are having to stop less often to refill, improving productivity.
A variety of factory installed technologies are included on the 8 Series Tractors, as well, including JDLink connectivity, an integrated StarFire 6000 GPS receiver and AutoTrac guidance. Like other systems on the tractors, they are designed to help farmers get more work out of their machines with fewer inputs and less stress.
"The factory-installed Automation 4.0 capabilities drive season-long benefits. For example, AutoTrac Turn Automation and MachineSync enable consistent operations on headlands and when multiple machines work together, such as in seeding, when two tractors are working in a field together. Automation 4.0 also enables AutoPath for farmers to accurately document and precisely follow each row of crops in fields throughout the season," said Jardon.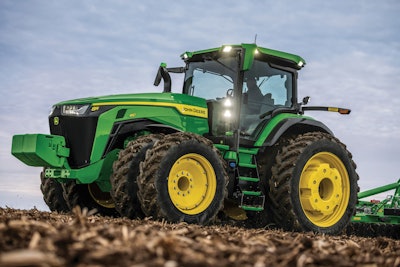 New 400 and 600 Series Sprayers focus on operator comfort
John Deere's new 400 and 600 Series Sprayers feature a new, larger operator cab with three comfort and convenience packages for farmers to choose from to meet their specific application needs. They are designed to provide all-day comfort and improved visibility.
New lighting options, including LED packages, are available for customers to aid visibility. Electrically adjustable and heated mirrors and additional cameras are also available for inclusion on the sprayers.
John Deere's Ultimate package is one of three customers can choose for their cabs. It includes a heated, ventilated leather seat capable of swiveling up to 24 degrees to the left or right and an ActiveSeat II suspension for a smoother ride. This comfort package includes several other features including a 6.5 in. touchscreen satellite- and smartphone-ready radio, five USB ports, a 12V outlet and dual-tilt steering column. An optional Category IV filtration system flows continuously filtered air into the cab to help keep the operator's station clean.
Guidance and telematics technologies are included on the sprayers, as well, to help farmers be more productive when in the fields.
Three models are available in the 400 Series:
408R - features 800-gal. tank and 280-hp PowerTech 6.8 L engine with maximum field speed up to 20 mph, and transport speed up to 30 mph
410R - equipped with 1,000-gal. tank and 310-hp PowerTech 9.0 L engine
412R - comes with 1,200-gal. tank and powered by 326-hp PowerTech 9.0 L engine
John Deere says the two largest 400 Series Sprayers can reach field speeds up to 25 mph and transport up to 35 mph.
The 600 Series includes two models:
612R - features 1,200-gal. tank and 355-hp PowerTech 9.0 L engine
616R - equipped with 1,600-gal. tank and 375-hp PowerTech engine
Both 600 Series Sprayers and the two largest 400 Series Sprayers can reach field speeds up to 25 mph and transport up to 35 mph. All 400 and 600 Series Sprayers can be equipped with 90-, 100-, or 120-ft. steel booms, or 120- or 132-ft. carbon-fiber spray booms.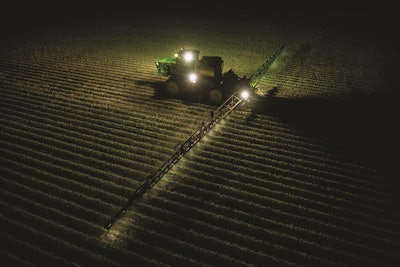 New Hagie Self-Propelled Sprayers
The new Hagie Self-Propelled Sprayers line for model year 2022 include three models—the STS12, STS16, and STS20.
"Everything about these sprayers is new, except for the field-proven signature front spray boom," said Joel Basinger, Marketing Manager for John Deere, in a press release from the company announcing the new machine offering. "Hagie forward-facing innovation and John Deere precision-ag technology have joined forces to advance full-season spraying. If you need to split-apply nitrogen or demand superior late-season fungicide coverage, John Deere and Hagie can help you 'Enter the Field Any Day' with an STS Sprayer."
John Deere says the sprayers' front boom placement reduces the need for operators to constantly turn to look behind the machine during application which improves their comfort and safety. Two comfort and convenience packages are available, including the Ultimate package available on the 400 and 600 Series Sprayers.
Technology such as AutoTrac RowSense, AutTrac Vision and All Wheel Steer help to improve comfort, as well as productivity by ensuring the sprayer moves precisely through the field without damaging crops. The sprayers also come standard with CommandDrive which monitors wheel slip. If one wheel slips, the system automatically sends more power to the other wheels to provide real-time traction control.
Four Hagie Hybrid Booms in working widths of 90, 100, 120 and 132 ft. are available. They are designed to be strong yet lightweight, and include Active Wing Roll by Norac which controls boom height when spraying across uneven terrain.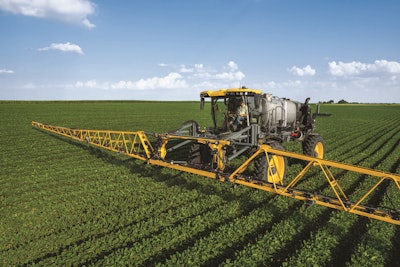 Updated 9 Series Tractors with more power and technology
John Deere says its model year 2022 9 Series Tractors have been upgraded to help farmers get into fields earlier and run later, ensuring they can get their seeding, tillage and planting work done. A new engine and operator cab help to optimize performance and comfort.
"Farmers will appreciate the added low-end torque and lugging ability of the all-new, John Deere PowerTech 13.6 L diesel engine. This engine powers models with 390-590 hp and runs with 50% less engine noise. It's also easier to perform routine maintenance on," said Ryan Jardon, Product Marketing Manager for John Deere, in the company's press release announcing the tractor updates. "Our largest tractors, the 9R 640 and 9RX 640, are powered by a Cummins 15 L diesel engine."
Several undercarriage, axel and front-frame components were strengthened and improved to accommodate the tractors' additional horsepower and ballast. Doing so increased the weight of the tractor which helps to increase power to the ground, the company says.
Select tractors can be ordered with John Deere's hydraulic Intelligent Power Management (IPM) which provides up to 50 extra horsepower depending on the gear chosen.
A new, larger cab is included on the updated tractors, as well. Select, Premium or Ultimate cab package provide customers with three options from which they can customize the cab to their needs. The Ultimate package includes a heated, ventilated massaging seat which swivels up to 25 degrees to the left and 40 degrees to the right. There is also an Ultimate visibility package featuring 24 work LED and eight convenience LED lights; electric, heated telescoping mirrors; sunshades; and front and rear integrated cameras.
John Deere says for customers who want the very best of these packages, it has combined them into its Signature Edition. This package also includes the Generation 4 Extended Display, dual hydraulic pumps, Automation 3.0 activation/AutoLoad for Scraper Special tractors, and HydraCushion front-axle suspension on 9R Tractors.