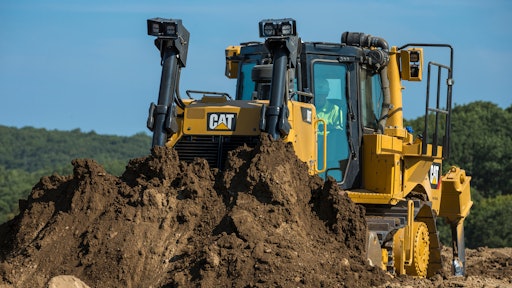 Caterpillar Inc.
In July, Caterpillar Inc. introduced its new D8T dozer featuring updates to several parts of the machine. With these updates, the dozer is able to deliver up to 18% more productivity and in some applications increase fuel savings 11%.
According to Sam Meeker, Product Application Specialist for Dozers & Track Loaders at Caterpillar Inc., the productivity and efficiency improvements are made possible due to aspects such as a new transmission and engine, larger blade, as well as improved ease of use.
The new SU (Semi-U) blade, for instance, is 19% larger than the company's previous version, which helps move more material, thus helping increase productivity. It features a taller, wider and deeper design, bringing its capacity up to 13.4 yd3. (10.3 m3), whereas the prior version had a capacity of 11.3 yd3. (8.6 m3). However, it is still in the same transport regulations as before, making it easy for customers to move the dozer from site to site.
Optional performance cutting edges are available for the blade, as well. These allow customers to load the blade faster with greater density material in hard ground conditions, such as clay and rock, that are difficult to penetrate with a blade, says Meeker. "The outside edges are a little further forward than the center, [giving] it a variable cutting profile that helps fill the blade faster," he explains.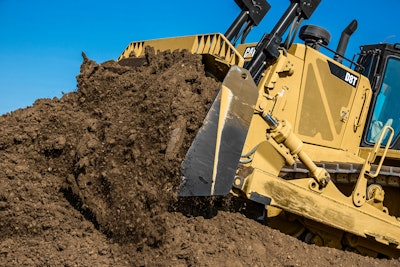 With these performance cutting edges, up to 25% more payload on each blade pass can be achieved.
He also notes material isn't broken up when using the cutting edges, creating greater blade mass and load on each push, helping to get more work done when doing production dozing. In regards to serviceability, Meeker says the edges offer an improvement as they do not require a mid-life flip, and are designed to last twice as long as a traditional cutting edge. In addition to the new D8T, these edges are also available for any SU blades for Caterpillar's D6, D7 and D8 dozers.
A brand new powertrain 
Meeker says the machine's new four-speed transmission is a key component of the productivity and efficiency improvements. "We've effectively put another gear between 1 and 2, which is truly in the sweet spot of productivity and efficiency when you're in heavy drawbar pull applications, doing heavy cut work, and even transitioning into a carry and moving that material." 
In addition, the transmission is fully automatic, shifting whenever necessary to optimize operation. Operators simply need to drive into the dirt piles, and the transmission will automatically shift up or down, lock and unlock as necessary to ensure the right amount of power is being driven to the ground in the most efficient manner. The new transmission, in conjunction with the dozer's new engine, provides up to 13% more drawbar power.
"Our fully automatic transmission automatically selects the most productive mode and most productive gear for you," says Meeker. "So no shifting required, [making it] very easy to use.
"In terms of efficiency, you're going to do all this work without burning additional fuel on this dozer," he notes. "The new lockup clutch four-speed transmission is extremely efficient, and we're able to bring that 18% more material movement without burning anymore fuel."
When working in lighter duty applications, such as light spreading or clean-up work, a fuel savings of up to 11% can be achieved. "Again, the fully automatic transmission helps to optimize the tractor for the maximum dozing efficiency," says Meeker.
The transmission works together with a lockup clutch torque converter to provide smooth shifting and operation to ensure a comfortable ride for operators. Meeker says Caterpillar took its legacy system—called the torque divider because it included a planetary gear set in conjunction with a torque converter—and added a lock up clutch to it. "What it does is automatically locks and unlocks as it needs to [in order] to get the maximum amount of efficiency out of this powertrain component," he explains. "This particular component is responsible for about 15% of [the] reduction in fuel, or 15% efficiency improvement."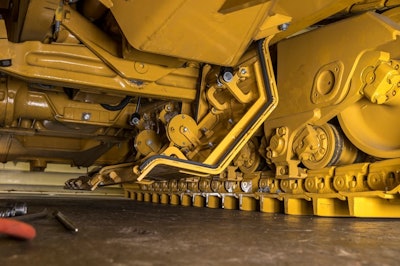 He notes there is a large amount of software and electronics involved in the control of the torque converter to ensure it provides smooth, reliable and productive operation, as well as gets extra efficiency and power to the transmission. 
Also aiding the productivity improvements of the D8T is the engine whose maximum power was increased from 363 hp (270.7 kW) to 394 hp (293.8 kW); net power was increased from 312 hp (232.7 kW) to 354 hp (264 kW). 
Meeker says a unique aspect in the industry is the machine's fully suspended undercarriage, called the heavy-duty extended life undercarriage, which provides up to 25% more wear life in abrasive conditions. "From idler to idler, we are fully suspended from the front all the way to the back which gives that smooth ride and extra engagement with the underfoot condition, giving [operators] extra traction underneath the dozer, as well," he explains. 
Improvements have also been made to the dozer's differential steering system to provide greater steering torque in steering-intensive applications such as trench backfill, pioneering or spreading large truck dumps. 
Creating easier operation
Inside the dozer's cab are new color LCD touchscreen displays, one positioned in front of the operator and one to the right-hand side. This helps ease operation by having the displays positioned within the operator's line of site. The dashboard comes ready for inclusion of a grade control display, as well, says Meeker, which can easily be mounted in the cab. An optional rearview camera is also available; when the dozer is put in reverse, the camera image appears on the main machine display to improve operator visibility and again help with ease of operation.
A new detented thumb roller aids gear and speed selection by enabling operators to shift the tractor in either 0.1 or 0.5 speed increments. This is achieved by giving the thumb roller a little bump or a big one. Meeker says it's a very intuitive and easy to learn method of operation so that operators can quickly learn how to effectively and efficiently operate the dozer. Caterpillar has also updated the implement joystick to provide a better feel and tactile feedback, further improving ease of operation.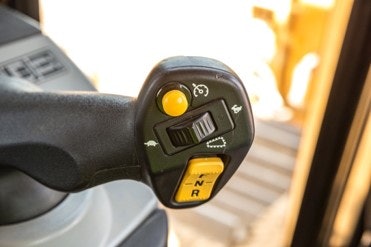 The D8T comes standard with ProductLink Elite which is fully integrated into the machine and engine systems, and aids with remote troubleshooting. Caterpillar has new hardware and software for the technology, such as the new singular antenna for cellular, satellite and GPS communications. "We're adding in some new functionality in terms of remote machine flash, remote software flash, remote troubleshooting, and new advanced health and productivity features," says Meeker. 
He also notes that all D8s come out of the factory remote control ready, meaning all harnessing and connections are installed on the cab for use of the Cat Command Remote Control Kit (learn more, 20856377). With this system, machine operation can be controlled from outside of the vehicle. This can be done using either Remote Console—an over-the-shoulder control console enabling operation when standing within sight of the dozer—or Remote Station, a simulator-like setup which allows machine control from greater distances. "The customer value of remote control is they're able to get the tractor into environments that might not be suitable to have an operator, so [it] greatly improves safety in those difficult environments," says Meeker. "[It's] easy to install, easy to remove if they want to put it on another machine."
Several other Caterpillar technologies are available on the new dozer, as well. Meeker says the base set of technology standard on all D8s is Slope Indicate. It provides operators with a real-time reading of the tractor slopes, including uphill slope and cross slope. "This helps operators determine where the tractor is sitting on the job site…and allows them to get a feel for what those slopes feel like and make sure they maintain them," he explains.
From there, customers can choose to further enhance their machine and include Cat Grade with Slope Assist. The 2D grade control system allows customers to put in a target slope and drive the blade to that slope, and hold it there, says Meeker. It guides the blade to the target slope to enable the operator to more easily achieve it. This helps operators reach finish grade faster, achieve more consistent grades, as well as reduce operator fatigue. "It doesn't use GPS or space stations or designs, but [instead] uses a bit of the operator skill [and] helps to complement that by holding the blade at the target slope," he says.    
Cat Grade with 3D is also available, which is a factory-installed system. It provides full 3D grade control through the use of integrated antennas on the cab, sensors in the hydraulic cylinders, as well as several other sensors and IMUs (inertial measurement units) placed around the machine to compensate for pitch, roll and yaw. 
Caterpillar's AccuGrade Ready Option (ARO) is also available for the dozer, which is all of the wiring, connections and software necessary to put a grade control system onto the machine at a later time. "We include the ARO kit for versatility if a customer would want to put a [system] on in the future," says Meeker. The system also includes other features important to the D8T, he says, such as AutoCarry, the company's traction control system. "As the operator is dozing along, if that tractor starts to spin, autocarry will automatically pick the blade up, reduce the load and allow it to continue that momentum and continue the dozing work."
In addition, ARO includes AutoRip 2.0 which provides similar functionality but for the ripper. "When the operator puts the ripper into the ground, if the tractor starts to spin it will automatically lift the ripper up and reduce that load," says Meeker. "If the tractor happens to be going a little faster and gets away from that tough spot, it'll drop the ripper back down and get it back down into that full ripping functionality."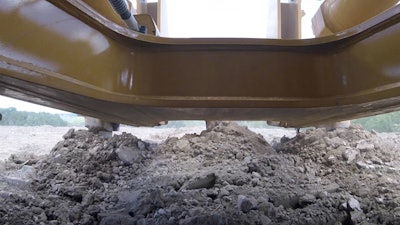 Caterpillar has added a new feature to AutoRip, as well, called Depth Limit. When an operator clicks the button to put the ripper into the ground, Depth Limit ensures the ripper only goes down to the spot where its carriage is parallel to the tractor frame and the ground. "What this does is limits the amount of wear on the bottom side of that ripper carriage," says Meeker. "It also limits the amount of wear on the ripper shank, helping those components last longer for the customer. [It] also gets consistent ripping depth as [operators are] making their ripping passes across the field."
Each of these available technologies adds to the machine's ease of operation, and works together with the other new features of the D8T to increase overall productivity and efficiency for customers.
Companies in this article